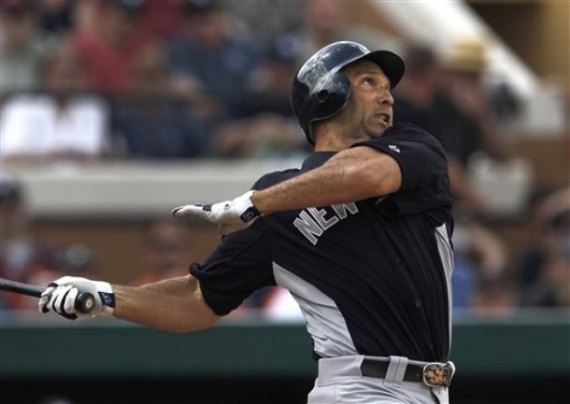 In his spring training debut, against his former team, Raul Ibanez laced a double in a 1 for 3 performance. Over the next three weeks he'd pick up just one more hit. Considering his age and his 2011 numbers, his slow spring caused plenty of concern for Yankees fans. It's just spring training, sure, but doesn't it mean more when a 40-year-old player looks his age? If his bat is slow now, won't it continue to be slow during the regular season?
In other words, there were plenty of out-loud questions about Ibanez's ability to help the Yankees in 2012. As with Andruw Jones last year, he has drawn comparisons to Randy Winn, whose time with the Yankees in 2010 didn't last even two months. While an early exit for Ibanez is still within the realm of possibility, it's still only speculation at this point. There's still time for Ibanez to round into form and help the Yankees this season.
For starters, Ibanez's numbers this spring aren't his worst in recent memory. In 2010 he hit .130/.266/.241 in 54 spring training at-bats, amounting to a paltry .506 OPS. This year he's at .167/.211/.370, which is slightly better at .581. His strikeout totals are nearly identical, 13 in 2010 and 12 this year. The only difference is that he hasn't walked this year. Maybe that's cause for concern, or maybe it's him being a little too anxious to belt a base hit. In any case, he went on to produce a .275/.349/.444 line in 2010, including .277/.366/.455 against right-handed pitching. While those aren't stellar numbers, a repeat would be quite welcome all considered.
Since that horrible start to the spring, Ibanez has rebounded a bit. Following his 2 for 37 slump he's gone 7 for 17 with a double and three home runs, plus a walk. He also had a fourth homer taken away by Jason Heyward. That streak should at least table the argument of whether he's finished as a major leaguer. It won't completely remove it, of course, just as his early spring slump didn't prove it. But it's at least a bright sign after a mostly dismal start to the spring.
We can look to the past, as well, to see other players who performed poorly in the spring, only to bounce back for a quality regular season. In 2010 Marcus Thames looked done, hitting just .135/.192/.269 in 52 spring at-bats. The Yankees signed him to a non-guaranteed contract, yet they still chose to bring him north. He rewarded them by hitting .288/.350/.491 in 237 PA. Brett Gardner hit .200/.286/.273 that spring, but hit .277/.383/.379 in the regular season. Last season Andruw Jones turned in a miserable spring, hitting .182/.265/.318. Even worse, he started off the season slowly. Yet he came back and provided excellent production in the second half.
The exceptions don't prove that Ibanez will bounce back and produce big from the DH spot in 2012. What they illustrate is that spring numbers can deceive. Some players just take a while to get started. Some streak and slump to a greater degree than others, and their slow springs are just poorly timed slumps. For all we know, Ibanez might really be done as a major leaguer. But it's not his spring training that will prove it. He'll get his chances during the season, and considering how the Jones situation played out chances are the Yankees will give Ibanez an extended look. It might not work out, but we've seen too many veterans perform well after poor springs that he certainly deserves the shot.