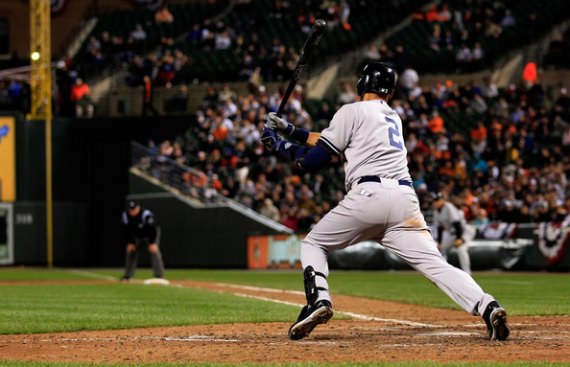 Sometimes an unexpected break can be just what we need. For Derek Jeter, last year's trip to the disabled list, which he had not visited since 2003, provided just such a break. It allowed him to step back and refocus his efforts after a .260/.324/.324 start to the season. Whatever he changed, mentally and physically, turned around his season. In his 314 PA after returning he hit .331/.384/.447, which closely resembled his superb 2009 season.
Jeter's changes appear to have lasting effects. In spring training he hit .318/.362/.455, and is now off to a hot start in the 2012 season. After a 4 for 4 performance last night he's now 7 for 17 on the season (.412) with a walk and a double. Because he's Derek Jeter, the 4 for 4 performance caused people to say some ridiculous things, but that's understandable. It's hard not to be excited about an apparently resurgent Jeter.
That Jeter has gotten off to such a hot start comes with little surprise. In their four games this year, the Yankees have faced two lefty starters, against whom Jeter excels. Against these left-handed pitchers Jeter has picked up five of his seven hits. Last year following his injury Jeter faced a left-handed pitcher 89 times and hit .390/.438/.622, smacking four of his six home runs in that sample. Even in 2010, when he struggled more than ever previously in his career, he hit .321/.391/.481 against lefties, a 135 sOPS+ (that is, compared to the league vs. left-handed pitching).
Jeter's prowess against left-handed pitching is no revelation; he's smacked them around far worse than righties in every year of his career except for 1999 (his surge against righties fueled his career-best season). But in recent years he has beat them up to a disproportionate degree: in his last three seasons he has the tree highest tOPS+* figures of his career. That is, his use of left-handed pitching as batting practice has essentially kept his career afloat as he has aged. This is especially true in the last two years, when he produced solidly below-average numbers against right-handed pitching (81 and 94 sOPS+).
*tOPS+ is his split compared to his overall numbers, so it compares the player to himself, while sOPS+ compares him to the league. Also, adding to that asterisk, Jeter did produced a 132 tOPS+ vs. lefties in 2000, which ties his 2009 mark. Close enough.
Tonight Jeter gets another chance, as the Yankees face Orioles' lefty Wei-Yin Chen. After that, C.J. Wilson will take the mound against the Yankees this weekend. Francsico Liriano will be in town with the Twins next week. When the Yanks head up to Boston it might line up so they face Jon Lester and Felix Doubront. The Rangers have both Matt Harrison and Derek Holland. Among their most common opponents, the Orioles have two lefty starters, as do the Red Sox and the Rays. Only the Blue Jays are left with a single lefty in their rotation. All of this will play to Jeter's advantage this year.
We so often see players, and especially middle infielders, start to fade by the time they're Derek Jeter's age. In many ways, Jeter himself has been in decline as a ballplayer. He's kept himself afloat, though, and a big part of the reason is his ability to pick up the ball from left-handed pitching. May this skill fuel his career from now through the end of his current contract — and perhaps beyond.