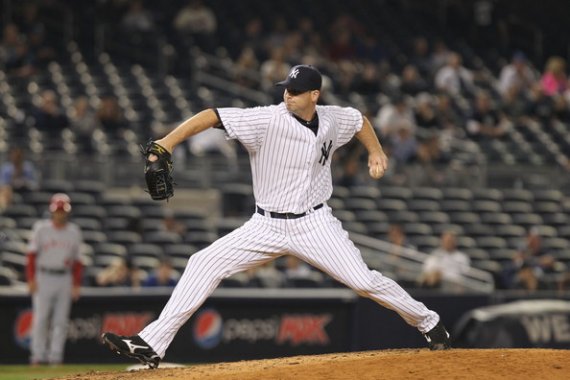 It might be Rafael Soriano's time to shine, but he's not the only member of the Yankees bullpen whose role will change. With both Mariano Rivera and David Robertson on the shelf, the entire bullpen moves up two pegs. For Boone Logan, that could mean a change in roles from left-handed specialist to setup man.
When Logan debuted for the Yankees in 2010 he was essentially useless against right-handed batters. In 78 PA that season righties hit .279/.372/.471 against him, the virtual equivalent of Mark Teixeira that year. Yet his role was to get out lefties and he did that very well, holding them to 15 hits, and just one for extra bases, in 79 AB. Combined with a 3:1 K/BB ratio, he looked like a pretty solid lefty specialist.
In 2011, however, Logan found more success against righties than lefties. H held them to 16 hits, including just five doubles and no homers, in 61 AB, good for a .262/.328/.344 line — the virtual equivalent of Robert Andino. Lefties hit him a deal better in terms of power, socking 12 of 27 hits for extra bases. That led to the myth that Logan had somehow become better against righties than against lefties.
While Logan's results against righties were better than those against lefties, his peripherals against lefties remained superior. That is to say, this year we could have reasonably expected him to come down to earth against righties. At the same time, we could have expected his extra base hits against lefties to regress as well, leaving Logan as mostly a lefty specialist.
As expected, this has mostly come true. He has held lefties to a .661 OPS, with a 5:1 K/BB ratio, while righties have a .824 OPS against him. Yet Logan still does have a 3:1 K/BB ratio against righties, and one of those walks was intentional. In fact, he has struck out 34.6 percent of righties faced, while striking out 35.7 percent of lefties. His unintentional walk rates are also similar. Perhaps, given more chances against righties, Logan's numbers could even out a bit, giving the Yankees another viable late-inning option.
To date we've seen a big spike in Logan's strike out rate — 35.3 percent, against a 20.6 percent career rate. While some of that is small sample noise, there are some indicators that he's changing his approach. For instance, he's throwing far more sliders than ever before: 48.9 percent against 32.8 percent for his career. It has clearly been his most effective pitch, fooling both righties and lefties into swinging wildly. He has also used a two-seamer, which breaks away from righties, with some success this year.
Having a lefty setup man does provide the Yankees with some advantages. Logan is still superior against lefties, so Joe Girardi could choose to deploy him in either the seventh or the eighth, when the opponent has two or three lefties due up in the next four batters. He could also, as we've seen a few times this season, deploy him to get outs at the end of the seventh and the beginning of the eighth. That allows Girardi to emphasize his strengths while using him to cover multiple batters in late innings. A LOOGY he is not.
It's difficult to tell now what's real and what's just sample size noise. But given his results over the last season-plus, combined with the recent injuries, Logan seems in line for a much more significant role in 2012. He clearly has the weapons to succeed. If Girardi deploys him in a way that emphasizes his strengths, the Yankees just might have another late-inning reliever on their hands.