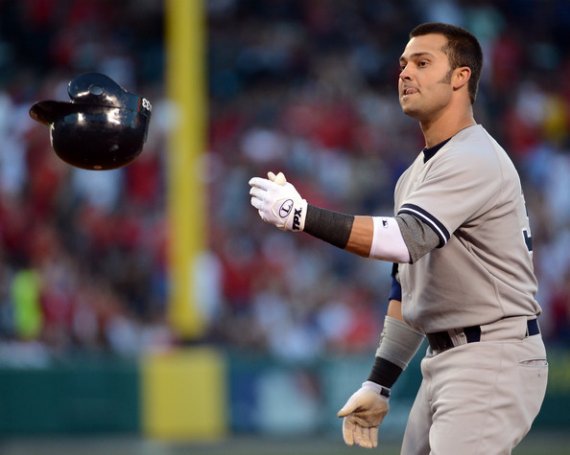 Nick Swisher hasn't been very Swisher-like at the plate this season. Sure, he's hitting with his typical power, slugging 13 doubles and eight homers. He's also seemingly been robbed more frequently than usual. There have been at least a few games where he's hit three or four rockets, only to have fielders snag them — sometimes in spectacular fashion. But there has been something about Swisher's game that just doesn't add up, given his history.
When the Yankees acquired Swisher before the 2009 season they pretty much knew what they were getting: a low-average, high OBP player with some power. In his first season he met expectations almost precisely, hitting .249/.371/.498, slugging 29 homers and 35 doubles while walking 97 times. They got much of the same in 2011 as well: .260/.374/.449 with 23 homers, 30 doubles, and 95 walks. Maybe it has become an odd-year thing with Swisher, because in 2010, and now in 2012, he's been a bit different.
In 2010 Swisher talked about becoming more aggressive at the plate. That worked out for him well. While his walk rate dropped to 9.1 percent, the lowest of his career by more than a full point, he made up for it by hitting .288, by leaps and bounds the highest of his career. He still added the power, with 29 homers and 33 doubles. Replacing the walks with hits worked out well for him, as he produced the highest OPS+ of his career.
This year Swisher has again shown a free-swinging tendency. The difference is that it's not quite working to his advantage. We can start with his tendency to swing at pitches out of the zone — 27.2 percent, which is higher than even his then-career-high of 25.4 percent in 2010. Even worse, he's actually swinging at pitches out of the zone at a rate higher than the league average; he's never done that previously. In general he's swinging more, with the highest rate of his career at this point. That's just not what we've come to expect from Swisher.
Even more concerning is his swinging strike rate: 12.5 percent, which is far, far above his 8.9 percent career rate, and even more alarmingly above his average as a Yankee. While it's difficult to make definitive conclusions from batted ball data, we can combine this with the eye test to make the following assertion: Swisher has been taking some terrible hacks this year, and his overall game is suffering from it.
While we can examine the problem, the solution is completely out of our grasp. Is Swisher swinging more often due to frustration over having his hard-hit balls land in fielders' gloves? Is he trying to be more aggressive, as in 2010, but failing to recognize pitches? The most important question, though, is of whether he'll eventually round into form. Given his history of only one below-average season, and his increasing production into his prime years, it seems as though he will.
In an offense riddled with problems, Swisher has at times seemed a savior. He's had plenty of big hits. At the same time, he's been floundering in many spots where his team needs him to be patient and wait for his pitch. Getting him back to his normal production levels will provide another boost to an offense that needs all the help it can get right now.