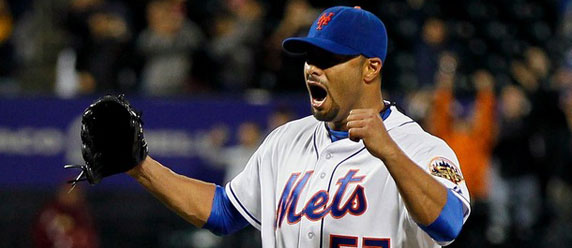 The Yankees welcome the Mets to the Bronx this weekend for the first of two home-and-homes they've played against each other every season since 1999 — though there are rumblings that the annual six games against the Mets could be a thing of the past with Houston moving to the American League next year. The Yankees are 49-35 all time against the Mets during Interleague Play, though despite this relative dominance I certainly won't miss playing the Metropolitans six times a year if changes do come to pass.
The Bombers went 4-2 last season against a bruised and battered Mets team, winning both series and marking only the 7th time in 15 seasons that the Yankees won the season series (the teams have split the season series six times). This year's Mets team entered the season with almost no expectations — though I told anyone who would listen during the offseason that I thought their starting pitching would be very good, and while it hasn't been lights-out it's still been plenty effective (top seven NL in K/9, BB/9, ERA and FIP) — and to the surprise of everyone, have considerably outplayed expectations to the point of being 32-26 and only 1.5 games out of first place. I'd wager most Mets fans would've looked at you as if you were crazy if you told them they'd not only have a winning record on the morning of June 8 but also be within shouting distance of first place.
The staff has been led by a resurgent Johan Santana — still riding high after authoring one of the most important moments in franchise history last Friday after finally breaking the team's 51-year no-hitter drought — who has come back from shoulder surgery looking every bit the pitcher the Mets gave one of the richest pitching contracts in history to, putting up a 2.38 ERA/2.72 FIP, striking out 9.0 per nine and as usual, limiting the walks, all contributing to him currently residing in the top 10 most valuable starters in the NL by fWAR.
Knuckleballer R.A. Dickey has continued what has to be one of the quietest runs of sustained success in the Majors — he actually has the 11th-lowest ERA of all qualified starters in MLB since joining the Mets in 2010. If that weren't enough, Dickey also has — believe it or not — the lowest ERA against the Yankees, minimum two starts, of every starter the Bombers have faced since the beginning of 2010. Granted, it's only across two starts, but the Yankees should be very happy they don't have to see Dickey this weekend. Saturday's starter Dillon Gee has also been effective if a bit unlucky on the season (4.48 ERA/3.59 FIP, 8.32 K/9), while Sunday's starter Jonathon Niese has probably been the least-effective hurler in the Mets' rotation thus far but that's not saying much, as Niese boasts a 4.11 ERA/4.26 FIP and 8.95 K/9.
However, the pitching hasn't been the entire story for the 2012 New York Mets. The offense currently ranks 5th in the NL with a .318 wOBA/99 wRC+, and much of that is due to David Wright, currently perhaps the hottest hitter in all of baseball, with a .438 wOBA and 182 wRC+ that both clock in at 2nd-best in the NL. That said, if you can navigate around Wright there isn't a whole heck of a lot of firepower surrounding him. Lucas Duda (122 wRC+) is a threat at cleanup; recently called up journeyman shortstop Omar Quintanilla (141) has hit well above his head in limited duty which means he'll almost certainly get a key hit or two this weekend; and rookie Kirk Nieuwenhuis (110) and even constantly injured Jason Bay (108) are also providing above-average production, so the Mets aren't without their weapons, although none of these names instill the level of fear that Wright does.
Unfortunately it hasn't been all champagne wishes and caviar dreams for the Mets, as their bullpen has been the team's worst-performing unit, with a worst-in-the-NL 5.38 collective ERA. Righties Bobby Parnell and Jon Rauch set up closer Frank Francisco, while Tim Byrdak and Miguel Batista hold down the fort in the middle innings.
The Pitching Match-Ups
Friday, June 8, 2012 at 7:10 p.m. LHP Johan Santana vs. RHP Hiroki Kuroda
You already know about Santana's season — who had his most recent start pushed back to this game in the aftermath of his career-high 134 pitches used to secure the no-no — and stuff-wise he'll attack hitters with his 89mph four-seamer 46% of the time and knock them out with one of the best changeups (2.38 wCH/C) in the game. Santana also chucks an 81mph slider 18% of the time and a sinker 14% of the time. Despite a career 4.18 ERA vs. the Yanks, Johan has always been a tough assignment for the Bombers, who haven't seen him since they beat him behind a Mark Teixeira grand slam on Father's Day in 2010.
HIROK! has historically fared rather poorly against the Mets, pitching to a 5.75 ERA in 36 innings across seven career starts.
Saturday, June 9, 2012 at 7:15 p.m. RHP Dillon Gee vs. RHP Phil Hughes
The groundballing (54.6%) Gee throws a 90mph sinker 28% of the time, four-seamer 26%, 83mph changeup 23% and 74mph curve 10% of the time. Though he primarily relies on the sinker, his changeup is actually one of the better weapons on the team, as it currently ranks 11th-most effective by wCH/C in the National League. Gee has one career start against the Yankees which came last July 2, and he started out strong before they rallied for four runs in the 6th inning en route to a 5-2 victory.
Hughes missed the subway series last year, and has two career starts against the Mets, both coming in 2010. In the first, he got hit around at Citi Field for four runs in 5.2 innings, and was much better a month later, holding the Mets to three runs over seven at Yankee Stadium.
Sunday, June 10, 2012 at 1:05 p.m. LHP Jonathon Niese vs. LHP Andy Pettitte
Niese is a fastball-heavy lefty, with a 91mph four-seamer (42%), 87mph cutter (21%) and 90mph sinker (13%). He also has a 75mph curve that he'll throw roughly one-fifth of the time to both righties and lefties. Like Gee, Niese has also only faced the Yankees once, and held them to three runs in 6 innings last July.
The Prediction
The Mets always seem to find ways to win games they shouldn't when playing the Yankees, even during their bad seasons, and so with the Mets currently playing very good ball this is a fairly tough call.
It'll be interesting to see if Johan shows any ill effects from the career-high pitch count from last Friday — if he's anything close to the guy that threw the no-hitter, he'll be a tough match-up. The Gee-Hughes game seems like a complete wild card, as who knows whether Hughes will come out roaring like he did against the Tigers or follow up a superb outing with a clunker for seemingly the 1,000th time in his career. I also don't know how I feel about the Niese-Pettitte game, as the Mets' starters of recent seasons seem to be very good at bending slightly against the Yankees but not breaking. Of course, Pettitte's been mostly ageless thus far in his comeback, and it's hard to pick against him right now.
I think the Yankees probably lose the Santana-Kuroda game (although in one of those random scheduling quirks, the Yankees are actually 8-1 on Friday this season, with their one loss coming back on Opening Day) and then bounce back to take the Saturday and Sunday games behind continued strong performances from Hughes and Pettitte.
RAB Tickets
As always, RAB Tickets has your connection for seats, and this weekend, we have a special offer from TiqIQ. With the Mets coming to town, here is the rundown for deal info on each of this weekend's games. Click on the image above to make a purchase.
Game 1:
1900+ tickets starting at $34.
15+ instant delivery eTickets ranging from $44-$283.
400+ tickets available for less than $55, including some in TiqZone Field OF for 50% below face price.
Grandstand seats behind the dugouts or home plate start at $47.
150+ Bleacher Seats available for less than $60. These tickets range from 23%-32% below market average.
70+ seats available on the main level behind the dugouts for $57-$90. These seats range from 17%-31% below face price.
Prices for 100-Level Field seats start @ $97 (22% below face price).
Game 2:
3200+ tickets starting at $25
140 instant delivery eTIckets ranging from $57-$95.
90+ tickets available for $50 or less.
Bleacher seats start @ $50 and there are over 300 available for less than $70, some for up to 33% below market value .
Grandstand seats behind the dugouts or home plate start at $40 and there are 100+ available for less than $60.
Main level behind the dugouts start at $70 (22% below face value.
Prices for Field level seats start @ $74 (18% below face price) in the outfield and $111 (11% below face price) behind the dugouts.
Game 3:
2000+ tickets starting at $40
15+ instant delivery eTickets available from $47-$212.
150+ tickets available for less than $60.
Tickets in the Bleachers start at $53 and there are over 140 available for less than $70. These seats range from 15%-34% below market average.
Grandstand seats start at $47 (36% below market average) behind the dugouts and $56 (30% below market avg) behind home plate.
Main Level seats start at $55 (43% below market avg) and there are 60+ available for less than $100.
Prices for Field level seats start @ $74 (18% below face price).