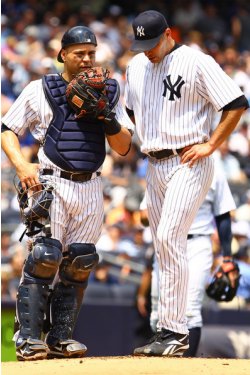 Russell Martin knew it would be a big year. Not only was he set to hit free agency after the season, but a fellow catcher had just set the market with a five-year, $75 million contract. While Martin isn't held in the same regard as Yadier Molina, it seemed clear that with a repeat of 2011 he'd be in line for a bit more than the three years and $20 million the Yankees reportedly offered him.
A rough start has certainly changed the situation, at least temporarily. At the end of May he had just a .187 average. While his .333 OBP did help matters a bit, he still wasn't hitting with much power. Those issues were clearly visible, though. What might not have been so apparent to us was Martin's work with the pitching staff. As it turns out, that might have been a problem equal to his one at the plate.
As David Waldstein of the New York Times recently reported, Joe Girardi called Martin into his office before the game on June 2nd in Detroit. The gist: Martin wasn't doing a great job of calling pitches. Girardi said that he could do better, and Martin agreed. Despite the wealth of talent, both in the rotation and the bullpen, the staff sported a 4.13 ERA at the end of May. Being above league average just isn't acceptable for a team with the Yankees' aspirations.
That talk seems to have been the turning point for the staff. Since then they've pitched 89.2 innings to a 2.11 ERA. It looks even better for Martin, too. He doesn't catch CC Sabathia, and Sabathia has turned in two poor starts since then. In fact, if you subtract the 14 innings and seven earned runs Sabathia has allowed in his last two starts, the staff, under Martin, has thrown 75.2 innings to a 1.67 ERA. Might it be time for Girardi to give up on the personal catcher thing and have Martin start catching the team's most important pitcher?
As Waldstein notes, neither Girardi nor Martin has been very forthcoming with the specifics of the talk. But Martin did let one tidbit slip. "He said, 'I think you need to start doing a couple of things; I think you need to start throwing inside more.'" As the old baseball adage goes, if you can't establish your fastball inside you can't get major leaguers out. Why Martin neglected this earlier in the season I'm not sure, but his adjustments have shown in the results.
The talk might have done more than boosted Martin's performance behind the plate. Before the talk Martin was hitting .187/.333/.333. Since then, in the admittedly small sample of 34 PA, he has gone 9 for 31 with two doubles and four homers, for a slash line of .290/.353/.742.
Of course, we can't be 100 percent sure that the pitching staff has improved because of Martin's adjustments. Correlation, causation, and that whole thing. But there's no denying the correlation. Girardi gave Martin something to think about, and he has seemingly responded in kind. The pitching staff is now pitching to its capabilities and then some — and that's without Sabathia pitching like an ace. Just imagine how they'll look once he gets back on track. Perhaps a run with Martin behind the plate would cure what ails him.