The Yankees need all the wins they can get at this point.  On Tuesday, they managed to grab two against the Blue Jays.  Around the fifth or six inning of the second game in the doubleheader, Michael Kay sparked a discussion about who the Yankees missed most this season.  The players to choose from were Derek Jeter, Mark Teixeira, or Kevin Youkilis.  Now upon hearing this question, the answer seemed fairly obvious to me – that is to say, Derek Jeter.  Of course, that didn't stop Michael Kay from picking a different (and rather unexpected) option, Mark Teixeira, and sparking a conversation between me and several others on Twitter.  So here we are; let's dissect.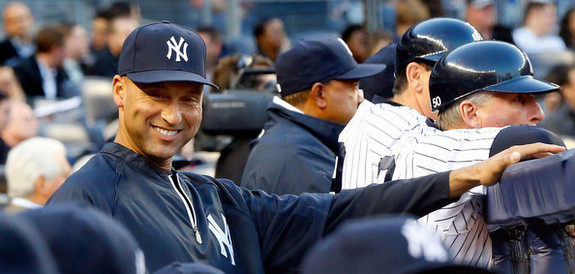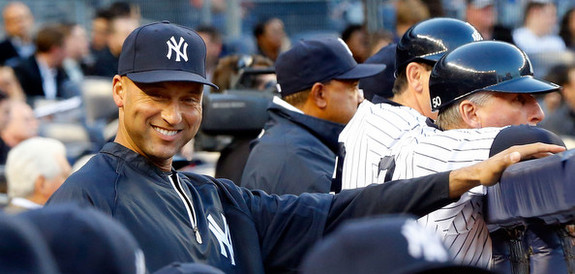 Derek Jeter
Jeter has been the Captain of this team for quite some time, and for a reason.  He's been a historically great player, and even in his sunset years still remains a legitimate upgrade over the other options accessible to the Yankees at this time.  To put this in perspective, last season, Derek batted .316/.362/.429 (.347 wOBA, 117 wRC+) over 159 games.  As a bonus, he provided the team with 15 homeruns and a 3.1 fWAR season.  The Captain is known for putting the ball in play and has a reputation for timely hitting (though that concept is a discussion for another day).  The fielding metrics are generally unkind to Jeter, and depending on which metric you prefer, they can be downright ugly.  That's not a surprise though.  I think everyone views Jeter as a "bat first" type of shortstop.  For what it's worth, ZiPS had Jeter producing a .703 OPS (.311 wOBA, 1.7 fWAR) over 120 games played this season.  Obviously, it's a moot point now.
In any event, compare Jeter's numbers from last season (if you're feeling optimistic) or the ZiPS projection for this season (if you're feeling more bearish) to the alternatives, Eduardo Nunez and Jayson Nix.  Both Nunez and Nix have their moments (Nix as recently as Tuesday), but one would be hard pressed to make the case that either player should be a full time starter, let alone a sufficient replacement to Derek Jeter. Neither player is even in shouting distance of Jeter if he replicates his 2012 numbers.  Nunez has the slight edge over Nix (+12 in wRC+), but is still about 45 points lower than what Jeter was last year.  Jeter would still have to fall approximately 25 points in wOBA, if his 2013 ZiPS projection ended up being accurate, to match Nunez's current contributions. Even in Jeter's 2010 campaign, which was a terrible year by his standards, Nunez still falls short by about 20 points of wRC+.  Now to be fair, one stat is not the end all of player analysis (nor should it be), but I think some of these metrics offer a convenient snap shot of the offensive gap between a fill-in shortstop against what we, as fans, have been used to seeing on a daily basis for the last decade or so.
So if the currently-injured Nix and Nunez can't hit like Jeter, perhaps they make up the difference in runs defensively.  Well, that's the theory anyway.  Unfortunately for Nunez, defensive metrics tend to rate him basically as gruesomely as they do the Captain.  Nix on the other hand, is a bit more positive in this regard.  Are the runs prevented by Nix enough to offset the difference in runs created by Jeter though?  Not really.
Kevin Youkilis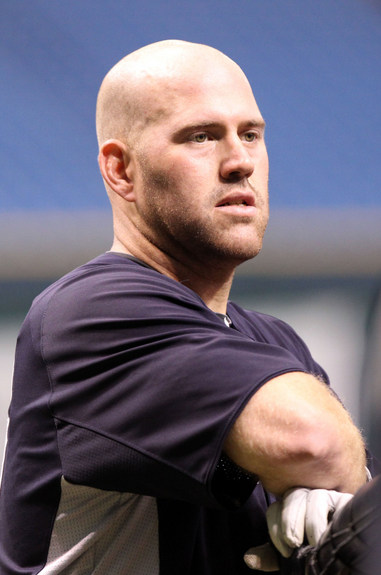 If you don't want to vote for Jeter, I see the logic in voting for Kevin Youkilis, at least from a more macro level.  We're all aware of how dismal the Yankees third baseman have been this season (and for a brief period, Youkilis contributed to those shortcomings).  Despite A-Rod's contributions over the past couple weeks, the team still ranks in the bottom six of all Major League Baseball (-0.5 fWAR collectively) in terms of production from this position.  The group of fill-ins for A-Rod have shown very little patience at the plate (6.1 BB%) and have struck out often (24.9 K%).  The Yankee third basemen have produced 8 (!) home runs all year.  We're talking .259 wOBA, 56 wRC+ bad.
Hypothetically, if we pretend Youkilis wasn't injured all year (which in itself involves a stretch of the imagination) and performed similarly to last year (which I'm also dubious about given how fried he looked when he was playing early on this season), that would still represent a definitive upgrade over what the team has had.  Over 509 plate appearances in 2012, Youk smashed 19 long balls, walked 10% of the time and struck out 21.2% of the time.  More importantly though, his offensive contributions were basically league average overall (103 wRC+) despite his noticeable splits.  League average isn't necessarily a desirable or complimentary trait, but it sure as hell wins out over the abysmal production the Yankees have experienced — especially considering it was a last minute desperation move in the offseason.
This same logic applies to Alex Rodriguez as well, now that he has returned.  Drama aside, he's basically an average third baseman at this point (though he does account for 25% of the team's home runs this season among third basemen after only 12 games played).  No one expected a return of Alex's MVP days, but even a replacement level third baseman marks a huge upgrade in terms of production over the course of a season compared to what the team has had.  If the Yankees had had Jeter or A-Rod all year, the offensive boost would be fairly substantial considering they were going from basically nothing at all to something that is closer to resembling acceptable big league production.  We've witnessed over the past few days how the lineup has basically felt completely different; it's transformed into something much more formidable.  It's much deeper now than it has been all season and the results speak for themselves — a two run deficit is no longer instant loss.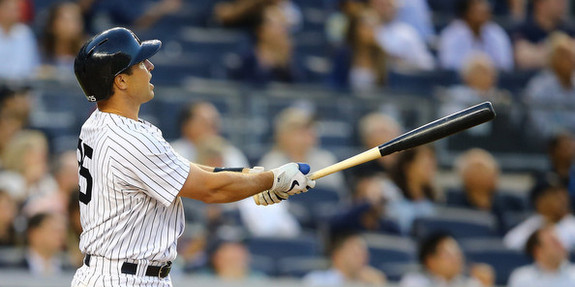 Mark Teixeira
Let me preface the rest of this post by saying that I do believe Tex is a superior player to both Lyle Overbay and Mark Reynolds — both offensively and defensively — despite the fact that his stats have been on the decline for the past few seasons.  That said, Overbay has been an adequate fill-in this season, generally speaking.  Over 409 plate appearances, Overbay has hit 13 home runs and batted .254/.304/.421 (.317 wOBA, 96 wRC+ — good for a 0.5 fWAR).  He's had some timely hits and appears competent with the glove.  With Reynolds complementing the first base platoon now, the offensive production from this spot in the lineup is that much more complete.
The 2012 season was probably Tex's worst year professionally since his debut year with the Rangers, and most certainly was his worst season with the Yankees since he joined the team in 2009.  Even still, he managed to hit 24 dingers, walked 10.3% of the time (patience that would be highly desirable in this year's lineup) and produced a .345 wOBA (116 wRC+).  Additionally, his glove is somewhere in the average to very good range depending on which metrics you trust.  He's better than what the Yankees have deployed these past several months undoubtedly.  But the gap in total production just isn't as severe.  Going forward, perhaps it could become as severe as the gap between the shortstop and third base replacements compared with the respective starters if Overbay and Reynolds both slide in performance, but right now that seems to be the least of the priorities.  Perhaps one underrated point for Teixeira is that he (sort of) theoretically eliminates the need for another platoon combination on the roster which enables other possibilities.
In any event, I think rather than asking, "Which player does the team miss the most?," perhaps the question should be, "Which supstitute replacement player(s) marks the biggest drop off?"  What do you think?
Which player have the Yankees missed the most this season?