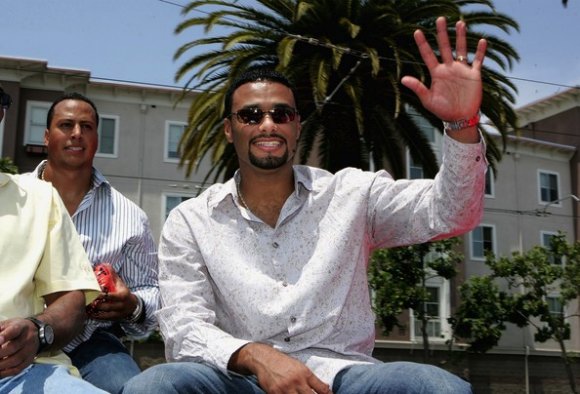 It appears that Phil Hughes and Johan Santana simply couldn't be in the Bronx at the same time. In 2007 the Yankees declined to include Hughes in a trade for the two-time AL Cy Young Award winner. Now that they're both free agents, could Hughes and Santana effectively make that swap? Hughes has already signed with the Twins. According to ESPN NY, the Yankees have interest in signing Santana.
Any potential deal would come towards the end of the off-season, as the Yankees fill out their non-roster invitee list. Santana might be a household name, but at this point he doesn't warrant a guaranteed contract. After missing all of last season, and all of 2011, with shoulder injuries. Those have been the kiss of death for so many pitchers that any amount of guaranteed money could be essentially flushed down the toilet. The only way to justify a rotation spot for Santana is to watch him first-hand in spring training.
While shoulder injuries spell trouble for all pitchers, Santana at least has one mitigating factor: he's pitched reasonably well with diminished velocity. Through his first 16 starts in 2011 he threw 98 innings to a 2.76 ERA, holding opponents to a .618 OPS. While the narrative is that he fell apart after he threw the first no-hitter in Mets history, he did have quite a few good starts after that (12 ER in 30 IP) before completely falling apart in July. It's not much of a stretch to speculate that his shoulder started becoming a problem right around that time.
The Yankees aren't the only team with interest in a potential Santana resurgence. Both his former teams, the Twins and Mets, have expressed interest, as have the Rays, Orioles, Royals, Brewers, and Pirates. With that many teams in the hunt, there's a non-zero chance that one team makes the crazy move of giving Santana a guaranteed contract. His agent, Peter Greenberg, has indicated that if a team does offer a guarantee, Santana could sign now. Absent one, he'll throw in January for interested teams. At that point teams will get a better idea, and one could certainly offer a guaranteed contract.
The Johan Santana who dazzled the league for years with his devastating changeup is long gone. He started his fade in 2009, and by 2011 he was completely gone. This is a different Santana, one dealing with physical limitations. Yet he has shown, for at least half a season in 2011, that he has the ability to succeed even with diminished stuff. A second shoulder surgery certainly changes things, but Santana is still worth a peek, at least. I wouldn't bet on the Yankees coming away with him, but in a search for low-cost, potentially valuable assets, they could do a lot worse.