The following is a guest post from long-time reader Sung-Min Kim, who you can follow on Twitter at @SungMinKim116.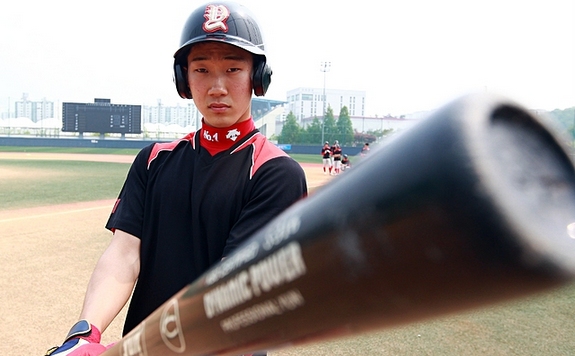 As many of us know, the Yankees are set to pour a lot of money into international signings come July 2nd. The reports say they already have come to an agreement with three big-name prospects in Latin America and there is possibly one more coming from Korea. On Tuesday, it was reported that 18-year old SS prospect Hyo-Jun Park will sign with the Yankees and it sounds official — his parents have quipped on it as well. What does this signing mean and what kind of talent is he?
In terms of the Asian market, the Yankees have a richer history with signing Japanese and Taiwanese players, but not much with Koreans. In the 2004-05 offseason, the team was actually strongly linked to LHP Dae-Sung Koo (who, by the way, was a beast in KBO in the 90's and did a decent job in Japan as well. At the age of 44, he was the saves leader in the Australian league in 2013-14) and reportedly came to an agreement, but the lefty ended up signing with the Mets and this ended up happening. Before the 2010 season, the team signed veteran RHP Chan-Ho Park, who had rejuvenated his career as a reliever, but he proved to be ineffective (5.12 FIP in 35.1 IP) for the Bombers and was DFA'd within few months.
Well, the reports strongly indicate that the Yanks are an official announcement away from sealing Park as their farm commodity. The bonus amount is reported to be around $1 to $1.2 million and the team is ready to supply Park a good amount of accommodation for his adjustment to the new culture, including a full-time translator, a "hotel-quality dormitory," etc. He would be the first Korean IFA ever to sign with the Yankees.
As a junior of the Yatap High School of Kyung-gi province, the shortstop is tearing the cover off the ball in the Gogyo Yagu Jumal League (high school weekend league), hitting for a .467/.614/.967 slash line in 44 plate appearances in 10 games. Out of his 14 hits, 7 of them are extra-base hits with three homers. Considering that Park's been considered a cream of the crop tier prospect since his sophomore year, when he hit .371/.475/.557 with 1 HR, his offensive performance so far this year has put him into a formidable prospect status. Another note about his power performance is that he's done it all with a wood bat in a league that banned the use of aluminum bats back in 2004. Also, he has shown a good eye throughout his high school career. For example, during his freshman year, even when he hit for only .256 avg., he managed a .468 OBP. So far in 2014, he has a 13-to-4 BB-to-K ratio in 10 games.
Garnering attention since his sophomore year, a lot of Korean scouts have pegged Park as the possible No. 1 overall pick of the 2015 KBO Draft. At this point, it's unlikely any KBO team will choose Park. Back in 2006, the Kia Tigers selected RHP Young-Il Jung, who had already generated strong ML interest, and the righty ended up signing with the LA Angels and the Tigers ended up wasting their 1st-round pick. The team with the first pick on the upcoming KBO Draft, the KT Wiz (an expansion team that will make its debut in KBO next season), has already announced their first two picks they received as an expansion team (RHP Sung-Moo Hong and RHP Kwon Joo). Many speculate that had Park not maintained a strong connection with the Yankees, the shortstop would have been the Wiz's pick.
According to this article, before this winter Park looked forward to being selected in the KBO draft. "I was approached by the Yankees during the sophomore year of high school," Park said, "my parents liked the idea of going to ML but I wasn't sure what to expect so I declined their offer at the time." Park's decision changed when he trained in Los Angeles over this past winter. "I played with American players few times then and I felt they had better power and basics," said Park, "despite all that, I felt that I played very well against them, so I started to feel confident about (playing in America in the future)."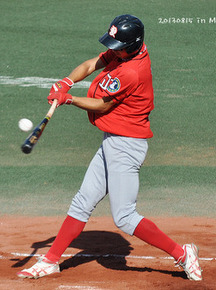 The Yankees were not the only team that showed an interest in Park. The San Diego Padres reportedly made a $1 million offer and their scout said that "(in his sophomore year) Park was a $500K-worthy player and after I saw him in Los Angeles, he was more of a $1 million-worthy talent." The Padres are not alone. According to Chi-Hoon Lee, Park's agent, seven ML teams, including the Yankees, have shown interest in the shortstop, but the link also states the Yankees are Park's sole priority.
The $1.2 million bonus is not as high as what the Yanks are giving to few other IFA signees but it's still a lot of money. In fact, it rivals the top-tier annual salary of KBO. The highest-paid player of the league, 1B Tae-Kyun Kim, is set to receive $1.403 million for 2014. For another point of reference, OF Hyung-Woo Choi, a 30-year old proven offensive commodity, gets paid only $421K for 2014 season. A 18-year old prospect Park has a chance to receive 3x the money that an offensive star Choi is – who is hitting for a 1.074 OPS so far this season. It is suffice to say that the amount is too good to easily pass up on.
The biggest Korean IF prospect to have signed with an ML team prior to Park is SS Hak-Ju Lee for the Rays farm system. Park has gotten comparisons to Lee for both his offensive and defensive game. This would have been a more thrilling thought last year, before Lee tore his ACL while hitting for 225 wRC+ for the Durham Bulls in AAA level. He has yet to find his offensive groove so far this season (73 wRC+) but he is still only a 23-year-old in AAA and have some time to work himself into position to be a future SS for the Rays. Lee was signed by the Cubs as a 17-year-old back in 2008 with a $1.15 million bonus. Park may get around that figure (or a little more). In six minor league seasons, Lee has hit for a .285/.360/.380 line overall.
Here's MLB.com's scouting report on Park – he ranks #12 in the overall list (also the site misspelled his name as "Hyu-Jun Park").
Scouting Grades: Hit: 60 | Power: 45 | Run: 60 | Arm: 55 | Field: 60

Park and his teammates from Yatap High School in South Korea spent more than a month in the United States playing against top high school teams from California earlier this year. There's a real possibility the young infielder will get a chance to see a lot more of the country in the near future.

A legitimate shortstop prospect, Park has the tools to stay at the position as he develops. What's more, some scouts think he has the potential to be above average in every facet of the game, except for power. That said, there's the belief that he could still hit at least 10 home runs when he gains strength. He can also spray the ball to all fields.

Scouts view him as a good defender with solid fundamentals and compare him to Tampa Bay infield prospect Hak-Ju Lee. Park has been scouted heavily by the Yankees.
Based on what I hear about Park, the scouting grades and report sound about right. Personally, I'd like to see Park fill out his frame and have a better power display than projected (because power is sexy), but he's still projected to show plus hit, run and field tools. If his high school slash lines are any indication, he also has some plate discipline.
Of course, the tools translating in pro ball are all big ifs. He could develop as well as Lee or he could be a costly flop like Kelvin De Leon. The odds for the latter is much bigger than the former — especially considering the cultural adjustment and language issues — it won't be an entirely smooth ride for Park. Rangers OF Shin-Soo Choo is the main example of a Korean position player who enjoyed success after years of toiling in the minors and going through cultural and language adjustment as a teenager. However, for every Shin-Soo Choo, there are a bunch of failed prospects who never adjusted to the American lifestyle and English language and returned to their home country.
Lee started out at a low-A level instead of any short-season leagues and, according to reports, Park may start at the same level as well. The shortstop himself said he wants to be a ML regular in "three years" but I think it will take longer. The tools and the hype are there. Will he be the next Shin-Soo Choo or the next Carmen Angelini? Too early to speculate what will he be like in 3-4 years, but as a Korean and a Yankees watcher (who wanted to see Choo sign with the Yankees over the offseason), I'm looking forward to seeing his development in the system.