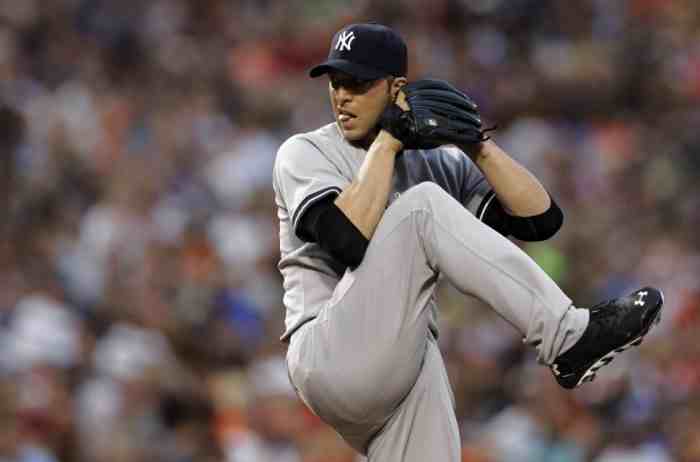 The Yankees have signed LHP Chris Capuano to a one-year deal, according to YES Network's Jack Curry. He'll earn $5 million in 2015.
Capuano, 36, started 2014 with the Red Sox, but he pitched poorly enough to get DFA'd from that last-place team. He then signed as a free agent with the Rockies, but didn't pitch at all for them before the Yankees purchased his contract.
By ERA Capuano didn't fare much better for the Yankees than he did for the Sox: 4.25 vs 4.55. But he did cut down on his walks, which helped him eat some innings as a starter (5.5 innings per start). Basically, you could count on him for between five and six innings and between three and four runs per start. That worked better in the mid-00s, when the Yankees had 900-run offenses, but with all the injuries last year it came in handy in the second half.
This move was predictable once the Yankees signed Chase Headley yesterday. A week ago Joel Sherman noted that if the Yankees sign Headley, "they will have to bottom-feed for starting pitching." Capuano is pretty much the definition of bottom-feeding.
While Capuano doesn't really move the needle for the team, he does help lengthen the starting rotation. If he can give them six innings per start — not unfathomable, given that he spent the entire first half of last year in Boston's bullpen — he can probably keep them in enough games that the back of their bullpen can close the door.
In a world where Brett Anderson gets $10 million and J.A. Happ costs you an average-hitting outfielder, spending $5 million on Capuano seems like a downright decent deal.