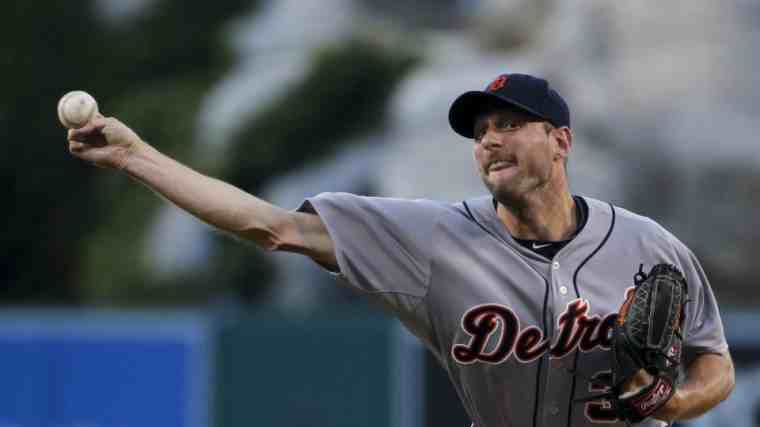 It's a good thing the off-season does not end today, because if it did the Yankees would find themselves the fourth-best team in the AL East. If Tampa Bay has a few things break their way, the Yanks could find themselves finishing last in the AL East for the first time since 1990 (fifth for the first time since 1991).
The calendar might suggest that there are still two months left in the off-season, but the recent flurry of transactions means fewer players are available for the Yankees. The Red Sox, for instance, brought in three pitchers in the last day or so: Wade Miley, Rick Porcello, and Justin Masterson. That's three fewer pitchers for the Yankees to consider.
Options on offense have also dwindled. Not that the Yankees have many places they can fit another hitter. Maybe they have some at-bats in the outfield, but probably not at a starter's level. Their best option, Chase Headley, is still on the board. But will the Yankees offer the ~$45 million it takes to get him?
What it takes
Q: What would it take for the Yankees to reach the level of the Red Sox, Jays, and Orioles?
A: A $230 million payroll.
This is not unprecedented. The 2013 Yankees spent $228 million on a team that was clearly bad. They paid Vernon Wells $10 million. They paid A.J. Burnett $8 million not to pitch for them. A clearly diminished Kevin Youkilis earned $12 million. And then there are the down-roster players, like Ben Francisco and Brennan Boesch, who made far more than they were worth.
The point, apparently, was to paper over a depleted roster with the goal of lowering the 2014 payroll below the $189 million luxury tax threshold. And it failed, miserably, because when all those horrible contracts came off the books they had no one good left on the roster.
The problem this year is that the Yankees already have almost $179 million committed — to 2016's payroll. The only players scheduled to reach free agency after 2015 are Chris Young and Shawn Kelley, and maybe Brendan Ryan.
Which is to say, if they don't spend now, they're going to be in the exact same spot next off-season, only with everyone a year older.
$200 million to finish 4th
According to Baseball Reference's payroll estimates, the Yankees are currently in for just around $195 million if you estimate around $9 to $10 million for arbitration guys, plus league-minimum guys. That is, if they make no real upgrades anywhere else. If they add a mid-level starter, that bumps them over $200 mil — and failing to add another starter means Adam Warren in the rotation and pretty much no depth behind the four shaky starters.
Worse, it would almost certainly mean finishing fourth or even last. Unless the O's, Jays, or Sox face a series of misfortunes, that's the Yankees' fate.
This is the crossroads at which the Yankees currently stand. They can either spend $200 million for a roster almost guaranteed to finish fourth or fifth, or they can make a splash right now. They can go out and add two players and bump up that payroll.
Yes, Max Scherzer
Scherzer is currently the only difference-maker left on the free agent market. Chances are he'd cost about $175 million over seven years. Given his performances the last three seasons, he might be worth that. And he can seriously upgrade the Yankees run prevention corps.
He can't be the only guy they add — which probably means bumping payroll above $230 million, since adding Scherzer alone will bring them very close to that — but the alternatives are not at all compelling.
Signing another player to a huge, long-term contract might not seem palatable. But it's a risk the Yankees can take right now.
A two-year commitment
While no one comes off the books after the 2015 season, after 2016 the Yankees get some breathing room. Carlos Beltran and Mark Teixeira* have expiring contracts, amounting to $38 million. That gives them some breathing room. The next CBA will also be up for discussion, which will probably change the luxury tax threshold and penalty. So the Yankees will have another opportunity to duck under.
*CC Sabathia has a 2017 option, but it becomes guaranteed as long as there's nothing wrong with his left shoulder. To date this has not at all been a problem. Maybe he does develop left shoulder issues in the next two years, but we can't really bank on it. So we assume he makes $25 million in 2017.
At this point the Yankees, with Scherzer, will have around $155 million committed to eight players. That's not ideal, but it's still better than where they're at right now. And at that point, Brian Cashman's job will again be up for consideration.
In 2017 Cashman enters another contract year. With promises of building from within, by this point we should see the payoff — whether in trades or in on-field performance. So 2015 and 2016 are a two-year experiment, where the Yankees play with a huge payroll in hopes that they can contend. In 2017 they have the real test of whether they can start plugging young, cost-controlled players into the lineup and rotation.
After the 2017 the Yankees free themselves from CC Sabathia's and Alex Rodriguez's contracts. Brian Cashman's contract is up. The picture will be much clearer by that point.
Am I rationalizing?
Glad you asked: Yes, I am. There might indeed be a long-term advantage to standing pat right now and looking for bargains. But the last two seasons have been difficult to watch, and so as a fan I hope that they make a couple of moves, namely Scherzer and Headley, and give us a glimmer of hope for 2015.
At the same time, Scherzer gives the Yankees all kinds of advantages. For instance, if Tanaka is healthy he gives them the two best pitchers in the division. He also gives them a bit more certainty at the top of the rotation, given the injury situations of Tanaka, Sabathia, and Pineda.
Most importantly, he gives them the best chance to contend in 2015. Unless they don't intend to contend. Which, for $200 million, for the third straight season, is a damn shame.