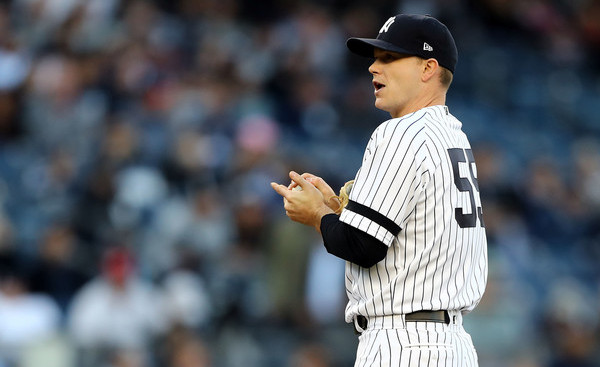 Happy Sunday once again, all; I hope you're doing well as we inch closer and closer to the start of Spring Training. The weather's not quite as cold as the last time I did one of these, but here's another mailbag to keep you warm. Additionally, if you haven't already, go listen to the most recent episode of the RAB podcast, which features a great conversation between Joe and ESPN's Keith Law about the Yankee's farm system and top prospects. Onto your questions.
Nick asks: I know Sonny Gray wasn't the ace some Yankee fans wanted after his acquisition, but he also wasn't nearly as bad as some would lead you to believe. What are your realistic expectations for a guy who's all of a sudden (I believe incorrectly) being viewed by some as a back end arm.
I touched on Sonny Gray last week and my thoughts are definitely similar to Nick's. Did you realize that with the Yankees last year, in his 65.1 regular season innings, Gray had a 122 ERA+? In fact, the only season in which he's failed to record and ERA+ lower than 120 was 2016 (72) when he was injured (only 22 starts). Sonny Gray is a really good pitcher. He suffered a rash of home runs last year (and who didn't?), especially when he moved to the Bronx, so as long as he brings that down, I think he'll be more than fine. ZiPS projects a 3.80/3.83 ERA/FIP split for Gray, good for an 86 ERA- and an 85 FIP-, both of which would be great (remember, minus stats mean lower than 100 = better than average) for the team's third starter. I'm more optimistic, though, and think he can do a little better than that, with maybe an 80 ERA-.
Clay (a former baseball + softball teammate) asks: Do you think the Yankees will strike out too often to win a playoffs series?
Nope. Strikeouts are frustrating, but fans may overblow them at times and commentators certainly do. The Yankees ranked towards the back of the AL pack in strikeouts last year–10th out of 15–; it may seem like the Yankees strike out a lot, but, relative the competition, they definitely don't. They return mostly the same team this year, too. Giancarlo Stanton strikes out at a high rate, but he's dropped it recently and he, like the other Yankee hitters with high strikeout totals, brings lots of walks and power to mitigate the strikeouts. We should also note that the Yankees won a playoff series and took another to the seventh game against Cleveland and Houston, both high strikeout pitching staffs.
Sherri asks: What will be the Opening Day lineup?
My preference would be:
LF: Brett Gardner
RF: Aaron Judge
DH: Giancarlo Stanton
C: Gary Sanchez
1B: Greg Bird
CF: Aaron Hicks
SS: Didi Gregorius
3B: Miguel Andujar
2B: Tyler Wade
If the lineup doesn't spit out exactly that way, I'm at least sure it'll have that collection of players.
Ben asks: If you had to pick one Yankee player to babysit your son, who would you choose?
For those of you who don't know, I have an 18 month old son. He's awesome. Anyway, the cool thing about this question is that there almost isn't a wrong answer. A lot of guys on the team are dads, all the way from CC and David Robertson to the younger guys like Gary Sanchez, Luis Severino, and Miguel Andujar. Selfishly, I dream of my son being a left handed pitcher. So, with that in mind, and the fact that he has more dad experience than everyone else, I'm going with CC. Maybe some of the lefty magic wears off on my little guy. Plus, he might make an appearance on R2C2, and that would be pretty dope.
Matt, a Mets fan, asks: Will the Yankees ever stink to the point where they'll be as bad as the Mets?
No.