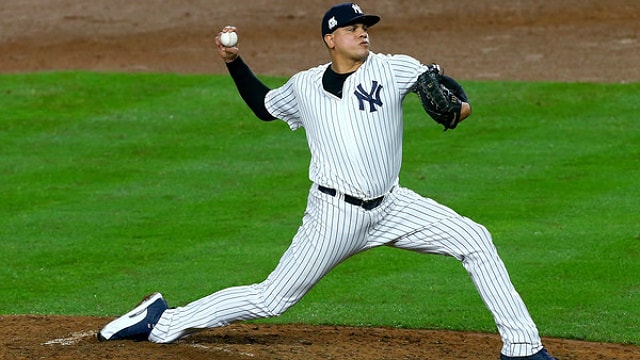 Going into this season, the Yankees are projected to have one of the best bullpens of all-time. Of all-time! That's what happens when you put together three veteran All-Stars, someone who pitched like an All-Star last year (Tommy Kahnle), a unique multi-inning reliever (Chad Green) and a top-tier long-man with Adam Warren.
There are question marks with any pitcher every year unless you're a Mariano Rivera-esque automaton. Guys get hurt. Guys lose control or just have worse luck. Relievers especially are fungible and can fall apart at a moment's notice.
But even with those question marks, you can guess pretty clearly what you're getting from Chapman, Robertson, Green and Warren. Even though Chapman struggled last year and Green was essentially a rookie, their talent is pretty easy to see shine through.
So let's get to the two pitchers I'd consider wild cards, the duo among the Yankees' top six that have the highest variance (in my opinion) in potential outcomes: Dellin Betances and Tommy Kahnle. Let's break it down to the positives and negatives for each pitcher.
The positives for Betances
Let's begin with the good stuff. Check out that strikeout rate up top and the MLB average way down below.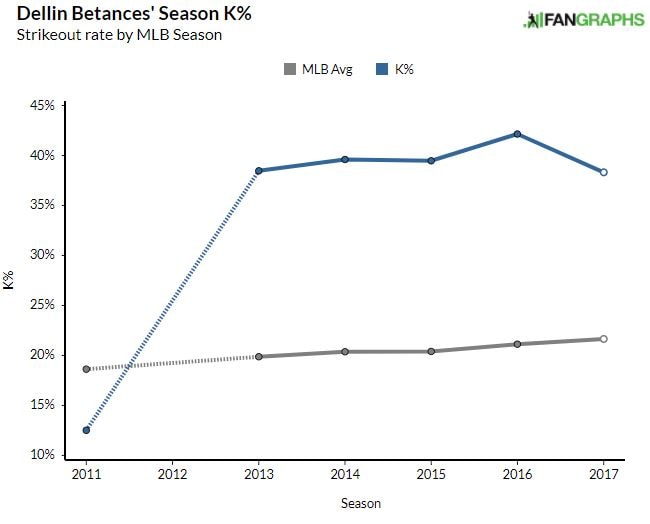 Oh man, that's some sort of beautiful. Here might be the best part: Betances was sixth in all of baseball with a 38.3 percent K% in 2017 and it was the lowest of his career. He was one of four Yankees in the top 10 in K rate (and five in the top 20).
For the last four seasons, Betances has been a strikeout machine. He's struck out no fewer than 100 batters each season and has struck out north of 15 per nine each of last two seasons. There's a reason this guy has been an All-Star every season.
Even in what was a definite down year, Dellin still posted a 65 ERA-, meaning he was 35 percent better than league average. Because he throws from a unique height/arm slot, regularly hits 98-100+ mph and has a curveball fresh out a video game, he's not as homer-prone as some other relievers. Opponents batted just .141 against him last season with a .252 BABIP.
And he's worked on correcting his delivery issues this spring. "This was the first spring I actually tried to work on correcting stuff," he told the New York Post. "I have the confidence." That's definitely what you like to hear.
The last positive is more low-key: Betances improved his fielding last year. He recorded five putouts, had four assists and made no errors. Throwing to bases still doesn't look natural for him, but with a combination of practice and some underhand throws, he's getting the job done.
Negatives for Betances
The negatives are obvious: Dellin's control was out of whack last year. He'd had a game or two here or there in his first three seasons where his command looked like it didn't in the minor leagues, but he simply lost it completely for long stretches on 2017. It's insane he still produced a 2.87 ERA.
The control issues manifested itself in the numbers, too. 6.6 walks per nine innings. An MLB-worst 16.9 percent walk rate. He even hit 11 batters, which was more than he had combined in his career to that point.
He was so unreliable down the stretch that he was removed from his eighth-inning role (helped that the Yankees had acquired other options) and was mostly a non-factor in the postseason. He looked good in his last postseason game and has been mostly solid this spring, but it's tough to forget Game 4 of the ALDS when he came in, walked two batters and was promptly removed.
Perhaps this was positive in the long-run, but he had fewer innings last year mostly due to his inconsistency. His confidence will need to come back along with the delivery and that could take time.
Lastly, the baserunning. The book is out on runners knowing they can take off against him, even with Gary Sanchez behind the plate. This seems like it will just be a thing. Betances is 6-foot-8 and takes a while to get to the plate. It's less of an issue when he isn't giving up as many free passes, but if he's walking north of a batter every other inning, the stolen bases can become a real nuisance.
Positives for Kahnle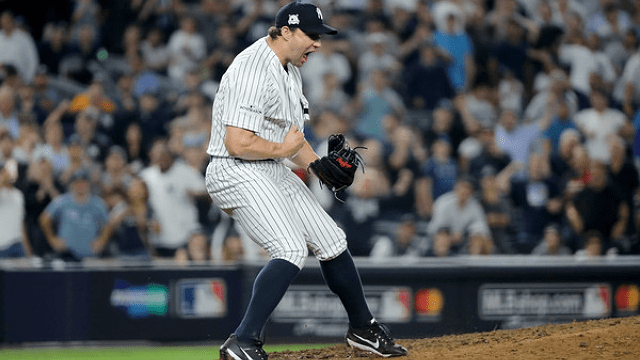 Remember how Betances was sixth in K rate? Kahnle was eighth with 37.5 percent, a spot ahead of David Robertson. He posted the fifth-best K-BB rate in baseball, one spot below Chris Sale and a spot ahead of Andrew Miller. Not bad company!
It was a real career-year for Kahnle as his numbers and stuff really took off. His changeup improved while in Chicago and his slider became more of a weapon in New York. Overall, he learned how to better harness his fastball.
Once he got to New York, he utilized his fastball less and went to his offspeed stuff more. It worked well! Batters swung at his pitches more often in 2017, but contact went way down. He increased his swinging strike rate by nearly six percent and it stayed steady after the trade from Chicago.
Part of his success may have been because his velocity peaked with his fastball going from 97 to 98.1 and his changeup averaging 90.7 mph. He won't be relied upon to dominate in the same way assuming at least one of Betances and Chapman rebound and he can settle into a middle relief role. It's a true embarrassment of riches in that bullpen right now.
Negatives for Kahnle
The potential downside of Kahnle more has to do with sample size. Last year was his first year that he avoided spending significant time in the minors and was his first time worth more than 0.1 fWAR or 0.7 bWAR. How many times have you seen relievers have one or two great years and fall apart? Too many to count. Kahnle needs to prove that's not him.
His track record for limiting free passes is actually worse than Betances, even though he walked just 2.4 per nine last year and cut his walk rate to 6.6 percent. An alarming sign is how his walk rate went up in the second half.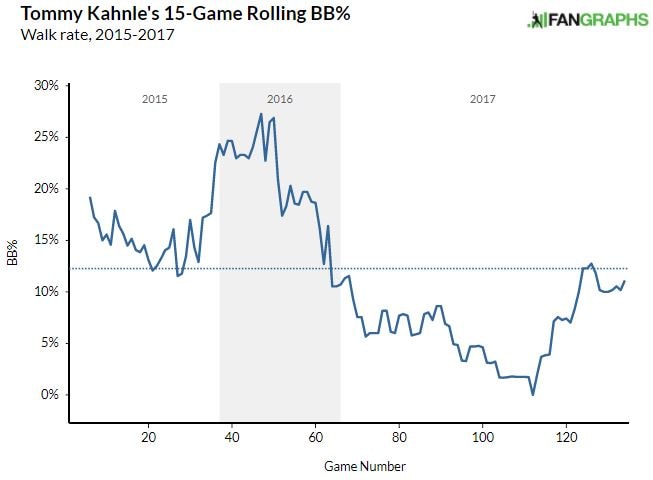 It's still not nearly as bad as it was in 2015-16, but there's concern nonetheless. His K rate and swinging strike rates were still solid with Yankees; It's more a question of sustainability. Can he really avoid bats that well this year? It's his chance to show last year wasn't a small sample size mirage.
My take
I'm not sure we'll see 2017 first-half Kahnle or 2014-15 Betances again, but I firmly believe these two will be highly effective relievers next year. What's crazy is to think that they'll be filling a lot of innings that went to Tyler Clippard and Jonathan Holder in the first half last year.
Even a lesser scenario for each guy still should be good, but there has to be some fear that each guy may struggle for a solid stretch of 2018.