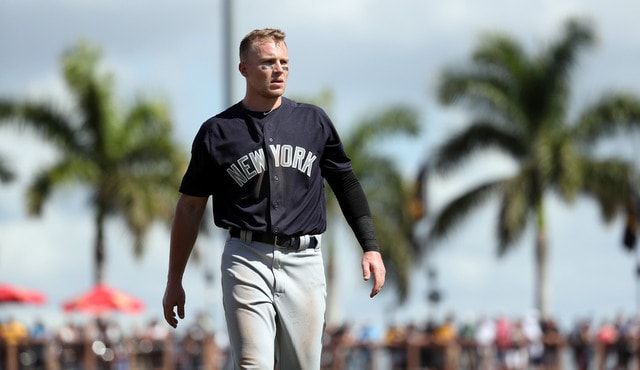 Imagine starting a new job, one you weren't necessarily expecting. Then imagine having to miss an indefinite amount of time just a week or so later, because a medical condition of yours flared up. It'd probably be hard to be anything but disappointed in that, even if there's no fault on your end. I'd guess that's what Brandon Drury felt after having to hit the DL with migraines just eight games into his Yankee career. Now, as he returns, his role might be a little more in flux than it originally was.
When he was acquired, it became clear that Drury was the team's starting third baseman going forward. Indeed he was until he got hurt and replaced by Miguel Andujar. Now, the latter is absolutely raking and replacing him would be foolish at best and malpractice at worse. And now with Gleyber Torres in the fold at second base, that route is seemingly closed for Drury as well. Drury's timing couldn't have been worse when getting hurt, but somehow is just as bad as he's coming back.
In missing the beginning portion of the year, it was easy for the lineup to get used to not having him around. After putting up 11 on the Angels last night, the Yankees are in the middle of an offensive tear. Sure, that could change by the time Drury gets back, but just about everyone–save for Neil Walker–has earned his spot in the lineup. Right now, there isn't a way to get Drury back into the starting lineup, unless someone gets hurt. The caveat, of course, is that these things do work themselves out; for proof of that, look no further than the Yankees' outfield depth that dried up in about five minutes. Outfield, however, may be Drury's best shot at playing time.
Given Andujar and Torres at third and second and Tyler Austin (and eventually Greg Bird) at first (where Drury has played only one game, by the way), going out may be the only way for him to get in the lineup. Using him as an outfield platoon bat against left handed pitching–playing when Brett Gardner sits–will put him into the lineup with some form of regularity and let the Yankees DH Giancarlo Stanton instead of playing him in left or give Aaron Judge a DH day while Stanton plays right. Even this comes with a concern, though, as Drury hasn't played outfield since 2016 and, per DRS (-8 as an OF per 1,200 innings), isn't particularly good out there.
The only remaining road is for Drury to just join Walker, Ronald Torreyes, and Austin Romine on the bench. This would give the Yankees a four man bench and add an element of power to it. Even if he's not great in the outfield, he offers that versatility more than the others do. And, eventually, Andujar and Torres will need a day or two off and Drury can step in and be just fine.
This isn't what we expected when Drury was acquired and I'm sure it wasn't what the Yankees expected either. But for Drury, timing just wasn't on his side this April. Hopefully he can ride one of these avenues to find success in 2018.