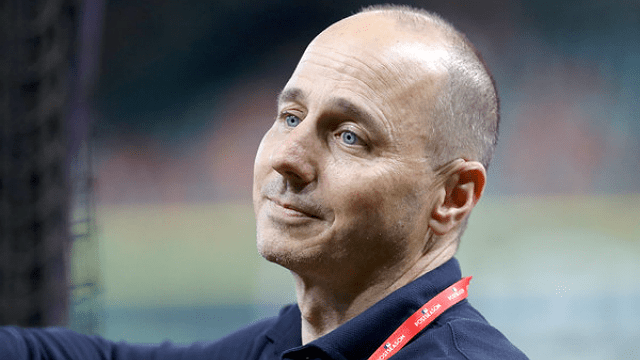 Last week, Josh Norris unveiled his Baseball America cover story, "The House That Cash Built," on how Brian Cashman built the current Yankees roster. It's a great read and you should give that a look when you have some time.
While the piece gives you an inside look at the team, the most intriguing news was the revelation that Cashman wanted to go for a full rebuild and was rebuffed by ownership. It's not shocking. A third of current rosters are in tanking mode and a few others, namely the Cubs and Astros, have recently come out of a tank to find startling success.
The Yankees of 2013-16 were growing stale and old and were in danger of being stuck in mediocrity. Yet with a fan base demanding World Series titles, ownership understandably didn't want to go through a 3-4 year rebuild that would have sent attendance dwindling and didn't offer guarantees of success. The Steinbrenner family instead wanted Cashman to chart a middle course.
That reload-on-the-fly tightrope walk which Cashman pulled off has led to a surprise ALCS appearance and a strong roster built for long-term success. But what would a rebuild have looked like in the Bronx, beyond simply a near-empty stadium? Was there an opportunity for the Yankees to make something even better around their current core? Those are the questions I want to answer here.
1. The first step? Practically the same
If you were designing the first part in a teardown, it would be to sell players off, either in the offseason or the trade deadline. Well, that's exactly what the Yankees did in 2016. Gone were Aroldis Chapman and Andrew Miller, two high-priced, high-leverage relievers, something which you scarcely need if you're not planning on competing. They also traded Carlos Beltran, a veteran on an expiring deal, for three prospects.
In return, they received three highly touted talents in Clint Frazier, Justus Sheffield and Gleyber Torres, none of whom were ready to plug into the MLB roster right away. Dillon Tate was another high-upside talent who was worth the risk if you're trying to build a winner years down the road. Perhaps, in a full rebuild, they decide not to take back Adam Warren in the Chapman deal with less of a need for veteran relievers, but it's plausible they would have bought low on him anyway. It's not like they would have received Eloy Jimenez instead.
The only trade at that deadline that doesn't make sense in the context of a teardown is the Tyler Clippard deal. At the time, it was clear he was part of a compromise between ownership and the front office. It was essentially ownership saying, "Fine, we'll let you trade the big relievers, but you have to get a veteran back to save face." Vicente Campos was a small price to pay for a reliever at the deadline and whether he factored into the Yankees' plans is questionable.
Forcing Alex Rodriguez into retirement was another necessary step that likely happens either way. He was very clearly done at the plate and the team needed to give at-bats to Gary Sanchez and Aaron Judge, both of whom seem to have done some good with that playing time. Billy Butler also probably doesn't enter the fray, giving more at-bats to Tyler Austin.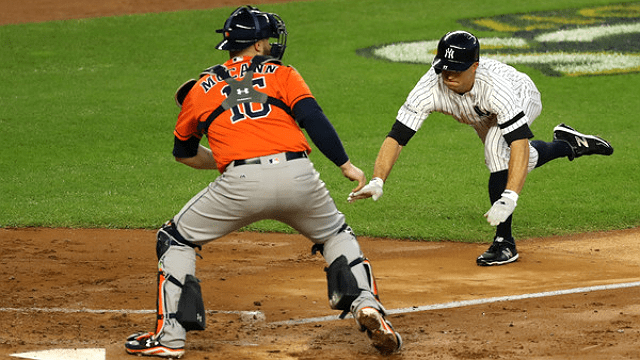 2. Would they have sold heavy in 2016-17 offseason?
During the subsequent offseason, the Yankees dealt Brian McCann to the Astros for Albert Abreu and Jorge Guzman, two pitchers who still haven't pitched above Single-A. That's a move that likely happens regardless of the team tearing down or trying to compete: Sanchez had forced the issue and deserved the starting job.
Beyond the McCann deal, the Yankees didn't sell. In fact, they dished out the largest contract ever given to a relief pitcher, bringing Chapman back. They also got Chris Carter as a bargain-bin addition later in the winter. Carter was a useful (in theory) piece with Tyler Austin going down with an injury and Greg Bird's injury history. However, Chapman would have been an unnecessary expense and probably ends up in Miami or elsewhere.
Chapman probably isn't the only change in the bullpen equation. With the team's ability to develop bullpen arms and a window of competition put further in the future, the Yankees likely sell high on Dellin Betances. He came with similar question marks to right now but was still coming off back-to-back All-Star appearances. You often can't get as much for a reliever like that in the offseason as at the deadline, so the Yankees may have held onto him until July. Still, it's hard to imagine Betances sticking in this hypothetical.
Beyond Betances, the team had a few expendable veterans, namely Starlin Castro, Chase Headley and Brett Gardner. Each was coming off a down season at the plate and would improve in 2017, so that would have harmed their trade value. Still, Gardner was bandied about in trade rumors that offseason (or seemingly every offseason) and had just won a Gold Glove, so he's likely shipped out. Of course, Castro and Headley ended up being traded in the 2017-18 offseason. However, eventually trading Castro and stuff for Giancarlo Stanton doesn't happen.
3. Let the kids play (even more)
There's a reason why the Yankees were projected to end up well below their 91-win finish in 2017 and it's primarily because of the team's reliance on unproven youth. Luis Severino, Aaron Hicks and Judge hadn't been very effective in the majors in 2016. Sanchez had been great for two months, but a full season is another animal. We hadn't even seen Jordan Montgomery and Chad Green was an afterthought.
All six of those aforementioned players played a big role in the 2017 team. In a full rebuild, those roles could have been even larger. If Gardner is traded, that opens up a full-time outfield spot for Hicks, who lost out on the right field job that spring to Judge. Handing two rotation spots to rookies or near rookies would have been even more obvious than it already was. Instead of spending most of the year in Triple-A, Tyler Wade and Miguel Andujar get more of a chance to learn on the job in the majors.
The Yankees might have considered jettisoning Sabathia in favor of allowing Green or Cessa to get regular starts. This wouldn't have been all that necessary — Sabathia, Michael Pineda and just about every starter went on the DL in 2017 — but it's at least a thought. CC's presence would have been important with few veterans as Gardner would likely be gone and David Robertson wouldn't be a trade target.
The funny thing is: This team is probably pretty darn good. Remember the weaknesses to last year's team of Clippard alongside Betances and Chapman's struggles. I don't particularly want to fathom of Jonathan Holder getting 7th/8th inning opportunities consistently, but some combo of Warren, Betances and a veteran stopgap the team signs could have held down the fort. If Judge, Sanchez and co. actually hit like they did, the team might have jumped into the Wild Card Game despite trying to tear down. However, I'd bet that the veteran intangibles of Gardner and others — not to mention their production — would have been missed and led to a few more losses.
Just as in our timeline, the 2017 Yankees' success would have been anomalous with the team pointing to 2018 or beyond as when to expect real contention. The team may not have been in position to practically steal Giancarlo Stanton, but they would have been set up for a strong 2018. If they saw their window moving up, they could have further taken advantage of a slow free agent market to bolster that optimism. Therefore, a full teardown may not have been all that different from the actual outcome.