The game started poorly for the good guys but fear not, this is the 2018 Yankees we are talking about. After allowing three runs in the first, German settled in for a nice six-inning outing and the offense went yard thrice to win the ballgame. The Yankees are now 42-18, good for an exact .700 winning percentage. Love this team, you guys. Let's recap this thing.
Rough beginning, then a cruise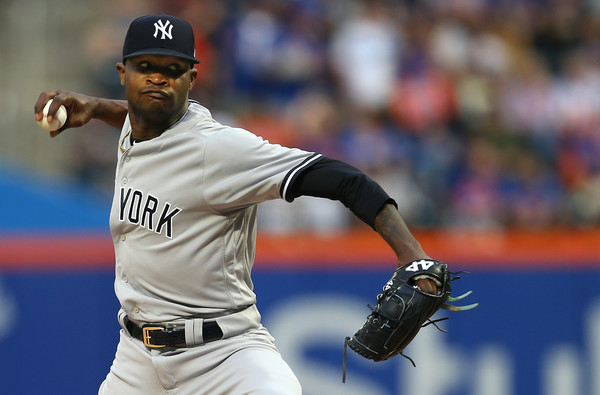 Former Yankee legend Todd Frazier was the first to do the damage. He got a 89 mph changeup right down the middle and drove it over the left field fence for a 1-0 Mets lead. The Metropolitans did not stop there. Brandon Nimmo lined a triple to right and Asdrubal Cabrera followed it up with a homer over the right field fence to make it 3-0. Yikes. Both of those hits were off of pitches low, down the middle.
What's really encouraging about tonight's start? 19 whiffs in 96 pitches is a good place to start. He also got it done with all three of his pitches – 11 from his fastball, 5 from curve and 3 from changeup. We got a young power pitcher who can miss bats with three different pitches. Yes, there are flashes of inconsistencies with German but there's a reason why the Yankees are taking a long look at him in the rotation. He also got 9 strikeouts in 6 innings pitched, which is nice in any way you look at it. After tonight, German has a 10.08 K/9 IP (great), 3.61 BB/9 IP (ehhh), 1.52 HR/9 IP (not great!), 5.32 ERA (not great, again!) – overall, mediocre season so far. But there are underlying numbers that indicate his upside that the Yankees are hoping to bank on.
Tyin' and goin' ahead
Like a good neighbor, Gleyber is there. The Yankees got their first run in the third with a Torres solo homer. It was a fastball inside and he just straight up hit it over the left field fence – a 406 feet bomb that goes out in any ballpark. It was his 11th homer in just 41 games, which would put him on pace for 38 home runs (or 44 in 162 games). He is now hitting .303/.363/.570 after tonight and good golly, you can't ask for much more than that for a 21-year old who has been in the majors for about a month and half.
The Yankees had a big chance in the fifth. Didi led off with an opposite single. Austin flew out and up came Domingo German. Steven Matz, a pretty good pitcher, walked German on four pitches (!) despite the Yankee pitcher showing bunt on all of them. Weird. And Matz came back to strike out Gleyber Torres of course but walked Aaron Hicks to load the bases. The inning came to an anticlimactic end when Judge grounded out on the third pitch to end the frame. Bah.
Good news: they tied it up in the sixth. With one out, Sanchez walked to get on base. Matz unleashed an absolute meatball of a curveball to Andujar and Miggy did what it deserves – getting blasted for a dinger. Two young Yankees going yard to tie the game – that's my jam. Andujar is now hitting .305/.335/.550 with 8 HRs and 31 extra-base hits total. Todd Frazier is a solid player, but the Yanks have to be pleased with the decision to give the youngster a chance.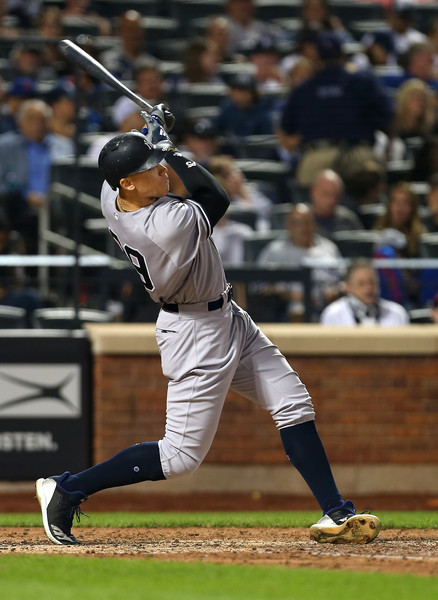 But wait, more dinger cometh! The Mets sent out another former Yankee great Anthony Swarzak in the eighth. On the first pitch, he hung a curve down the zone and Judge hit a homer over the left field fence (as it was the theme of the night) for a 4-3 Yankees lead. The Yanks may have gotten behind by dingers, but they hit more of those for a payback (and more). This is how they've gotten it done in 2018. I hope this season never ends.
After Betances pitched a monstrous 8th (more on that later), Chapman made things a bit interesting in the ninth. He walked Bruce to begin the inning and struck out both Mesoraco and Bautista. Instead of ending the game right there, Chapman walked Plawecki to put to runners on and had to face… Jose Reyes, one of the worst hitters in the majors right now. With a 14 wRC+, you wonder how the heck this guy is in a major league roster. Eh, anyways, I'm not complaining. Reyes flied out to end the game. 4-3 good guys win.
Leftovers
How about Dellin Betances? Dude is throwing strikes and blowin' away hitters with his electric stuff like it's 2014. Tonight, he induced 5 whiffs in 11 pitches and struck out all three Mets hitters that he faced. Sure, it's the Mets lineup we're talking about, but he faced Frazier, Nimmo (hottest hitter in the lineup) and Cabrera (one of the best NL infielders this season) and made it look like nothing.
Didi Gregorius had three hits today! Him and Andujar were the only hitters that had a multi-hit game. Tyler Austin is the only starter that didn't reach base and he was sub'd out for Greg Bird in the 8th. Heck, even Domingo German got on base.
Box score, highlights, standings and WPA
Here's tonight's box score, video highlights, updated standings and WPA.
It's Sevvy Sunday tomorrow. The Yankees will look to sweep the Mets behind the ace. The Mets were supposed to bring out Syndergaard but instead, they'll have Seth Lugo on the bump.