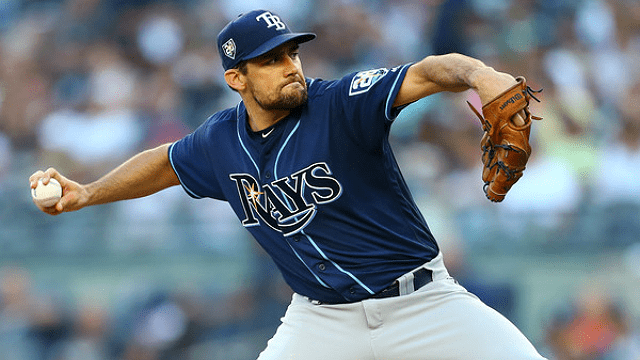 With the Mets an improbable trading partner, the Yankees are left with very few options to find top-of-the-line starting pitchers on this summer's trade market. In all likelihood, the Bombers will have to search on the next tier for a middle-of-the-rotation starter who can stabilize their current group.
Rising towards the top of that next tier of non-aces on the trade market is an old friend: Nathan Eovaldi. Is the Tampa Bay Rays' right-hander a desirable option for the Yankees? Let's take a look.
Injury History
Let's get this out of the way up front. Eovaldi has a track record of elbow injuries. He had his first Tommy John surgery in high school and missed the end of the 2015 season with elbow inflammation. He needed both a second Tommy John procedure as well as surgery to repair a torn flexor tendon to end his 2016 season and knock out his 2017. He also missed the first two months of this season with a procedure to remove loose cartilage in the elbow.
Considering that the surgery and beginning of his rehab for the second TJ were on the Yankees' dime, they surely know more about Eovaldi's elbow than most potential suitors. If they're pursuing him this month, that's a good sign for where he's at health-wise.
Current Performance
This may be Nate Eovaldi like we've never seen him before. In eight starts for the Rays this season, he's thrown 48 1/3 innings — a career-best average of six innings a start — and pitched to a 3.35 ERA (4.16 FIP). He's struck out 44 batters and walked just six, good for his best strikeout (24.3%) and walk (3.3%) rates of his career.
Nasty Nate has three starts this season of at least six innings with no more than one hit allowed. While the most recent of those was against the Mets, the first two were vs. the Nationals and Athletics, no slouches on the offensive spectrum.
The 28-year-old is tied for the third best K/BB ratio in baseball among pitchers with at least 40 innings pitched and has the fourth-lowest walk rate, one spot behind Corey Kluber and one spot ahead of Bartolo Colon.
How has he done this? By throwing more balls over the plate. His Zone % has increased from 52.2 to 55.7 percent and his Zone Swing % has gone from 64.0 to 74.1 percent. However, at the same time, his zone contact rate has gone down and his chase rate has gone up. Less contact in the zone while getting more swings (and contact) out of it. He isn't inducing more swings and misses percentage-wise, but he's inducing more swings overall.
More swings lead to more strikeouts. Fun fact: Eovaldi has struck out at least five batters in five consecutive starts, a feat he never accomplished in pinstripes.
Eovaldi's results on balls in play have also looked strong, albeit somewhat suspect. He's held opponents to an impressive .190 average and .198 BABIP. His groundball rate is down slightly from his time in New York, though it's still at a healthy 48.8 percent. Exit velocity against isn't down significantly from 2016, though his launch angle is up considerably from 7.8 to 12.0 degrees. That's led to a large increase in infield popups. That's the type of thing you want to see if a pitcher is going to sustain a low BABIP.
Home runs are still an issue for Evo. He's given up nine so far this year, including four in one start vs. Houston. His HR/FB rate (18.8 percent) is nearly identical to 2016, which was over 10 percent higher than his first season with the Yankees.
Current Stuff
Despite missing a season, Eovaldi is still a flamethrower. He's third among starters in average fastball velocity at 97.4 mph, which is down 0.5 mph from 2016 but is up from his Marlins days. He actually throws his slider and curveball harder than previously. He has the second fastest average speed on his cutter in baseball behind only Sonny Gray.
As Mike pointed out yesterday, he's upped his cutter usage significantly. He didn't throw it at all in 2013-2015 and utilized it just 7.2 percent of the time in 2016. Now it's his second most-used offering at 26.1 percent. He's cut down on the splitter Larry Rothschild worked on with him as well as all his offspeed offerings. Here's a look at him getting a strikeout on the cut-fastball from his most recent start vs. the Mets.
While the cutter usage is easily noticeable, the reason for his success may have as much (if not more) to do with his improved four-seamer. He has lowered the spin rate on the fastball by 183 RPM. He's getting whiffs on 25.7 percent of four-seamers compared to 14.7 and 17.9 percent of the time in 2015 and '16, respectively. Hitters have just a .175 BAA and .158 ISO on it vs. .273 BAA and .181 ISO in 2016. Hitters have similar numbers against most of his offspeed offerings according to Statcast, though his slider has been more effective than it has been in six years based on Fangraphs numbers.
Contract Status
Evo is set to become a free agent after this season after spending two years on the Rays' 40-man roster. He's playing for $2 million this season, so he's highly affordable when you consider the Yankees' luxury tax tightrope.
What Would it Take?
Reports say the Blue Jays' asking price for J.A. Happ, a fellow rental starter, is too high for the Yankees' liking right now. That price will surely come down, but the Jays may demand more out of a division rival when they may consider re-signing Happ. However, the Rays may be even more motivated to get a return on Eovaldi, who could get a multi-year deal this winter, and they can't quite demand a top-notch prospect for someone who's thrown fewer than 10 starts since coming back from a second Tommy John surgery.
Unlike Cole Hamels, I'd guess a package similar to what the Yankees gave up for Jaime Garcia makes sense for Eovaldi. An upper minors pitcher and a second piece that's either further away from the majors or with considerably less upside. The Yankees may be able to acquire him with players they'd lose to the Rule 5 draft in December anyway.
Does He Make Sense for the Yankees?
Yes. With any trade, it depends on price. But Eovaldi is one of the few pitchers on the market whose flaws are easy to overlook. Even with natural regression from his sterling start to 2018 leaves you with a reliable back-end of the rotation starter, something the Yankees are lacking. His injury concerns are less of a risk on a rental than acquiring a pitcher with multiple years of control. Furthermore, his rental status makes him cheaper than a pitcher like Sonny Gray was last year.