The Yankees have had a lot of lackluster defeats against the Rays this season, ranging from all three games of a sweep at the Trop to Wednesday's 6-1 listless affair. Thursday afternoon's loss may take the cake as the Yankees showed little fight until the end and squandered a golden opportunity to steal a win.
Two rallies, one run
Let's start at the end with this one: The Yankees entered the final two innings down 3-0 after the offense went cold yet again. In fact, to that point, they only had three hits, one of which was a bunt single by Aaron Hicks.
To start the eighth inning, Brett Gardner flew out in a pinch-hit appearance against Ryne Stanek before Austin Romine subbed for Shane Robinson by hitting a single to right. Hicks hit a would-be double play, but Willy Adames threw the ball too high and it ended up in the seats, giving the Yanks a man on second and two outs. That set the stage for Giancarlo Stanton, who hit what was initially ruled a home run.
As you can see, the ball hit the yellow line, but not the foul pole. The umpire signaled and the Rays players, including right fielder Mallex Smith, didn't pursue the ball. The play was reviewed and ruled an RBI double. You could quibble and say Stanton would have gotten to third on the carrum, but he wasn't about to get an inside-the-parker on a bad hamstring.
Sergio Romo retired Miguel Andujar and brought a 3-1 Rays lead into the ninth inning. That's where the Yankees created their best opportunity of the game. Didi Gregorius got ahead and grounded a ball up the middle of a single. Gleyber Torres fought tooth and nail to bloop a 2-2 slider into the shallow outfield.* Neil Walker lived up to his name with a four-pitch free pass.
Kevin Cash removed his closer and went to rookie Adam Kolarek with the bases loaded and none out. First pitch to Greg Bird? A harmless foul out to third. Four pitches later, Gardner had an ugly swing and miss for the second out. Four more pitches and much of the same from Romine. That was it and the Yankees looked helpless with the tying and winning runs on base. The win expectancy graph at the end of this post tells it all.
Classic Tanaka
Single. Double. Single. Double. Two runs and a runner on third. After four batters, one might have wondered if Masahiro Tanaka would even last past the first inning. Despite an ugly start, Tanaka pushed through and ended with a more-than-decent start.
The first four Rays batters tagged Tanaka with the only runs he'd give up as they used a combination of three line drives and a single up the middle to give the Rays the early advantage. They might have done more damage if it weren't for one of the two peculiar plays on the afternoon.
Tommy Pham doubled in Joey Wendle while Jake Bauers tried to go first to third. Robinson — playing left field — had other ideas, firing the ball ahead of him to Andujar, who tried to tag out Bauers. Bauers rolled over, avoided the tag and, instead of submitting to the out, neglected to touch third and ran for home. Andujar eventually pursued him, tagged him out, but not before allowing Pham to reach third. Here's the video. It was one of two questionable plays in the field by Andujar on the game (more on that in leftovers), but it was also a situation I've never seen. Can't blame Andujar for reacting as he did, especially when it didn't cost the Yankees.
After that, #TANAK struck out the next two batters and scattered five more hits over his last five innings. In all, he struck out six, walked none and looked like his normal self. The 29-year-old got 10 swinging strikes with four of his six strikeouts coming on his slider. And no obligatory homer!
Tanaka especially excelled in the field. He did a nice job covering first base to get Kevin Kiermaier on a soft grounder in the fourth. The veteran righty also picked off not one but two batters! Caught Wendle napping in the fifth before getting Ji-Man Choi at second base to close the sixth. Give this man the Gold Glove he deserves!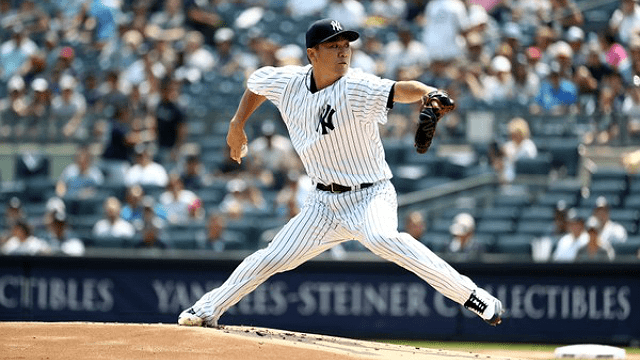 Snell gives 'em hell
Blake Snell is a bonafide Cy Young candidate and he finally pitched like it against the Yankees. They had roughed him up for nine runs over 8 1/3 innings heading into Thursday's start. Needless to say, he was much better this time around.
The 25-year-old held the Yankees to two hits and a walk over five shutout innings while fanning six. Giancarlo Stanton doubled in the first inning on an inside fastball — It was an impressive ball for the closed-stance batter to hit — but Snell struck out the other three batters he faced. He ran into a little more trouble in the third after a single and a walk, but he retired Stanton and Andujar on grounders to the left side.
Snell had everything working for him, particularly his curveball, and only needed 76 pitches to get through five. However, this was his third start since returning from the disabled list and he hasn't built back up to 100 pitches yet. The sooner this southpaw is dealt away from the division, the better for the Bombers.
Leftovers
*Back to Torres' single in the ninth: That was his best at-bat in a little while. He didn't necessarily look comfortable at the plate, but he battled and earned a key single. You can't ask for much more against the slider-heavy Romo. Hopefully a sign of things to come after he went 0-for-3 with two strikeouts otherwise.
Stanton had two hits and the lone Yankees' RBI while Kyle Higashioka, Romine, Hicks, Gregorius and Torres had the remaining hits. Walker and Hicks drew walks. Bird looked overpowered with two pop outs, a fly out and a weak groundout. Welp.
Hicks tweaked his ankle reached base in the eighth inning. It's sore, but he believes he'll be ready for Friday's game.
David Robertson allowed an unearned run in the eighth inning. He gave up a leadoff single and then Andujar threw a sacrifice bunt off the runner heading to first, setting up first and third. A squeeze bunt later and the run was in. Bird could have done a better job getting off first, but it was a routine play that Andujar also botched.
Zach Britton looked more like his old self with a 1-2-3 inning. Two groundballs and a strikeout on 11 pitches (eight strikes). Tommy Kahnle pitched around a walk for a scoreless inning.
Box Score, WPA Graph & Standings
ESPN has the box score, MLB has the video highlights and ESPN has the updated standings. Here's our Bullpen Workload page and here's the win probability graph:

Source: FanGraphs
Up Next
The Yankees finish out their homestand with a three-game set against the Blue Jays, starting Friday night. It'll be a 7 PM ET start on WPIX. Lance Lynn and Marcus Stroman are the probable pitchers for the series opener.