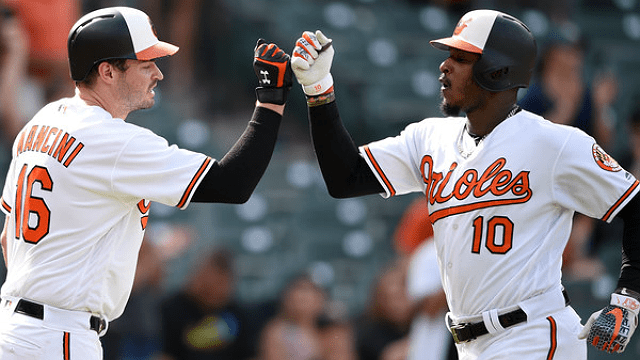 After taking two of three from the Red Sox, the Yankees ride high into their final home series of the season. Their reward is a three-game set with the worst team in baseball, the Baltimore Orioles.
The Last Time They Met
The Bombers took four games in three days from the Orioles on Players' Weekend on Aug. 24-26 in Baltimore.
Luke Voit and Neil Walker powered the Yankees to an extra-inning win in Game 1 while Zach Britton saved the game against his former squad.
The Yanks backed gems from J.A. Happ and Sonny Gray with five homers and 15 runs in the Saturday doubleheader, finally sweeping a twin bill.
Voit hit another early homer and the Yankees' bullpen sealed a sweep in a 5-3 victory.
Make sure to read Katie's Yankeemetrics post for more information.
Injury Report
Mark Trumbo, Pedro Araujo, Richard Bleier, Gabriel Ynoa and Luis Ortiz are all done for the year. Chance Sisco is in concussion protocol and has missed the last three games.
The Orioles' rotation is in flux as both Andrew Cashner (left knee discomfort) and Alex Cobb (blister) have missed recent starts.
Their Story So Far
The Orioles are a putrid 44-108. Their win on Wednesday ensures they won't break the AL record for losses in a season, but they have already set a franchise-worst mark with the 108 defeats. This team is set up to be awful for a while as they are just beginning a long rebuild and their farm system isn't exactly stacked. Get used to seeing them at the bottom of the AL East.
The Lineup We Might See
1. CF Cedric Mullins II (.268/.345/.433, 114 wRC+)
2. 2B Jonathan Villar (.263/.323/.394, 95 wRC+)
3. DH Adam Jones (.284/.315/.426, 100 wRC+)
4. LF Trey Mancini (.239/.297/.413, 92 wRC+)
5. 1B Chris Davis (.171/.246/.302, 48 wRC+)
6. SS Tim Beckham (.222/.277/.353, 71 wRC+)
7. 3B Renato Nunez (.238/.304/.369, 83 wRC+)
8. RF John Andreoli (.231/.268/.250, 41 wRC+)
9. C Austin Wynns (.247/.271/.366, 71 wRC+)
Rookie outfielder D.J. Stewart has received back-to-back starts while brothers Caleb and Corban Joseph are on the bench. Joey Rickard usually starts vs. lefties. Breyvic Valera and plenty of September call-ups could see the lineup as well.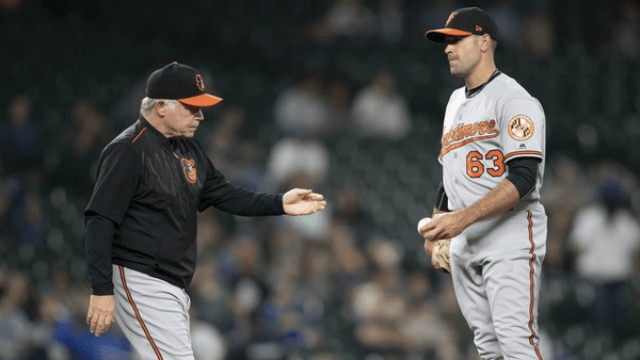 The Starting Pitchers We Will Likely See
Friday (1:05 PM EST): LHP CC Sabathia vs. RHP Yefry Ramirez
Former Yankee farmhand Yefry Ramirez has seen plenty of innings in his rookie season, though he just returned to the rotation on Sept. 15 after spending a few weeks in the bullpen. He was sharp, allowing just one run over 5 2/3 innings, but he took the loss thanks to the Orioles' anemic offense. On the whole, he has a 5.50 ERA in 55 2/3 innings. He's dished out 4.9 walks per nine innings.
Ramirez is a fastball-slider-changeup pitcher. His four-seamer works around 93 mph while his slider and changeup are both in the mid-80s. He works off the fastball while going to his changeup and slider at a 26.0 and 22.1 percent rate, respectively.
Last outing (vs. CHW on Sept. 15) – 5.2 IP, 4 H, 1 R, 1 BB, 7 K
Saturday (4:05 PM EST): RHP Lance Lynn vs. RHP David Hess
Another game, another rookie. Despite David Hess throwing 91 1/3 innings this season, the Yankees have yet to face the right-hander. He's made 17 starts and sports a 5.22 ERA thanks to a plethora of homers (19, 1.9 per nine innings). His 16.0 K% and 7.6 BB% don't inspire much confidence, nor does a 1.42 WHIP. He's a fly-ball pitcher pitching his home games at Camden Yards. Yikes.
He goes primarily with a four-seam fastball in the low-90s while using his slider a fourth of the time. Other than that, he mixes in a low-80s changeup and a slow curveball.
Last outing (vs. CHW on Sept. 16) – 4.1 IP, 6 H, 4 R, 3 ER, 1 BB, 7 K, 3 HR
Sunday (1:05 PM EST): LHP J.A. Happ vs. TBD
After throwing off a mound Tuesday, Cobb will likely start in this series, whether on Sunday or by slotting in earlier during the weekend. He lasted just two innings in his last start due to blister issues, though he lowered his ERA to 4.90 in the process. After a horrid first half where he allowed 17 homers and sported a 6.41 ERA, he's been the Orioles' ray of hope with a 2.56 ERA in his last 10 outings.
If Cobb can't go or takes the start earlier in the series, Dylan Bundy or rookie right-hander Evan Phillips could get the call Sunday.
The Bullpen
With Zach Britton on the Yankees, Brad Brach on the Pirates and Darren O'Day injured and a Brave, Mychal Givens has inherited the closer role. LHP Paul Fry has emerged as an OK middle innings option, albeit with a few too many walks recently. The rest of the bullpen amalgamates to a horrendous hodgepodge.
Here's how the bullpen as a whole has measured up in the second half:
5.54 ERA (21st in MLB)
5.53 FIP (Last in MLB)
-1.4 WAR (29th in MLB)
20.3% K rate (22nd in MLB)
12.3% BB rate (29th in MLB)
1.62 HR/9 (28th in MLB)
Who (Or What) To Watch
This might be the last time Adam Jones comes to Yankee Stadium as an Oriole. It's also almost certainly Buck Showalter's last series against the Yankees as Orioles manager. Otherwise, this series is almost all about the Yankees' attempts to clinch a playoff berth and put distance between them and the Athletics.