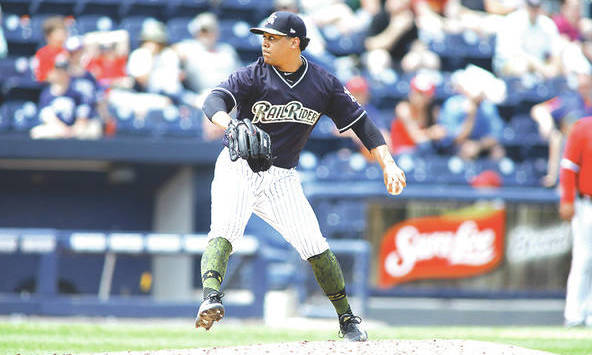 For the third consecutive season Triple-A Scranton is in the International League Championship Series, and they opened the best-of-five series with a win last night. Journeyman Bruce Caldwell had the game-winning hit and George Kontos nailed down the save. Scranton is looking for their second Triple-A classification title in the last three years, which is pretty cool.
Justus Sheffield, the Yankees' top prospect, tossed three innings and allowed a run in last night's win. The Yankees moved him to the bullpen a few weeks ago in advance of a potential September call-up and so far his relief appearances have been a bit of a mixed bag. Some good, some okay, none really terrible. A quick recap:
August 21st: 2 IP, 2 H, 1 R, 1 ER, 0 BB, 2 K, 1 HR
August 25th: 2 IP, 3 H, 1 R, 1 ER, 0 BB, 1 K, 1 HR
August 30th: 1 IP, 0 H, 0 R, 0 ER, 0 BB, 0 K, 0 HR
September 2nd: 2.1 IP, 0 H, 0 R, 0 ER, 0 BB, 4 K, 0 HR
September 5th: 1 IP, 4 H, 1 R, 0 ER, 0 BB, 1 K, 0 HR
September 11th: 3 IP, 3 H, 1 R, 1 ER, 1 BB, 2 K, 0 HR
"I think just the preparation, kind of getting ready for the games, not knowing when I'm going to pitch and on what days and things like that," said Sheffield to Conor Foley last month when asked about the biggest adjustment he's had to make in his new role. "I think just the preparation, kind of switching up the routine are going to be the hardest part. But I feel like in all reality, same game, just a different role. Still out there playing baseball. That's pretty much what it boils down to."
The Yankees moved Sheffield to the bullpen in preparation for a September call-up a few weeks ago, but the RailRiders keep winning, so he remains with Triple-A Scranton. September call-ups usually don't pitch much anyway, and, at this point, I think it's better for Sheffield to pitch regularly in Triple-A than sparingly with the Yankees. Until the Yankees clinch, the regular relievers are going to see the majority of the work out of the bullpen. That's just the way it is.
Scranton has at least three more games to play and as many five more games to play when you include a potential Triple-A National Championship Game trip to play the Pacific Coast League champion. That game is scheduled for next Tuesday, September 18th. If Scranton advances that far, it means Sheffield would join the Yankees for at most 12 games before the end of the season. Not much!
Twelve games and maybe three or four appearances (at most) isn't enough for Sheffield to show the Yankees he belongs on the postseason roster. And that's fine. September call-up pitchers are always a long shot to make the postseason roster, no matter how talented. And the Yankees, with their deep bullpen plus one starter (Lance Lynn) with bullpen experience, don't really have room in the bullpen even with Aroldis Chapman sidelined.
That isn't to say the Yankees should not call up Sheffield after the RailRiders finish their season, whenever that may be. There is still a benefit to getting him to the big leagues and getting his feet wet. He can pitch in a blowout or two, sit in on the scouting meetings, pick the brains of fellow lefties CC Sabathia and J.A. Happ, things like that. That way so when Sheffield is needed next year, he won't be experiencing everything for the first time.
There's also a "show him how great life as a big leaguer is and make him want to get back" angle here, and while it might not seem like much, it's not nothing. Life in the big leagues is good. Very good. Minor leaguers who get a taste of the show talk all the time about how badly they want to get back. You don't get to where Sheffield is — he's a 21-year-old in Triple-A and that is damn impressive — without being driven. A little extra motivation wouldn't hurt though.
Sheffield is not on the 40-man roster but that's not much of a problem. Clint Frazier is, sadly, done for the season given his latest setback. That makes him a 60-day DL candidate. Sheffield has to be added to the 40-man roster this winter anyway. There's no (service time) harm in sliding Frazier to the 60-day DL to clear a spot, and calling Sheffield up for the final two weeks in September. The roster part is easy.
Even if Sheffield doesn't pitch much after a call-up, there is still value in bringing him to the Bronx and getting him to work with the big league staff. The Yankees called up Aaron Judge (and Tyler Austin) late in 2016 to let him get his feet wet and the same idea applies to Sheffield, even though he'll spend much less time with the team and might not even play. Just getting him there has value, and it doesn't have a negative impact on the roster, so why not?
"Still have work to do down here though," said Sheffield to Foley. "That's the way I look at it. Still got to go out there and do my job, if it's here or it's in New York. That's the way I look at it. You've got to finish strong and do my job."