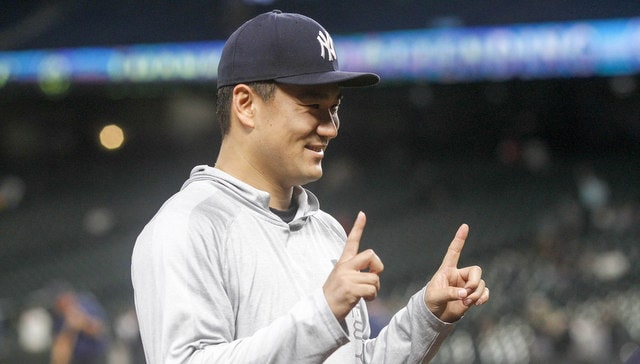 Good series so far. The Yankees won the first two games and remain mathematically alive in the AL East, and hey, that's better than being eliminated. At some point the Red Sox will clinch the AL East title. Not letting them do it at Yankee Stadium has been pretty cool. A sweep tonight would be rad.
Masahiro Tanaka will take the mound tonight and he's been the Yankees' best pitcher for a while now. Since returning from his dual hamstring strains, he has a 2.39 ERA (2.94 FIP) in 12 starts, and he's held opponents to a .239/.281/.382 batting line. Tanaka has turned every hitter he's faced in his last dozen starts into Yangervis Solarte (.230/.282/.387). More of the same tonight would be appreciated. Here are the starting lineups:
New York Yankees
1. LF Andrew McCutchen
2. RF Aaron Judge
3. CF Aaron Hicks
4. DH Giancarlo Stanton
5. SS Didi Gregorius
6. 3B Miguel Andujar
7. C Gary Sanchez
8. 1B Luke Voit
9. 2B Gleyber Torres
RHP Masahiro Tanaka
Boston Red Sox
1. DH Mookie Betts
2. LF Andrew Benintendi
3. RF J.D. Martinez
4. SS Xander Bogaerts
5. 2B Brock Holt
6. 3B Rafael Devers
7. 1B Blake Swihart
8. CF Jackie Bradley Jr.
9. C Christian Vazquez
LHP Eduardo Rodriguez
Cool night with a nice breeze in New York. Postseason weather, I'd say. Tonight's game is scheduled to begin at 7:05pm ET and you can watch on YES locally and MLB Network out-of-market. Enjoy the game.