The Yankees closed out their 2018 regular season with a thud Sunday afternoon, falling 10-2 to the Red Sox at Fenway Park. It's hard for me to remember another time I cared so little about the outcome of a Yankees vs. Red Sox game. The Yankees finished the season at 100-62 with a +182 run differential. Not bad. Not bad at all. Ready for the postseason?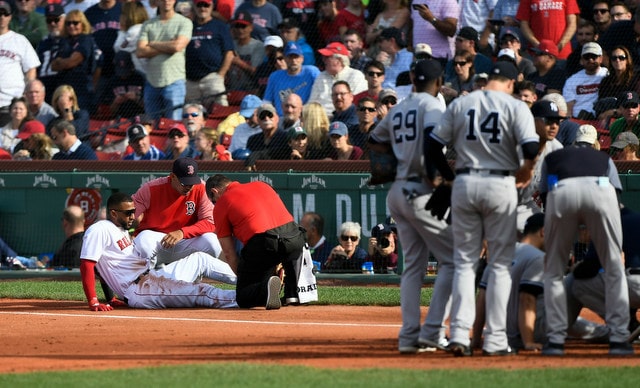 Two Items of Note
I'm not even sure how to recap this game, honestly. The Yankees broke the single-season home run record and won their 100th game Saturday, so there wasn't much to accomplish Sunday. Neither team had much on the line. Just don't get hurt basically. The Yankees didn't do that. Luis Cessa suffered an apparently minor hip injury on an awkward play at first base in the first inning. He'll be examined Monday. Cessa was a long shot at best for the postseason roster anyway.
Anyway, as far as I'm concerned, there were only notable moments in Sunday's game. Let's review those two moments in order of import.
1. Andujar ties the double record. No rookie in American League history has ever hit more doubles in a season than Miguel Andujar. Andujar banged a ball in and out of Brock Holt's glove along the Green Monster in the fourth inning for his 47th double of the season, tying Fred Lynn's AL rookie record. Here's the video:
Andujar finishes the season with 76 extra-base hits (47 doubles, 27 homers, two triples), the second most by a rookie in franchise history. Joe DiMaggio had 88 extra-base hits in 1939 and Aaron Judge had 79 last year. As for the AL rookie doubles record, here's the leaderboard:
Miguel Andujar, 2018 Yankees: 47
Fred Lynn, 1975 Red Sox: 47
Hal Trosky, 1934 Indians: 45
Roy Johnson, 1929 Tigers: 45
Shoeless Joe Jackson, 1911 Naps: 45
Andujar didn't even start the season with the Yankees, remember. He wasn't in the starting lineup until the team's fourth game of the season and, even after Brandon Drury's injury, Andujar didn't become the undisputed starter at third base until a week or two later. Pretty incredible. All told, Andujar hit .297/.328/.527 (128 wRC+) in his first full big league season. Is a Rookie of the Year award in his future? Maybe! I still think it'll be Shohei Ohtani.
2. Tarpley pitched well again. Two walks and four strikeouts in 1.2 scoreless innings. The walks are kinda annoying, especially since they came against two left-handed hitters (Mitch Moreland and Jackie Bradley Jr.), but striking out three right-handed batters surely helped his case for the postseason roster. Since his three-run big league debut, Tarpley threw eight scoreless innings with 12 strikeouts. Lefties went 1-for-14 (.071) with three walks and seven strikeouts against him. Is that enough to get him on the AL Wild Card Game roster as a Matt Olson specialist? I guess we'll find out in a few days.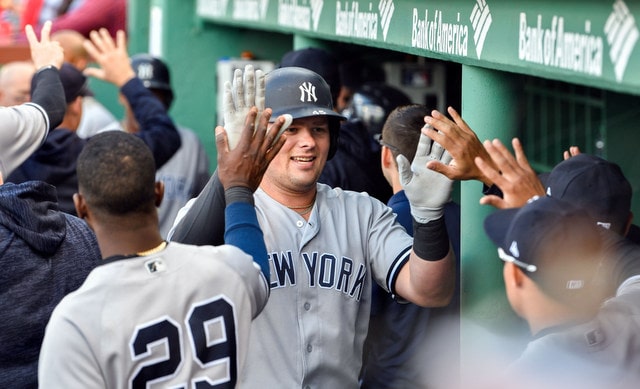 The Rest of the Game
Cessa faced six batters before leaving with his hip injury and allowed five hits. The Yankees were down 4-0 in the blink of an eye. The most notable thing about the first inning was David Robertson. He was the only regular reliever used — Robertson hadn't pitched since Wednesday and needed a little tune-up — and he entered into the kind of situation he could see in the Wild Card Game. Middle of an inning, runners on the corners, one out. Robertson got a double play ball but it was turned too slowly. The next time we see him on a mound, the stakes will be much higher.
Jonathan Loaisiga had a disappointing September. I know he didn't pitch much at all, but eleven runs (eight earned) and 15 baserunners in 6.2 innings? Yuck. I was hoping he'd do what Tarpley did, and that's emerge as a potential postseason bullpen option. Didn't happen. Loaisiga allowed four hits (two singles, one double, one homer) and three unearned runs in his two innings of work Sunday. Justus Sheffield allowed a three-run home run to J.D. Martinez and was all over the place in his inning. Sheffield made three appearances in September and struck out zero. He walked three.
Offensively, the Yankees had four hits and three walks. I'd say around the sixth inning is when they went into "swing at everything let's get out of here" mode. Andujar doubled, Neil Walker singled, and Luke Voit had a single and a home run. Voit's home run was no cheapie. Soft-tossing southpaw Bobby Poyner left an 82 mph something right out over the plate and Voit hammered it out to dead center.
The Yankees finished the regular season with an MLB record 267 home runs. As a team, the Yankees hit .249/.329/.451 (110 wRC+) on the season. They ranked 16th in AVG, seventh in OBP, second in SLG, and second in wRC+. Their 851 runs were second most behind the Red Sox (876). On the mound, the Yankees finish sixth in ERA (3.76) and third in FIP (3.62). Good team is good.
Leftovers
I am a bit surprised Dellin Betances did not pitch Sunday, even if only to one batter. He be on four days rest in the Wild Card Game and that's right on the edge of the danger zone. Any longer than that and Dellin starts to lose his mechanics and the strike zone. Betances did throw 30 pitches Friday night, so I guess the Yankees didn't want to overload him.
Box Score, WPA Graph & Standings
ESPN has the box score, MLB has the video highlights, and ESPN has the final regular season standings. Two Game 162 tiebreakers Monday! Not involving the Yankees, thankfully. Hooray for that. Here's our Bullpen Workload page and here's the loss probability graph:

Source: FanGraphs
Up Next
Two off-days and then the 2018 AL Wild Card Game against the Athletics at Yankee Stadium. Monday is a team off-day and Tuesday the Yankees (and Athletics) will have a formal workout day at Yankee Stadium. The Wild Card Game itself will be played at 8pm ET on Wednesday. There is still no word on either starting pitcher. The A's are apparently leaning toward bullpenning the entire thing. We'll see.