LOL good grief. It's never easy. At least we can laugh about it now. The Yankees tried their best to give the Red Sox the AL East title Tuesday night, but eventually the 27th out was recorded, and the Yankees picked up a 3-2 win. No division clincher for Boston on this night. As of this writing, the Yankees remain two games up on the Athletics in the loss column for homefield advantage in the Wild Card Game. Three when you include the tiebreaker. Twelve games to go.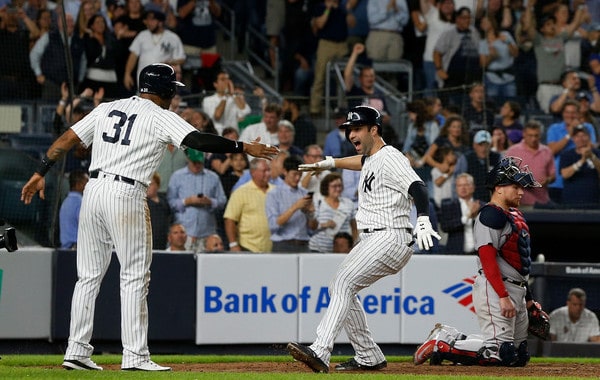 They Call Him Neil Dinger
We're going to start in the seventh inning, because that's the best part. The Yankees were down 1-0 heading into that seventh inning and they'd just blown a golden opportunity in the sixth. You'll read about that in a bit. With Nathan Eovaldi out of the game, Red Sox manager Alex Cora went to his sketchy middle relief crew, and the first man out of the bullpen was righty Brandon Workman.
Workman gifted the Yankees a rally. Aaron Hicks worked a five-pitch leadoff walk, Miguel Andujar popped up on what might've been ball four in a 3-1 count for the first out, and then Gary Sanchez drew a six-pitch walk. Workman got ahead in the count 1-2 on Sanchez, then lost him. With runners on first and second with one out, Cora yanked Workman and went to rookie righty Ryan Brasier, who's been really good this year (1.53 ERA and 2.37 FIP in 29.1 innings).
I thought Aaron Boone was going to go to the bench there, both to pinch-run for Sanchez and pinch-hit for Walker. I figured you'd want the go-ahead run to be able to score from first base on a double. And Walker, well, he's been bad lately. Went into this game in a 6-for-46 (.130) skid. Luke Voit? Greg Bird? No, Boone stuck with Walker (and Sanchez), and was rewarded with a go-ahead three-run home run into the second deck. To the action footage:
Cement mixer right out over the plate. Walker knew it was gone off the bat — everyone knew it was gone off the bat — he watched it, and then he pointed to the dugout. That is the good stuff. As big a hit as the Yankees have had all season, I'd say. Between this dinger and his two walk-off hits, Walker's had some pretty big moments in pinstripes despite an overall disappointing year. The three-run blast turned the 1-0 deficit into a 3-1 lead.
Third Time's A Charm
On their third attempt in the ninth inning, the Yankees finally turned the game-ending double play. Holy cow what a mess. Zach Britton entered for the save, struck out Brandon Phillips, then walked Brock Holt with one out. Annoying. That brought the tying run to the plate. Britton was very wild when he first joined the Yankees, but, going into this game, he'd walked one batter in his last 13 appearances and 14 innings. That covers 52 batters faced (1.9 BB%).
After the one-out walk, Britton got the double play ball. He's a ground ball machine and Christian Vazquez hit a chopper to Third Base Defensive Replacement Adeiny Hechavarria. Third Base Defensive Replacement Adeiny Hechavarria threw wide of second base, Gleyber Torres couldn't reel it in, and the ball sailed into center field. Everyone was safe. Torres got the error but it could've easy gone to Third Base Defensive Replacement Adeiny Hechavarria. Not a good throw at all when the second baseman has to reach as far across his body as Torres did.
Okay. Fine. The Red Sox had runners at the corners and the Yankees were still a ground ball away from ending the game. Britton got that ground ball, right back to himself, and he … threw it into center field. I literally facepalmed when it happened. Britton threw a sinker to second base and Torres couldn't make the grab. It didn't help that Tzu-Wei Lin was bearing down on him. Lin slid right into Torres, in fact. (He's fine.) A run scored and the Red Sox had runners on first and second with one out.
As ugly as that inning was, Britton had his sinker going. The two botched double play balls registered at 73.5 mph and 86.4 mph, so they weren't hard hit. Britton got back after it, and he got yet another potential double play grounder. This one the Yankees turned. Britton fielded it himself, he made a clean throw to second, and Torres made the throw to first to end the game. Nice stretch by Walker at first. He had a few of them Tuesday night. Game over. Exhale.
That's What Happ-ening
What a gutsy outing for J.A. Happ. He was in bend but don't break mode in the early innings before finding it and settling down in the middle innings. His first inning pitch locations tell the story: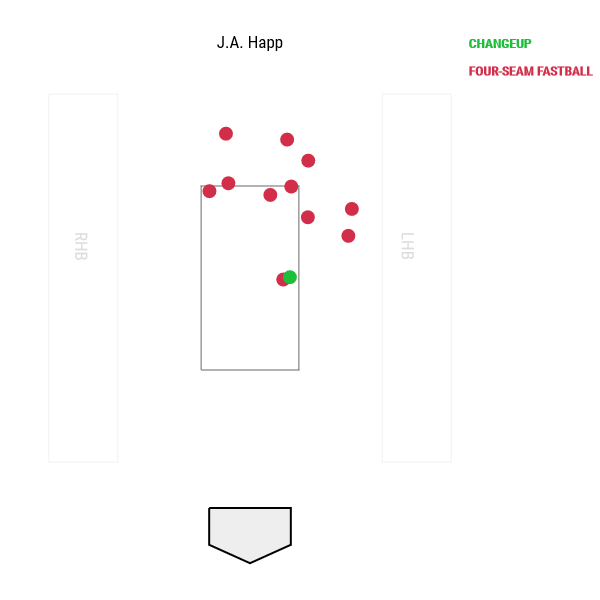 Happ always pitches up in the zone with his fastball. That's what he does. But he was really up in the first inning. He was up in the zone in the second and third innings too, though not as much. Happ had to pitch around a one-out walk in the first inning and a two-out single and walk in the second inning. He needed 36 pitches to get his first six outs.
The Red Sox scored their lone run against Happ in the third inning and Sanchez's latest passed ball was a big factor. Ian Kinsler singled to left, Happ balked him up to second — I have no idea what the balk was, I didn't see it on the replays at all — and Steve Pearce drew his second walk of the game. That's when the passed ball moved the runners to second and third with no outs. It was bad. Pitch didn't even hit the ground.
Happ did well to limit the Red Sox to one run in that spot considering the 3-4-5 hitters were due up. J.D. Martinez got the run in with a sacrifice fly to right field. Aaron Judge made a good on-line throw, but it didn't have enough on it, so Walker cut it off. Two more fly balls and Hicks' arm — Hicks held Pearce at third on a Xander Bogaerts fly ball — allowed Happ to strand the runner at third and limit the damage.
The final line: 6 IP, 4 H, 1 R, 0 ER, 3 BB, 6 K on 102 pitches. Happ allowed a one-double to Bogaerts and a one-out single to Eduardo Nunez in the sixth and I thought he should've been out of there. Boone stuck with Happ, who stranded the runners at the corners with a pop-up and a strikeout. It wasn't easy in the first three innings, but Happ was able to avoid the big inning, and he turned in a dandy of a start.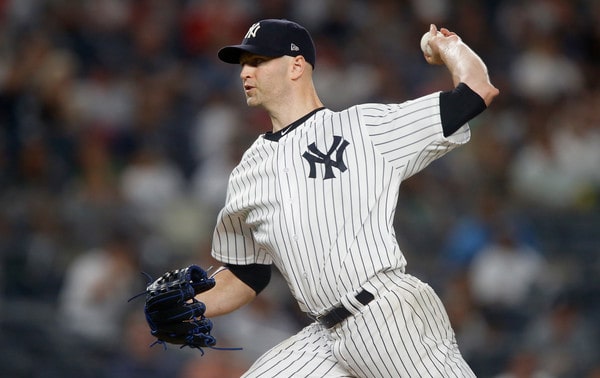 Blown Chances Early
In two starts against the Yankees since being traded to the Red Sox, Nathan Eovaldi has put eight men on base in 14 scoreless innings. In the seven games between starts against the Yankees, Eovaldi had a 6.58 ERA (4.27 FIP) in 26 innings and opponents hit .361/.405/.529 against him. Every team other than the Yankees has lit Eovaldi up since the trade deadline. How so very frustrating.
The Yankees had two quality opportunities to score against Eovaldi. First, in the third inning, Walker drew a leadoff walk and Andrew McCutchen drew a one-out walk. Judge then banged into a tailor-made 6-4-3 double play on the first pitch. (More on Judge's night in a sec.) Then, in the sixth, Torres doubled to right field and scampered over to third on Judge's fly ball into the right field corner. (Again, more on Judge's night in a bit.)
With Torres at third and two outs, Eovaldi flung a 95 mph cutter way inside and to the backstop. Gleyber ran home and crossed the plate, but the run did not count. The pitch hit — and by hit I mean grazed — Didi Gregorius in the shin. Hit-by-pitch and a dead ball. Torres went back to third and Didi went to first. If the Yankees didn't have bad luck, they'd have no luck at all. Eovaldi blew Giancarlo Stanton away with an elevated 97 mph fastball to end the sixth inning and that was that.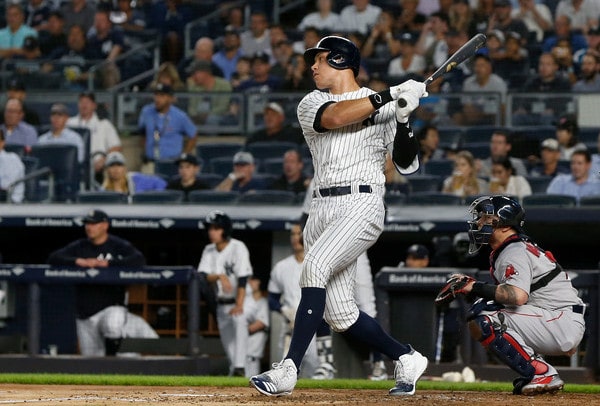 Return of the Judge
In his first at-bat back Judge did exactly what I was hoping to see him do. Well, no. I was hoping he'd put a ball into orbit. That didn't happen. Instead, Judge handled premium velocity and ripped a hard-hit line drive. Eovaldi gave him a 99 mph heater out over the plate and Judge hammered it to right field on a line. The exit velocity: 112.1 mph. Unfortunately the ball was right at J.D. Martinez for an out, but still. Great velocity and great contact. An encouraging sign in the first at-bat following a two-month layoff.
Judge's second at-bat was a letdown. Two one, one out in the third inning, and he hit into an inning-ending double play on the first pitch. Swung at a good pitch — it was a fastball right down the middle — but bad result. In his third at-bat, Judge nearly hit a ball out of the ballpark. He skied a high fly ball to right field and Martinez caught it here: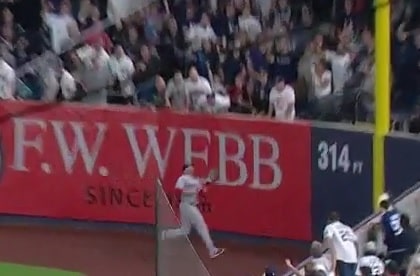 So close! A first game back dinger would've been cool. Judge struck out on a borderline check swing in his fourth at-bat and finished the game 0-for-4. If you're curious, the exit velocities on his three batted balls, in order: 112.1 mph, 93.9 mph, 94.9 mph. Considering the long layoff, I am really pleased he was able to catch up to Eovaldi's fastball, even though the results weren't there. It's all about timing right now. Judge's looked pretty good Tuesday night, all things considered.
Leftovers
Walker's homer was his tenth of the season, giving the Yankees eleven (!) players with double-digit home runs. They join the 2004 Tigers, 2015 Astros, 2016 Twins, and 2017 Astros as the only teams in baseball history to do that. Voit is sitting on seven home runs, so if he gets hot and goes on a tear these last 12 games, the Yankees could finish the season with 12 players with double-digit homers.
David Robertson totally bailed Hicks out in the eighth. Martinez dunked a double to center, Hicks took a weird route and let it get by him, then he took his sweet time retrieving the ball. That allowed Martinez to get to third with one out. Pretty terrible, Hicksie. Robertson got a popup and a fly out to strand the runner. Chad Green went three up, three down in the seventh.
Only three hits for the Yankees. Hicks blooped a single in the second, Torres doubled in the sixth, and Walker went deep in the seventh. McCutchen, Hicks, Sanchez, and Walker drew one walk each, and Gregorius was plunked twice. Eighth time in 15 September games the Yankees had no more than six hits. Thank goodness for dingers.
Box Score, WPA Graph & Standings
ESPN has the box score and updated standings. MLB has the video highlights and FanGraphs has the postseason odds. Here's our Bullpen Workload page and here's the win probability graph:

Source: FanGraphs
Up Next
The fifth-to-last home game of the 2018 regular season. The season isn't over yet but I already miss baseball. Anyway, Luis Severino and David Price are the scheduled starters for Tuesday night's game. Hope that one goes as well as the last time Severino and Price squared off.