Can the Yankees play the Twins every day? Pretty please? The Yankees opened this three-game series in Minnesota with a 7-2 win Monday night. Including the 2017 AL Wild Card Game, the Yankees have won their last nine games against the Twins, outscoring them 66-23. Love those Twins.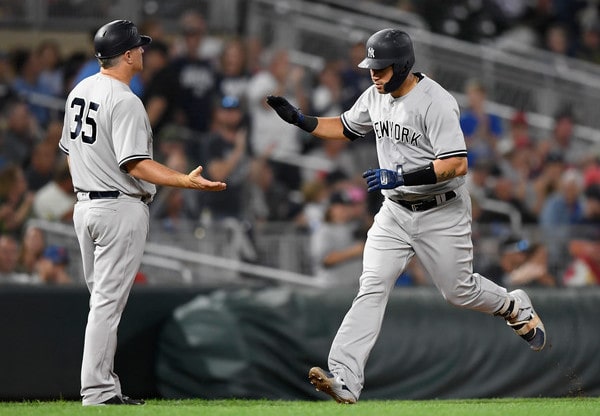 Kraken Attackin'
The first five innings were a real slog, offensively. The Yankees had men on base every inning against Kyle Gibson, yet they couldn't get the proverbial Big Hit. Andrew McCutchen (walk) and Aaron Hicks (single) reached base to start the first inning, then a Miguel Andujar double play and a Giancarlo Stanton strikeout followed. Didi Gregorius reached on an error to start the second and was stranded. McCutchen's single in the third went to waste. Didi's walk in the fourth went to waste. Bret Gardner's single and McCutchen's walk in the fifth went to waste.
Through five innings the Yankees put seven runners on base and went 0-for-8 with runners in scoring position. Andujar went 0-for-3 with runners in scoring position with three hard-hit balls in those first five innings. Rough. Between his April 26th start at Yankee Stadium and the first five innings Monday night, Gibson held the Yankees to four base hits in ten innings. He struck out 14. Annoying. The Yankees have crushed him over the years.
Twins manager Paul Molitor sent Gibson back out for the sixth inning even though he'd already thrown 95 pitches, and he almost got away with it. Stanton lined out and Gregorius struck out rather quickly. The Yankees final broke through on pitch No. 111 for Gibson. Gary Sanchez hit an insane solo home run to give the Yankees a 1-0 lead. In a 2-2 count, Gibson threw Sanchez a 95 mph two-seamer that dove down and out of the zone …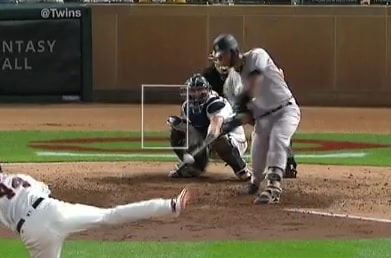 … and Gary launch-angled it into the third deck. Statcast says it was a 460-foot upper tank shot. Left Sanchez's bat at 111 mph. I don't really care about the distance or exit velocity. I mean, yeah, I do, but look where that pitch was! How do you elevate that pitch? How do you elevate that pitch into the third deck at Target Field? That is bonkers. Sanchez has really struggled this year. There's no doubt about that. Not many hitters can do that to that pitch though.
J.A. Stands For Just Awesome
Kind of a weird start for J.A. Happ. A good start, to be sure, but he never seemed truly dominant. The Twins put a runner on base in every inning but the third, and among his 91 pitches, Happ generated only two swings and misses. Two! This was Happ's 281st big league game and only the 13th in which he had no more than two swings and misses. It was only the fifth time he'd done it as a starter. Eek.
And yet, despite the lack of whiffs and general lack of dominance, Happ tossed six scoreless innings against the Twins. He allowed six hits, five of which were singles, and got an awful lot help from his defense. There were several great catches in the outfield and also some rockets right at infielders. The Twins put 15 balls in play against Happ and only five were ground balls. Six of those 15 balls in plays were 100+ mph and three were caught.
Happ's final line: 6 IP, 6 H, 0 R, 0 ER, 0 BB, 3 K on 91 pitches. I thought he had enough left in the tank to throw the seventh inning as well, but once the Yankees broke the game open, might as well turn it over to the expanded September bullpen. The results are excellent. I'd take it every time no questions asked. There were some dicey moments though, and Happ seemed a little off his game. Fortunately, even when he's not at his best, he's still pretty good.
Broken Open
Once Gibson was out of the game, the Yankees went to town on Minnesota's bullpen. The first eight batters they sent to the plate in the seventh inning reached base. Walk, walk, double, double, double, single, walk, single. After finally making an out, the Yankees added a sacrifice fly and a bases loaded walk to score two more runs. A lot happened that inning, so I'm going to annotate the play-by-play to make sure I don't miss anything.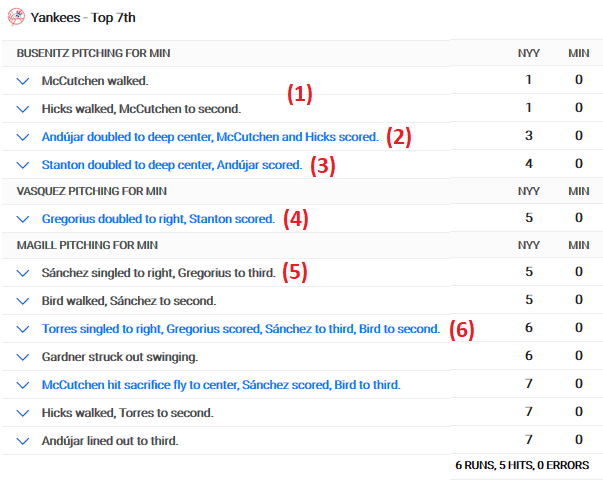 (1) McCutchen and Hicks each batted twice in the seventh inning and they reached base three times with a sac fly mixed in. Those two reached base seven times (two singles, five walks) and had a sacrifice fly in 12 combined plate appearances Monday night. That is how you set the damn table. With Aaron Judge still sidelined and Stanton mostly slumping, I am totally cool with sticking with McCutchen and Hicks in the 1-2 spots. Leave 'em there and let them raise hell.
(2) Andujar hit the ball hard all game and wasn't rewarded for it until the seventh inning. A hard-hit grounder resulted in a double play in the first. Line drives to center and left were caught for outs in the third and fifth, respectively. In the seventh, righty Alan Busenitz totally gave in and threw Miggy a 98 mph fastball right down the middle in a 2-0 count. Great velocity! But Andujar can handle velocity, and he crushed the ball off the high wall in right-center to score McCutchen and Hicks. That was double No. 40 for Andujar. Andujar (40 doubles, 23 homers) and Joe DiMaggio (44 doubles, 29 homers) are the only rookies in franchise history with 40+ doubles and 20+ homers in a season. Pretty great. Also, Andujar is four shy of DiMaggio's franchise rookie doubles record. It's a race!
(3) Glad to see Stanton get a mistake and hammer it. Busenitz rolled a loopy 84 mph curveball out over the plate and Giancarlo drove it clear over Jake Cave's head in center field to score Andujar. The ball left his bat at 117 mph. Stanton is a streaky hitter and he's in a cold streak right now — he went into this game 7-for-62 (.113) with 27 strikeouts in his last 16 games, which dates back to the Baltimore series — but he was missing hangers like that one a few days ago. Perhaps he's starting to come out of it.
(4) Sir Didi's first base hit since returning from the disabled list was a hard-hit grounder inside the first base bag and into foul territory for a double. It hit the sidewall and bounced back into the field of play. Gregorius had been 0-for-5 since coming back from the heel injury. This was the team's third straight double and it gave the Yankees a 5-0 lead. After going 0-for-8 with runners in scoring position in the first six innings, the Yankees went 5-for-7 with two walks and a sacrifice fly with the bases loaded in the seventh inning. Feels good, man.
(5) Since returning from the disabled list, Sanchez has been awfully pull happy. I mean, he's always been a pull hitter. He had a 54.1% pull rate in 2016 and a 51.5% pull rate last year. This year it's 50.0% overall, but 68.4% since returning from the disabled list. Here is his spray chart for his first seven games back from the disabled list: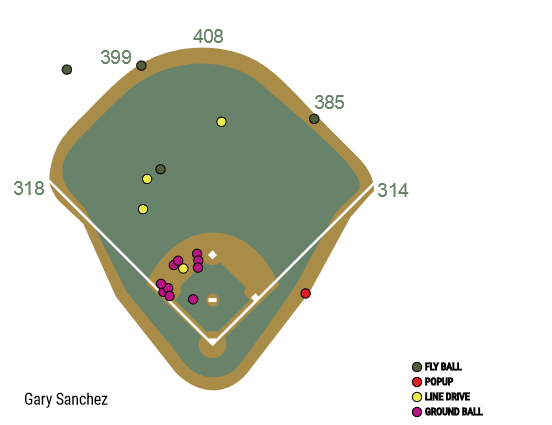 Yeah, Gary's been pulling everything, and he sure pulled the hell out of his homer in the sixth inning. In the seventh though, he flicked a little two-strike fastball to right field for a single. Good to see him go the other way. Also, Sanchez hammered a double off the right field wall in the eighth inning. So that's two balls to right field in this game after what, one total in his previous seven games? Sanchez went 3-for-5 with a single, a double, and a homer in the game. Please let this be the start of something big.
(6) The Twins declined to call up Byron Buxton this month for service time reasons. The GM basically came out and admitted it too. One of the other excuses was a lack of playing time, and yet Robbie Grossman and Johnny Field were starting in the corner outfield spots. What? Grossman is a terrible defender and it came into play on Gleyber Torres' bases loaded single. He dunked a bloop into shallow right and Grossman missed the dive terribly. The ball scooted by him too, though another run did not score. Still looked catchable off the bat. With Buxton in center, Cave probably makes that catch in right. Oh well. Not my problem. Gleyber's single stretched the lead to 6-0.
Leftovers
Luis Cessa threw two innings and allowed both Twins runs in the eighth inning. I really wish they would've used Jonathan Loaisiga. Seemed like a good time to get him some work. Then again, Sonny Gray is pitching Tuesday, and the Yankees might be saving Loaisiga for long relief duty. Whatever. Cessa allowed two runs in two innings and Jonathan Holder, who'd pitched once in the last eight days, handled the ninth.
Every starter had a hit except … Greg Bird. He went 0-for-3 with two walks and a strikeout. Every starter reached base at least twice except Andujar, who doubled. McCutchen (single, three walks) was on base four times and is hitting .148/.385/.370 in nine games with the Yankees. Love that OBP. Sanchez had three hits and Gardner had two. The Yankees drew a season-high tying ten walks.
And finally, with the win, the magic number to clinch a postseason spot is down to nine, which is why Roger Maris is in the sidebar. The Athletics were idle Monday, so the Yankees are three games up for homefield advantage in the Wild Card Game. But, because the Yankees hold the tiebreaker, it's effectively a four-game lead. The A's have to claim the top wildcard spot outright to host the Wild Card Game. Tie goes to the Yankees.
Box Score, WPA Graph & Standings
Head to ESPN for the box score and updated standings, MLB for the video highlights, and FanGraphs for the postseason odds. Here's our Bullpen Workload page and here's the win probability graph:

Source: FanGraphs
Up Next
The Yankees and Twins continue this three-game series Tuesday night. That's another 8:05pm ET start. Gray and Tyler Duffey will be the starters for that one. Duffey will be the opener and is only expected to throw an inning or two.