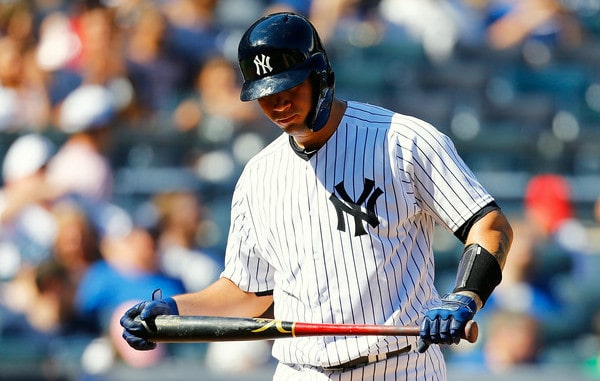 Eleven losses in the last 19 games and recent series losses to the White Sox, Twins, and Blue Jays. The White Sox and Blue Jays series were at home too. The Yankees are 29-25 since the All-Star break and during that time they've a) bombed out of the AL East race, and b) seen their lead on the top wildcard spot trimmed from eight games to 1.5 games. It's three games in the loss column when you include the tiebreaker, if that makes you feel better.
This weekend's series loss the Blue Jays was not a bummer out-of-nowhere series loss like that Texas series back in May. It was more of the same from a generally underperforming Yankees squad that has become more and more lifeless as the season has progressed, to point where they are now thoroughly unexciting even while threatening the single-season home run record. How do you manage that? The 2018 Yankees have, somehow.
"You don't want to go through it, especially when it's late like this, but we've still got plenty of baseball left to get hot. It's all about what team is hot," said Aaron Judge, forever the optimist, to Bryan Hoch following yesterday's game. "If we can get hot here in the last two weeks and take that into the playoffs, we're going to be in a good position."
The Yankees have used up pretty much the entire cushion they built in the first half, and now they're in a mad dash to the finish to clinch homefield advantage in the Wild Card Game. They have 13 games remaining, ten of which will be played against the Rays (four games) and Red Sox (six games). The Athletics, meanwhile, have 12 games remaining. They'll play nine of them against the Twins (three games) and Angels (six games). Yikes.
The Yankees are where they are right now because, quite simply, their best players have not had the seasons expected of them. Judge gets a pass here because he was so good before the fluke wrist injury that has sidelined him two months now. Everyone else though? This isn't what anyone expected:
Gary Sanchez: Hitting .188/.284/.408 (87 wRC+) in 334 plate appearances overall and is 9-for-47 (.191) since returning from the disabled list (the second time).
Luis Severino: A 3.46 ERA (2.99 FIP) in 179.1 innings isn't bad by any means, but he has been one of the worst pitchers in baseball (6.35 ERA) since the All-Star break.
Giancarlo Stanton: Not counting his partial rookie year, he's on pace for his third worst AVG (.265), second worst OBP (.341), third worst SLG (.501), and second worst wRC+ (125 wRC+).
Dellin Betances, the team's best reliever, has been generally awesome this season but has had some hiccups lately, including yesterday. Didi Gregorius has been great overall despite that ugly May and the recent heel injury. Masahiro Tanaka has been very good overall and ace-like for more than two months now. The first half wasn't pretty though. Sonny Gray? Oy vey. Don't even get me started on him.
On one hand, the fact the Yankees are 91-58 despite Sanchez being terrible, Severino's second half, Stanton falling far short of expectations, and all that other stuff tells you how strong the rest of the roster has been. Where would the Yankees be without Miguel Andujar and Gleyber Torres? Good gravy. I don't even want to think about it. Aaron Hicks, David Robertson, Jonathan Holder, J.A. Happ … they've all helped pick up the slack.
On the other hand, the American League is so top heavy and competitive — the four best records in baseball belong to AL teams, and the Indians are not one of those four despite already clinching the AL Central title — that the Yankees have no shot at doing anything meaningful in the postseason without getting more from their stars. They might not host the Wild Card Game without getting more from those guys.
Whose fault is it the Yankees' top players are underperforming? The blame should always start with the players. In Severino's case, it's possible he's feeling the effects of last year's career-high workload. Wouldn't surprise me one bit. Stanton is presumably dealing with a ton of pressure in his first season with the team, which would be a lame excuse, but an excuse nonetheless. Gary? He doesn't have an excuse. Unless he's been hiding an injury and playing hurt all year, there's no good reason for him to have a season like this.
Of course, there were times Sanchez and Severino and Stanton produced at a truly elite rate earlier this year. Severino was brilliant in the first half. Stanton hit .288/.360/.549 (142 wRC+) from May 1st through August 31st and did much of that with one good hamstring. Sanchez hit .292/.396/.681 (185 wRC+) during a 31-game span from mid-April through mid-May. That success was a long time ago though. Same for Severino.
Look around at the other top AL contenders and they have key players having the best seasons of their career. Mookie Betts and J.D. Martinez for the Red Sox. Francisco Lindor and Jose Ramirez with the Indians. Alex Bregman with the Astros. Matt Chapman with the Athletics. Not necessarily career years, those guys might get even better going forward — that is especially true for Lindor, Bregman, and Chapman — but this is their best season to date.
The Yankees don't have a single player like that. Maybe Gregorius and Hicks? I mean, yeah, definitely Gregorius and Hicks, but they've been more comfortably above-average than star-caliber. Imagine how good the Yankees would be if Sanchez and Stanton were performing up to their career norms, and Didi and Hicks were doing what they're doing? Imagine how much easier it would be to deal with Severino's struggles if Gray wasn't a mess?
What's done is done. Can't go back and change it. The only thing the Yankees can do it be better going forward, and the first step in being a better team is getting the best players to actually be the best players. We all love Andujar and Gleyber. Things were much better when they were like the fourth and fifth best players on the team though, not the best and second best. Those two have done a lot of heavy lifting lately. The Yankees' best players haven't played up to snuff for weeks now, in some cases months, and the result is a small margin for error in the standings.
"We've got to play better, clearly. We're not playing our best right now, but the history of this game is littered with stories of teams that went into the playoffs in different scenarios — limping, playing great — the bottom line is you've got to be playing right when it counts," said Aaron Boone to Coley Harvey following yesterday's game. "Don't mistake that for, 'This is okay.' Still believe at my core that we have everyone in that room to do something special. We're getting pushed around a little bit right now because it's difficult and we're not quite at our best. This thing ain't even close to done."