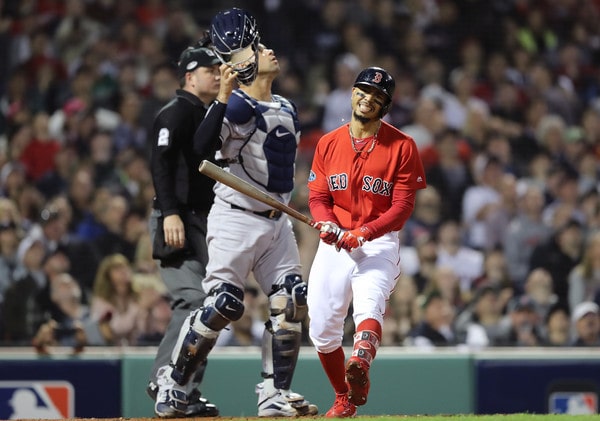 In all likelihood, Red Sox right fielder Mookie Betts will be named AL MVP this year. He is the proverbial "best player on the best team," which always leads to MVP love, and it wouldn't be undeserved. Betts hit .346/.438/.640 (185 wRC+) with 32 homers and 30 steals during the regular season, and he led MLB with +10.4 fWAR and +10.8 bWAR. It was the first Trout-like season by someone other than Mike Trout since Bryce Harper's MVP year in 2015.
Betts wrecked the Yankees during the regular season like he wrecked pretty much every team, hitting .415/.506/.738 with ten doubles and three homers in 17 games. In those 17 games against the Yankees, he reached base 40 times and had 48 total bases. Betts failed to reach base only twice in his 17 regular season games against the Yankees this year. He's  great player and he was especially great against the Yankees this year.
That all said, through two games in the ALDS, the Yankees have largely kept Betts in check. He is 1-for-7 at the plate with a walk. The walk was intentional and the base hit was a third inning leadoff double against J.A. Happ in Game One. Betts was ahead in the count 3-1, home plate umpire Cory Blaser gave Happ a gift strike two call, then Betts golfed the next pitch off the Green Monster.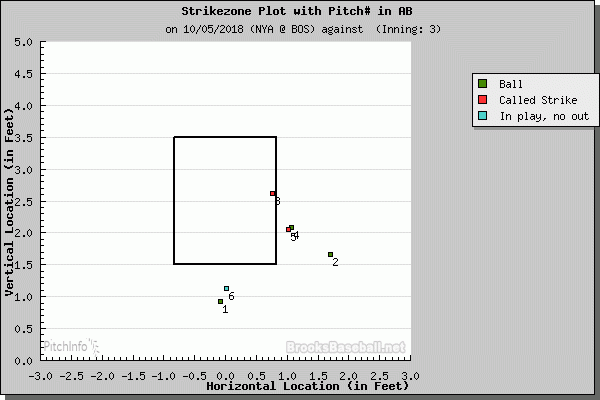 Betts did not reach base in Game Two — he went 0-for-4 with a hard line out and three otherwise harmless batted balls — and, partly because of that, J.D. Martinez batted with only one runner on base in his four at-bats. When you're trying to hold down the Red Sox offense, that's a great way to do it. Limiting traffic in front of Martinez is a must.
The Yankees have, to some degree, changed up their approach against Betts in the ALDS, though it is only eight plate appearances against five different pitchers (Masahiro Tanaka three times, Happ twice, Zach Britton once, Chad Green once, Lance Lynn once). Here's the quick breakdown:
Regular season: 50.3% fastballs, 34.1% breaking balls, 15.6% offspeed
ALDS: 60.0% fastballs, 22.9% breaking balls, 17.1% offspeed
Three at-bats against the fastball heavy Happ and Lynn are balanced out by three at-bats against the anti-fastball Tanaka. Then again, it's eight at-bats, so it's possible if not likely this is all sample size noise. This much I do know: Not counting the intentional walk, Betts has seen a hitter friendly 2-0 or 3-1 count only twice in his seven ALDS at-bats. That's a good way to limit a hitter's production. Stop him from seeing favorable counts.
Betts is so good that holding him down for an entire postseason series feels impossible. I swear, every time the guy makes an out, it feels like luck. His hands are lightning fast and he rarely swings and misses. I'm not sure there's a hole anywhere in his swing. He can beat you in so many ways too. With his power, with his patience, with his speed. Plus he does stuff like this defensively. Give credit where it's due. Betts is a hell of a ballplayer.
The Yankees have done a good job keeping Betts in check so far in the ALDS. Holding him to a double and an intentional walk through two games is a pretty great outcome. Better than I would've expected. I'm not sure limiting him a .143 AVG and a .250 OBP for an entire best-of-five series is possible, but the longer the Yankees can prevent him from having an impact, the greater their chances of advancing.