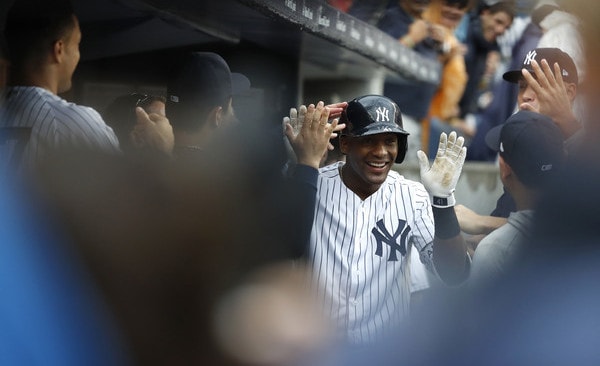 All offseason long I sat here saying "I can't see the Yankees going into 2018 with two rookie infielders." Just didn't seem like a thing the Yankees would do. And yet, the days kept ticking away, and eventually the Yankees went into Spring Training with two rookies penciled into the infield. Some combination of Miguel Andujar, Gleyber Torres, and Tyler Wade were poised to play second and third bases.
That changed on February 20th. Two days after position players reported to Spring Training, the Yanks traded for Brandon Drury to play third base. Three weeks after that, they signed Neil Walker to play second. Those moves pushed Andujar and Torres to Triple-A and, honestly, it wasn't the worst thing in the world. Andujar had to work on his defense and Torres was coming back from Tommy John surgery.
As you know, Torres and Andujar wound up spending almost the entire 2018 season as the starters at second and third bases, respectively. In Andujar's case, Drury suffered an injury early in the season, early enough that Andujar never did play a game for Triple-A Scranton. He was called back up before their season started. Drury's injury gave Andujar his opportunity and wow did he run with it.
In 606 plate appearances — only Giancarlo Stanton (705) and Brett Gardner (609) had more plate appearances among Yankees this year — the 23-year-old Andujar put up a .297/.328/.527 (128 wRC+) batting line with 47 doubles and 27 home runs. His walk rate (4.1%) and on-base percentage were much lower than you'd like, but a) Andujar was just a rookie, and b) Andujar made up for it by doing everything else so well at the plate.
Despite not making the Opening Day roster, Andujar turned in a Rookie of the Year caliber season and was probably the team's most consistent hitter from start to finish. He had his slumps, no doubt, but they didn't seem to last all that long. If the Yankees had their way, Drury would've seized the third base job and run with it. Instead, Andujar took it from Drury and who knows where the Yankees would've been without him. Time to review his season.
Power & Contact
Andujar's calling card throughout the minors was his innate ability to get the barrel on the ball. No matter where it was pitched, he could square it up. His breakout 2016 season featured a career high in doubles (26) and homers (12) with a 12.6% strikeout rate at High-A and Double-A. Last year Andujar had 36 doubles and 16 homers with a 13.6% strikeout rate at Double-A and Triple-A. He gets the bat on the ball and he hits it with authority.
This season Andujar pounded 47 doubles and 27 homers with a 16.0% strikeout rate and a 9.6% swing and miss rate, both of which are quite a bit better than the league average (22.3% and 10.7%). Fourteen qualified hitters paired a .230 ISO with a sub-10.0% swing-and-miss rate this season, and they're basically the 13 best hitters in baseball (Mookie Betts, Mike Trout, Christian Yelich, Jose Ramirez, etc.) and Miguel Andujar.
Swing-and-miss data goes back to 2002. Since then 241 hitters had at least 400 plate appearances during their rookie season. A chart of those 241 rookie hitters: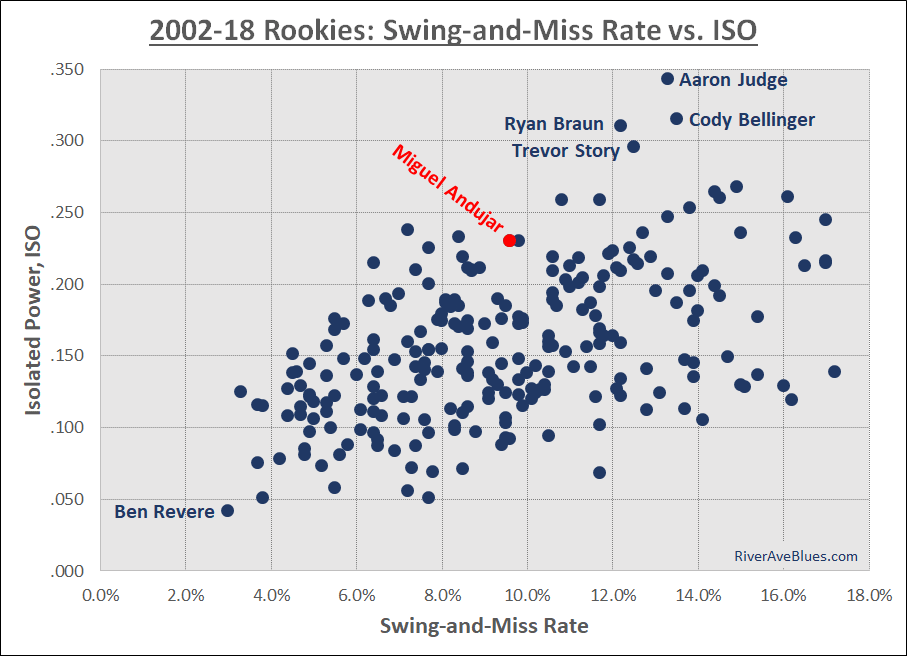 There are not many dots in that chart around Andujar, meaning rookie hitters with a few swings and misses and lots of power. In fact, only two rookies since 2002 paired a lower swing-and-miss rate with a higher ISO than Andujar this year: Mike Trout (7.2% and .238) and Carlos Correa (8.4% and .233). Those two did it at age 20 and that's far more impressive than Andujar doing it age 23. Among similar aged rookies, Andujar's there with Nick Swisher and Evan Longoria (and Joey Votto!).
Point is, not many players this season swung and missed as little as Andujar while providing as much power as Andujar, and even fewer rookies have done it this century. It's one of those things you can't teach. I couldn't tell you how many times Andujar swung at a pitch out of the zone, I wondered to myself why in the hell he swung at that, and then watched it fall in for a hit. Remember his two-strike walk-off hit against the Indians?
It just works, man. Pitchers adjusted too. They threw Andujar fewer fastballs and fewer pitches in the strike zone as the season progressed, and he slumped initially, but then he adjusted back and did better job laying off those pitches he couldn't get to. It is a very unique skill set. Andujar makes contact like a slap-hitting speedster but he drives the ball like the power hitter, and he's in control of his at-bats more than the walk rate would lead you to believe. In a lineup loaded with patient count-workers, this is a very different look.
The blend of contact and power allowed Andujar to finish 12th in baseball with 76 extra-base hits — Miggy Mantle had one more extra-base hit than Manny Machado in 103 fewer plate appearances — and tied for third in doubles in with Mookie Betts. Only Alex Bregman and Eduardo Escobar had more two-baggers. The all-time AL rookie doubles leaderboard:
Miguel Andujar, 2018 Yankees: 47
Fred Lynn, 1975 Red Sox: 47
Hal Strosky, 1934 Indians: 45
Roy Johnson, 1929 Tigers: 45
Shoeless Joe Jackson, 1911 White Sox: 45
Johnny Frederick is the only rookie in baseball history to finish a season with more doubles than Andujar. (Frederick had 52 with the 1929 Dodgers.) Andujar broke Joe DiMaggio's franchise rookie record for doubles (44) and keep in mind he did it in a home ballpark that isn't conducive to doubles. Yankee Stadium is a home run ballpark. It is not a good doubles (or triples) park. Andujar still managed to tie Lynn's AL record.
"I got to wait and see how the voting goes. Let the best rookie win," said Andujar after the season when asked about potentially winning Rookie of the Year. "It would mean a lot and to my family and teammates. It will be motivation to keep on working harder."
Let's Talk About His Defense
Andujar is an impressive young hitter. He is not a good defensive third baseman, and it seemed he got worse as the season progressed, not better. Aaron Boone praised Andujar's hard work and made sure to mention him whenever he had a good game in the field, but, when push came to shove in the postseason, Andujar was lifted for a defensive replacement in the sixth inning. I don't think I've ever seen a player pulled for defense that early.
Furthermore, the Yankees employed a personal third baseman for CC Sabathia. Sabathia faces a ton of right-handed batters and because he pitches inside with his cutter so much, it means a lot of weak rollers to the left side of the infield. Neil Walker, who is no defensive dynamo himself, started six of Sabathia's final seven starts, including ALDS Game Four. (That the extra-base hit machine rookie did not pinch-hit in the ninth inning of Game Four still annoys me, but I digress.)
"When I started watching Andujar in the winter, I felt like there was a ways to go for him. But I also felt like he could do it," Boone said in June. "I would say at this point he has passed those expectations. All around, he's been an impact player for us,. It's a credit to him because he works really hard. The work he puts in on a daily basis has made him a solid third baseman."
Andujar's defensively deficiencies are not due to a lack of work. I am not the most seasoned guy you'll find but in my years as a BBWAA member I've never seen a player out on the field for defensive work more than Andujar. He's on the field every afternoon with infield coach Carlos Mendoza and also occasionally Boone, a former big league third baseman, taking grounder after grounder after grounder. Andujar works on his defense. A lot.
And yet, it's still not good. Andujar's hands are fine and his arm is strong. His footwork is a mess though, and he often double clutches his throws, which makes things unnecessarily difficult. Also, his sidearm release sometimes causes the ball to tail away from the first baseman. Here is the Miguel Andujar defensive experience in a nutshell: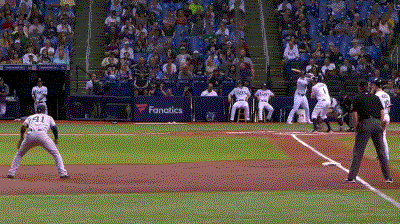 Awkward footwork, a double clutch, and a short-hopped throw. Andujar ranked dead last among all defenders at any position with -16 UZR this season and he was second-to-last with -25 DRS. (Charlie Blackmon was at -28 DRS.) DRS data goes back to 2003. The worst third base seasons on record:
2007 Ryan Braun: -32 (moved to left field in 2008)
2014 Nick Castellanos: -30 (stayed at third until 2016 before moving to right field)
2007 Garrett Atkins: -26 (split time between first and third bases starting in 2008)
2008 Miguel Andujar: -25
2005 Mark Teahen: -21 (moved to the outfield full-time in 2007)
In the DRS era, very few third baseman had a season as poor defensively as Andujar this year, and those that did changed positions after no more than two more seasons at the hot corner. "Keep working on my routine. Don't give up on it and the goal is to be more consistent overall," said Andujar a few weeks ago when asked about working on his defense in the offseason.
The Yankees have not yet said anything about Andujar's defensive future and, truth be told, they may not have made a decision yet. It probably depends on their offseason moves, right? If the Yankees sign Manny Machado, they'll need to start thinking about moving Andujar elsewhere. If they replace Didi Gregorius with a stopgap, they could continue to work with Andujar at third since he'll probably be there for at least one more season.
I weirdly have no firm opinion about Andujar's defensive future. On one hand, he was so bad this season that a position change makes sense. I'd try the outfield before first base, personally. First base is sort of a last resort position. On the other hand, the kid is only 23! I'd hate to move him off a premium position after one terrible defensive season, a terrible defensive season that came as a rookie. Give him a chance to settle in, you know? If the Yankees move him, I'd be okay with. If they stuck with him at third, I'd be okay with it too. We'll see.
What's Next?
Aside from Didi Gregorius, who recently underwent Tommy John surgery, no other position player on the Yankees faces as much uncertainty going forward as Andujar. It's a weird thing to say about a kid who put up those numbers this season, but Andujar's future is a little up in the air. None of the following would surprise me:
Andujar gets traded (for a starting pitcher, presumably).
Andujar stays at third base in 2019.
Andujar moves to another position in 2019.
Right now, I'd rank those three outcomes (2) (3) (1) in order of likelihood. A trade does seem unlikely. Even though the Yankees need pitching, Andujar is a significant piece of the offense, and there is plenty of pitching in free agency. Moving him to another position? Okay, yeah, I could see it. Same with Andujar staying at third base. I expect Andujar to be in the starting lineup coming Opening Day 2019. At what position? That is TBD.