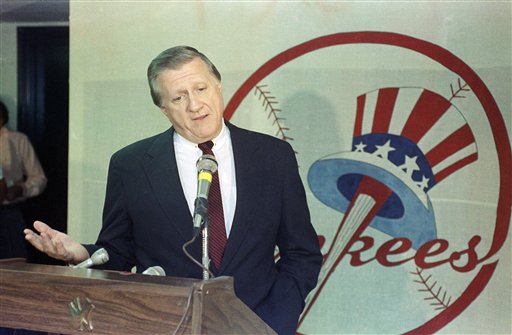 There are two new members of the National Baseball Hall of Fame. Earlier tonight the Hall of Fame announced Harold Baines and Lee Smith have been voted into Cooperstown by the 16-person Today's Game committee. Harold Baines? Harold Baines. Congrats to Baines and Smith, the latter of whom very briefly played for the Yankees in 1993.
George Steinbrenner was on the ten-man Today's Game ballot this year and he did not receive enough votes for induction. Not even close. He received fewer than five votes. Twelve are needed for induction. This was George's fourth appearance on a Hall of Fame ballot and the fourth time he failed to get in. He'll be up for another vote again in a few years.
Warts and all, I believe Steinbrenner is a Hall of Famer. He is a key figure in baseball history — I don't mean to dump on Baines, who was a very good player for a very long time, but you can skip right over him in the story of baseball history and you can't skip George — and I don't think we should ignore the parts of history we don't like. Steinbrenner is a baseball icon.
Anyway, Albert Belle, Joe Carter, Will Clark, Orel Hershiser, Davey Johnson, Charlie Manuel, and Lou Piniella were the others on the Today's Game ballot this year. Piniella, a former Yankees player and manager, received eleven votes. One vote short of induction. Everyone else on the ballot received fewer than five votes.
The Today's Game committee is one of four eras committee that replaced the old Veterans Committee a few years ago: Today's Game (1988 to present), Modern Era (1970-87), Golden Days (1950-69), and Early Baseball (pre-1950). The committees are made up of Hall of Famers, executives, and historians.