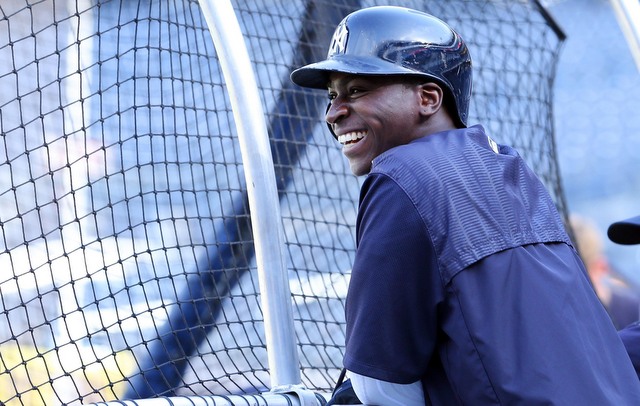 The 2019 Yankees suffered their first major injury in October 2018. During Game Two of the ALDS, Didi Gregorius blew out his elbow on a throw to the plate, and after the series the Yankees announced he would undergo Tommy John surgery. Sir Didi played with his torn elbow ligament for the remainder of the series. Turns out there was a good excuse for those uncharacteristically wild throws in Games Three and Four.
Gregorius tore his ulnar collateral ligament on this play, specifically:
"I already knew (I would need surgery) as soon as it happened on that play in Boston," said Gregorius to
Ken Davidoff
back in December. "I already knew it was going to happen. I told them I'm playing. I don't care what they say."
Gregorius turned 29 earlier this week and he had his Tommy John surgery on October 17th. He is right on track with his rehab so far. Gregorius started a throwing program last week and he's expected to be cleared to swing a bat two-handed following his next doctor's visit in early March. So far, so good with his rehab.
Short of signing Manny Machado, replacing Gregorius was going to be impossible this winter. He's gotten better and better each year with the Yankees, and last season he put up a .268/.335/.494 (121 wRC+) batting line with 27 homers in 134 games around a heel injury. Good defensive shortstops who can hit like that are hard to find. Didi is, rather easily, the team's best pure left-handed offensive threat.
The typical Tommy John surgery rehab for position players is much shorter than it is for pitchers. The Yankees will be without Gregorius for some length of time this year but they do expect him to return and play a good chunk of the season. Troy Tulowitzki will play shortstop for the time being. Time to preview Sir Didi's already injured-shortened 2019 season.
When might he return?
"I hate giving a timeline because we'll let the thing play out," said Boone when asked about Gregorius last week. "I think our original was anywhere from 2-4 months maybe into the season. He certainly seems at least on that pace. He's in really good shape and progressing the way he should be so we're optimistic that he's going to play hopefully a significant amount of the season for us."
Tommy John surgery is not especially common for position players and infielders especially. Most position player Tommy John surgeries involve catchers or outfielders. Jon Roegele's Tommy John surgery database includes ten non-first base Major League infielders with known surgery dates. Here's how long it took them to return to the big leagues:
| | Surgery Date | Return Date | Days to Return |
| --- | --- | --- | --- |
| Rafael Furcal | March 13th, 2013 | June 13th, 2014 | 409 |
| Randy Velarde | April 8th, 1997 | May 13th, 1998 | 400 |
| Paul Molitor | May 21st, 1984 | April 9th, 1985 | 323 |
| Kelly Johnson | June 1st, 2006 | April 2nd, 2007 | 305 |
| Cesar Izturis | Sept. 16th, 2005 | June 20th, 2006 | 277 |
| Mike Aviles | July 7th, 2009 | April 8th, 2010 | 275 |
| Ray Olmedo | Nov. 9th, 2004 | June 28th, 2005 | 231 |
| Tony Womack | Oct. 6th, 2003 | April 5th, 2004 | 182 |
| T.J. Rivera | Sept. 14th, 2017 | Pending | |
| Corey Seager | May 4th, 2018 | Pending | |
It's a small sample, and even within that sample we run into other problems. Molitor, Johnson, and Aviles returned to game action on Opening Day, though they participated in Spring Training, so they likely would've returned earlier had the timing worked out better. Womack? Good gravy he came back fast. He had his surgery soon after the end of the regular season and was back on the field for Opening Day. We know Gregorius won't do that.
There are some cautionary tales here. Rivera dealt with several setbacks and still hasn't returned from his elbow reconstruction. Furcal and Velarde were slowed during their rehab as well. To me, the most relevant players here are Izturis and Olmedo. They had their surgeries late in the year and returned the next year without being rushed (like Womack), without a setback (like Furcal and Velarde), and without having to wait around for Opening Day (like Molitor, Johnson, and Aviles).
Izturis needed a little more than nine months to make it back. Olmedo made it back in just under eight months. An 8-9 month timetable puts Gregorius on track to return somewhere in mid-June to mid-July. There's (somewhat) recent precedent for that. I think the Yankees and Gregorius would sign up for 8-9 months right now. That means getting him back for half the season and maybe a little more.
Ultimately, every rehab is different. By all accounts Didi's rehab is going well and it could be that he makes it back quicker than Izturis or Olmedo. It's almost possible he'll feel a twinge at some point and need to slow things down. The hope is Gregorius will start swinging a bat in the middle of next month. That means he's likely to miss at least two months of the regular season once you factor in the necessary rehab games.
What should we expect when he comes back?
With a healthy elbow, there's every reason to believe Gregorius will come back as the same player he was before Tommy John surgery. He's in his prime, so age-related decline is not a concern. I'm more worried about his defense, specifically his throwing arm, than his bat post-elbow surgery, and worried isn't the right word. I just mean that, if we see some lingering effects of the injury, it'll probably be on throws more than swings.
Since I have the numbers in front of me, here's what those Major Leaguer infielders who had Tommy John surgery did in their last full season before surgery (their last healthy season, in theory) and in the year they returned (so we can see the immediate aftermath). I'm leaving out Rivera and Seager because they haven't returned yet (duh).
| |  Age at TJS | Year before TJS | Year back from TJS |
| --- | --- | --- | --- |
| Rafael Furcal | 35 | 85 OPS+ and +1.3 WAR (121 G) | 25 OPS+ and -0.2 WAR (9 G) |
| Randy Velarde | 34 | 104 OPS+ and +2.1 WAR (136 G) | 102 OPS+ and +0.5 WAR (51 G) |
| Paul Molitor | 27 | 110 OPS+ and +4.6 WAR (152 G) | 110 OPS+ and +4.6 WAR (140 G) |
| Kelly Johnson | 24 | 91 OPS+ and +1.4 WAR (87 G) | 116 OPS+ and +3.7 WAR (147 G) |
| Cesar Izturis | 26 | 88 OPS+ and +3.8 WAR (159 G) | 57 OPS+ and +0.9 WAR (110 G) |
| Mike Aviles | 28 | 121 OPS+ and +4.7 WAR (102 G) | 104 OPS+ and +1.5 WAR (110 G) |
| Ray Olmedo | 23 | 49 OPS+ and -0.6 WAR (79 G) | 62 OPS+ and -0.6 WAR (54 G) |
| Tony Womack | 33 | 71 OPS+ and +0.5 WAR (153 G) | 91 OPS+ and +3.3 WAR (145 G) |
For the most part, our little Tommy John surgery group came back well immediately following surgery, at least relative to who they were before the injury. Furcal was at the end of the line — those nine games he played following Tommy John surgery were the final nine games of his career — and Olmedo was a utility guy who never produced much. Izturis was always glove over bat as well.
Again, every player and every rehab is unique, so Gregorius is not guaranteed to come back as strong as some of those players in the table. To me, it is comforting to see that this group didn't collectively fall off the table in their first year back from surgery. They completed their rehab and went back to being the player they were before Tommy John surgery. Sir Didi is very good and the little bit of information we have about Major League infielders having elbow reconstruction tells us he is likely to again be very good after surgery.
What about his upcoming free agency?
The Tommy John surgery came at an unfortunate time for Gregorius and the Yankees. I mean, there's never a good time for Tommy John surgery, but in this case, the injury happened right as Gregorius was set to enter his contract year. He won't have a fully healthy contract year and the injury surely complicated any contract extension talks with the team. The Yankees and Didi avoided arbitration with a one-year deal and that's it.
Following the recent Luis Severino deal, Brian Cashman said the Yankees have discussed extensions with other players without providing any details. I have to think Gregorius is among those players. The Yankees love him — seriously, what's not to love? — and above-average two-way shortstops in the prime of their career are hard to find. The injury stinks, but I don't think it'll be a dealbreaker.
"I'm not going to say on individual cases," Cashman said to Erik Boland when asked about possible extensions following Severino's deal last week. "We've approached certain players and we are always open for the right people to do things and find common ground if that's at all possible. We've had conversations with some, not all, but if they lead to multi-years, great, this one did. Other attempts so far have failed."
The Yankees could sign Gregorius to an extension that begins in 2020 without changing his 2019 luxury tax number ($11.75M). They couldn't do that with Severino because Severino had not yet agreed to a 2019 contract. That's what the arbitration hearing would've decided. Gregorius has a 2019 contract. The extension can begin next year and save the team some luxury tax money this year.
Given where we are now, I think the Yankees are going to wait to see how Gregorius bounces back from Tommy John surgery before getting serious about contract extension talks, unless of course he's willing to sign a sweetheart deal. Didi is awesome, but free agency is squeezing even awesome players. Going out into the open market with Tommy John surgery in the recent past is probably kinda scary.
In a normal free agent climate, Gregorius could've sought something along the lines of Jean Segura's five-year, $70M contract. In this free agent climate, and after Tommy John surgery, does he even get three years and $13M annually? Zack Cozart hit .297/.385/.548 (140 wRC+) with 24 homers and +5.0 WAR in 2017, became a free agent when he was one year older than Gregorius will be when he becomes a free agent, and he received three years and $38M. Hmmm.
If the Yankees do sign Gregorius to an extension at some point soon, I think it would be along the lines of the Cozart deal. Gregorius gets the guaranteed payday and doesn't have to worry about finding work so soon after Tommy John surgery and in a rough free agent market. If the two sides wait for an extension, well, who knows? He could return and crush the ball, and raise his stock. Or he could struggle and see his stock fall. That'd be a bummer.
* * *
The top priority right now is helping Gregorius complete his Tommy John surgery rehab. Both he and the Yankees have said he won't came back early as a DH — "I want to be back completely. I just want to make sure everything's all right before I go out there. I haven't even thought about hitting before everything," he said recently — because there's no sense in rushing him. It's too risky, especially for Gregorius personally.
Tommy John surgery may seem routine  but it is not a minor surgery. Lots can go wrong. The good news is Gregorius is doing well with his rehab and is on track to return to the team sometime around midseason, though the Yankees continue to decline to provide an estimated return date. I don't blame them. Remember the "we expect Aaron Judge back in three weeks" fiasco from last year? Yeah. No need to put a date on it right now.
Losing Gregorius hurts the Yankees on both sides of the ball. He is their top left-handed bat and their best defensive infielder. We can guesstimate that he'll return sometime in mid-June or mid-July, though that is hardly set in stone, much like Tulowitzki being a competent stopgap. The sooner Sir Didi returns, the better it will be for him and his impending free agency, and the better it'll be for the Yankees. Just don't expect them to be reckless and rush his rehab.