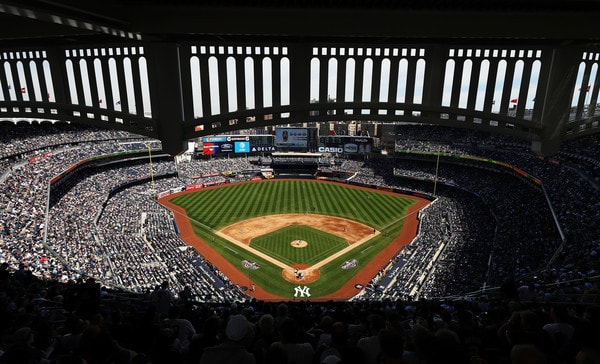 At long last, the offseason and Spring Training are over. The 2019 regular season begins today with the Yankees hosting the Orioles at Yankee Stadium. I know it's only one of 162, but Opening Day is always a blast, even when it's 50-something degrees outside. Anyway, let's get to some thoughts before the new season opens.
1. It completely stinks that it is happening because of injuries (Aaron Hicks and Didi Gregorius), but it looks to me Aaron Judge and Giancarlo Stanton will hit back-to-back this year. At least for the time being. I suppose Greg Bird could hit between them to split up the strikeout prone righties, though I don't think that'll happen yet. Bird has to show he can hit Major League pitching first, and I don't mean in Spring Training either. My guess at today's starting lineup:
CF Brett Gardner
RF Aaron Judge
LF Giancarlo Stanton
DH Luke Voit
C Gary Sanchez
3B Miguel Andujar
1B Greg Bird
SS Troy Tulowitzki
2B Gleyber Torres
(Update: So close! Jack Curry says that is today's lineup, only with Sanchez and Andujar flipped, and Tulowitzki and Torres flipped.)
That's my guess at today's lineup, not how I would order them. Assuming it happens, I'm pretty thrilled Judge and Stanton will hit back-to-back, even against righties. It is long overdue. Judge second and Stanton third ensures they both hit in the first inning and have a chance to do so with a man on base. Also, batting Stanton third instead rather than fourth increases his chances of getting that one last at-bat in the ninth inning of a close game. The Yankees are playing the Orioles, the Tigers, and then the Orioles again these next ten days. Against those pitching staffs, bat the big guys back-to-back and let 'em eat. Don't worry about late-inning matchup situations against teams like that. If things go according to plan, those late-inning matchup situations will be irrelevant. We'll see what today's lineup is when it comes out. I'm really hoping Judge and Stanton back-to-back is a regular thing.
2. Speaking of Bird, the Hicks injury gives him yet another chance to show he can contribute to the Yankees. Forget about carving out a long-term role for the moment. Let's see him do something more than nothing first. I have no idea what to expect. I really don't. Bird had another great Spring Training (.333/.500/.643) but we've seen that before and there's no chance I'm falling for it again. (For what it's worth, Baseball Reference's opponent quality metric says Bird faced mostly Double-A caliber hitters this spring.) The Yankees could really use another left-handed bat, especially while Hicks is sidelined, and Bird will get to feast on some crummy pitching staffs in April. The Yankees play 16 of their first 21 games against the Orioles, Tigers, White Sox, and Royals. Everything is set up for Bird to have success. He's going to play pretty much everyday, the Yankees have a ton of lefty hitter friendly Yankee Stadium home games the first three weeks (15 of their first 21 games are at home), and they play like two good teams in April. Things couldn't possibly be set up better for Bird and the Yankees. Hopefully he mashes and forces the Yankees to make a tough roster decision once Hicks returns, whenever that happens. Bird has been a productive big leaguer for maybe six weeks over the last three seasons, and, in a perfect world, he would be on his way to Scranton right now. That isn't the case though. The Yankees need him now more than they did six weeks ago, but that doesn't make him any less of an unknown.
3. As for Hicks, he isn't coming back anytime soon, right? As of Monday's update Hicks was only going through core strengthened exercises and had not yet resumed baseball activities, one week after receiving his second cortisone shot. "I think it has been a little disappointing that it is something that was supposed to be a day-to-day situation and it lingered on and had to get him the shots and all that," said Aaron Boone to George King earlier this week. Hicks has been down close to a full month now. He played his final Grapefruit League game on March 1st. So, whenever he is cleared for baseball activities, he'll basically have to go through an entire Spring Training. Playing catch and hitting off a tee, then hitting in the cage, then batting practice, then rehab games, so on and so forth. That stuff takes time. Extended Spring Training will help speed up the process — Hicks can go lead off every inning in ExST games to get a bunch of at-bats in a short period of time — but only so much. Coming back on April 4th, the first day he's eligible to be activated off the injured list, clearly will not happen. Maybe he can make it back for April 12th, the first day of the second homestand? If not then, what about April 22nd, the first day of the nine-game, ten-day West Coast trip? Not being back in time for that West Coast trip would be rough. Back issues are tricky because they can linger and they're easy to reaggravate. Carlos Correa received a cortisone shot for his lower back soreness last year and didn't hit a lick after coming off the disabled list (.180/.261/.256 in 145 plate appearances). That's the worst case scenario here. Hicks misses a bunch of time and then doesn't hit after returning. Yuck.
4. Given how little Hicks has progressed these last few weeks, the Yankees had to get a true backup outfielder, and they did exactly that with Mike Tauchman. Clint Frazier needs regular at-bats in Triple-A (and shouldn't play center field anyway), and, while I like Tyler Wade, there's no way the Yankees could rely on him as the full-time backup outfielder for more than a week or so. Billy Burns? Matt Lipka? Nah. The Yankees can do better. Tauchman addresses a need and you can talk yourself into believing he has some untapped potential given his 2017 swing changes and the corresponding uptick in power. He has speed, he's solid defensively, and last year's Triple-A spray chart shows he's not a dead pull left-handed hitter. Tauchman can hit the ball out to all fields.
The Yankees have been great at identifying undervalued talent in other organizations these last few years. That doesn't mean Tauchman is the next Aaron Hicks or Luke Voit. It just means I no longer dismiss these seemingly minor moves out of hand. Let's see what happens. Anyway, my guess is Tauchman will play a decent amount in the early going. I don't think the Yankees want to run Brett Gardner out there in center field day after day after day, and I'm sure Giancarlo Stanton and Aaron Judge will get their DH days as well. Tauchman could wind up starting three times a week. Both ZiPS and PECOTA have him as a slightly below league average hitter (96 wRC+ and 98 DRC+) and a +2 WAR player per 600 plate appearances, and hot damn. I'd take that in a heartbeat. The Yankees needed a true fourth outfielder and they might've found a pretty good one.
5. I feel like we haven't talked about Gleyber Torres enough these last few weeks. Aaron Judge and Giancarlo Stanton get plenty of attention and understandably so. Gary Sanchez bouncing back from a miserable 2018 season is a hot topic. Miguel Andujar's defense is a daily talking point. Even Troy Tulowitzki gets his fair share of headlines. Torres though? I feel like he's flying under the radar. He hit the quietest .289/.373/.644 during Grapefruit League play you'll ever see, and he's a just turned 22-year-old middle infielder who already has an All-Star Game selection to his credit. And he plays for the Yankees! Three or four years ago, this kid would've been the talk of the league. Now he's somehow flying under the radar. I don't think you faithful RAB readers need me to remind you, but folks, Gleyber is a budding superstar. I think he's no more than two years away from settling in as the Yankees' best player, and not because I expect Judge or Stanton to decline. Those guys will be great. It's just that Torres will be better. His raw talent and feel for the game are top of the line, and he's only going to get better as he gains experience and matures. I'm excited to see Judge and Sanchez and everyone else on the roster. I think I'm looking forward to Gleyber's sophomore season more than anything.
6. I am surprised the Yankees will use Luis Cessa as a long reliever while Luis Severino and CC Sabathia are on the injured list. He's been their go-to spot sixth starter the last two years and Cessa had a great Spring Training, so I assumed he would be one of the fill-in starters. Seems like this might've been one of those rigged Spring Training competitions, where the Yankees decided ahead of time that Domingo German and Jonathan Loaisiga would be the fill-in starters. I don't have a problem with that. It just caught me off guard, is all. Anyway, I still want to see Cessa as a short reliever at some point. I get needing him in long relief and to maybe spot start right now, but I feel like he's best suited for a one inning air-it-out role. Maybe they'll do it once everyone is healthy, and they can bump German to long relief and use Cessa in short relief. Cessa can not be sent to the minors without passing through waivers, so there's a decent chance he won't last the season with the Yankees. I just hope they try him out in short relief at some point and see what they have there before cutting ties. If a guy with a mid-to-upper-90s fastball and a slider with a whiffs-per-swing rate north around 40% isn't having success in extended outings, don't you have to see what he does in one-inning bursts before moving on? We'll see. Cessa not getting a starting spot despite two injured starters and the Grapefruit League season he just had tells me he's closer to being out the door than getting a chance to carve out a long-term role.
7. Earlier this month pitching coach Larry Rothschild said it would be the big league rotation or Triple-A rotation for Jonathan Loaisiga, not the bullpen, and the big league rotation it is. Loaisiga did not have a good Spring Training statistically (13 runs in 16 innings), and there were times he ran some really long counts and couldn't put hitters away, which is a problem we saw when he was first called up last year. The Yankees really like him though, so he's going to start while CC Sabathia is sidelined. (To be clear, the plan is to start Masahiro Tanaka on normal rest in the fifth game of the regular season, then, when Sabathia's five-game suspension ends, use his injured list stint to recall Loaisiga before his ten days in the minors are up. Exactly what I laid out last week.) With any luck they'll only need Loaisiga to make two or three starts before Sabathia returns, and they could always pair him with an opener (does that go against using him as a starter only?) and have a quick hook given their deep bullpen, plus Cessa's available for long relief should things go wrong. I am firmly in the "get whatever you can from Loaisiga before he gets hurt again" camp and this is a way to do it. It's not what I expected to happen — I thought it would Cessa and German in the MLB rotation with Loaisiga in Triple-A to start the season — but it works for me. For all intents and purposes, German and Loaisiga are now locked in a mini-competition to remain in the rotation once Sabathia returns. Whoever performs the best will stay in the rotation to cover for Luis Severino.
8. I'm going to direct you over to CBS for my season predictions. Feel free to call me dumb and curse my name for picking the Red Sox to win the AL East again. I was planning to pick the Yankees before Luis Severino, Aaron Hicks, and Dellin Betances went down with injuries that could linger all season. It certainly wouldn't be the first time a pitcher(s) was never quite right after shoulder inflammation, or that a hitter couldn't get himself on track following a back issue. It these were pulled hamstrings or something more minor, I'd feel much better about things. Right now, the AL East race is too close (on paper) and the Yankees have too many core players dealing with notable injuries for me to pick them to win the division. I will happily eat crow if I'm wrong. I mean, I picked the Mariners — the Mariners! — to go to the World Series two years ago. Maybe don't worry about my predictions. If Hicks, Betances, and Severino return reasonably soon and show no lingering effects from their injuries, the Yankees will win the division. Right now, I'd be lying if I said I weren't concerned. These are important players and worrisome injuries. The Yankees have enough offensive firepower and pitching depth to win a lot of games in a league where like seven teams are trying to contend, so I think another Wild Card spot is their floor. They need to be at full strength to have their best chance at winning the division though, and they're not at full strength right now.