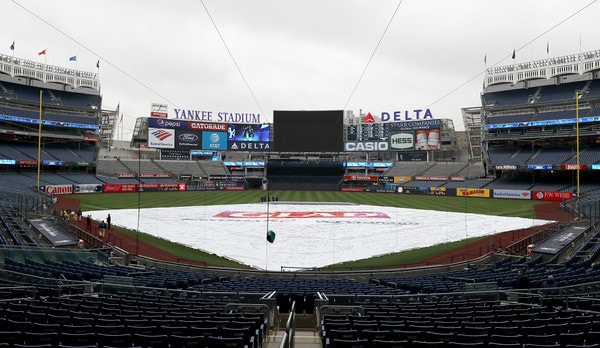 The Yankees crashed back to reality last night. They followed that thrilling two-game series sweep against the Red Sox with a clunker of a series opener against the Royals. The Yankees are now 3-7 in ten home games against the Orioles, Tigers, White Sox, and Royals. That is impressively terrible.
"It's our job to win every day, no matter what other teams are doing to win," Brett Gardner told Ken Davidoff following last night's loss. "If we do what we're supposed to do, it doesn't matter who we're playing, or where we're at. Obviously some guys are going to be out longer than others, but we've got depth to weather a storm like that. We'll be good."
The Yankees have talk a lot about weathering the storm and being close to going on a roll this season, but we've yet to see it. When you have to keep reminding folks you're close to doing something, you're not close to doing it. Get a win, please. Here are tonight's lineups:
New York Yankees
1. CF Brett Gardner
2. DH Aaron Judge
3. 1B Luke Voit
4. SS Gleyber Torres
5. 3B DJ LeMahieu
6. RF Clint Frazier
7. LF Mike Tauchman
8. C Kyle Higashioka
9. 2B Tyler Wade
LHP CC Sabathia
Kansas City Royals
1. 1B Whit Merrifield
2. CF Billy Hamilton
3. SS Adalberto Mondesi
4. 3B Hunter Dozier
5. LF Alex Gordon
6. DH Jorge Soler
7. 2B Chris Owings
8. C Martin Maldonado
9. RF Terrance Gore
RHP Jake Junis
It has been warm and sticky today in New York, and it is supposed to rain tonight. The internet tells me the rain is due to arrive around 9pm ET, and once it starts, it won't stop until tomorrow morning. So make sure you have a lead after the top of the fifth tonight, fellas. Tonight's game will begin at 7:05pm ET and WPIX will have the broadcast. Enjoy the game.
Injury Updates: Gary Sanchez (calf) hit, ran, played catch, and caught J.A. Happ's bullpen session this afternoon. Once the doctors give him the thumb's up, Sanchez will play a minor league rehab game or two, then join the Yankees during next week's West Coast trip … Miguel Andujar (shoulder) threw to the bases today and everything went well. "I was really encouraged. At this point we kinda still remain optimistic," Aaron Boone told Sweeny Murti … Aaron Hicks (back) hit in the batting cage today. He's going to Tampa to continue his rehab following Sunday's series finale with the Royals. Andujar and Troy Tulowitzki (calf) are going to Tampa as well.