This is a guest post by Adam Bernfeld. He is trained as an engineer and likes to apply his analytical nature to baseball to differentiate "what seems" vs. "what is". His interests include PITCHf/x, DIPS, the concept of clutch, and Laura Posada.
"Statistics are like women: mirrors of purest virtue and truth, or like whores to use as one pleases."
-Theodor Billroth
It is true that in a vacuum, statistics are almost entirely useless. One can manipulate the numbers to prove any side of an argument. They can however provide illumination in instances where what seems may differ from what is. For example, a few years ago before John Dewan wrote the Fielding Bible, a lot of Yankee fans truly did believe that Derek Jeter was a good defensive shortstop because he both seemed like a good fielder, and our broadcasters told us that he was a good fielder. Similarly, watching a Yankee game, one could be led to believe that Chien-Ming Wang possesses the best sinker in all of baseball. After all, it is 94 miles-per-hour and looks like it is dropping off a cliff. Surely no one's could be better, right? Well, using PITCHf/x data, I hope to crown the true "Sultan of Sink."
For those new to PITCHf/x, it is a system developed by Sportsvision in use by Major League Baseball that uses two cameras to measure the position of the baseball between the pitcher's hand and home plate, which can be used to determine various parameters about each pitch including velocity and break (for a more thorough introduction to PITCHf/x, refer here and here).
Using PITHf/x data compiled by Josh Kalk of The Hardball Times, detailed pitch information can be seen for individual players or in a searchable database. For this study, I will compare the speed, horizontal break and vertical break of the average signature pitch of baseball's prominent sinkerballers from the 2007 season. Based on reputation and ground ball rates, I have chosen a test group that includes: Chien-Ming Wang, Fausto Carmona, Aaron Cook, Roy Halladay, Tim Hudson, Derek Lowe, Sergio Mitre, Brandon Webb and Jake Westbrook.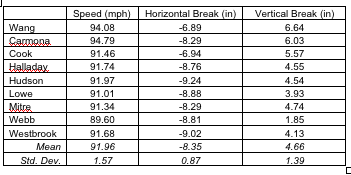 Note in the chart above that the values for break represent the number of inches that the pitch moves compared to a pitch thrown without spin, or, compared to a straight pitch under only the influence of gravity. The negative numbers for horizontal break indicate that the pitch moves inside to right-handed hitters. The positive values for vertical break indicate that the pitch crosses the plate higher than a pitch without spin would have. This may seem counterintuitive as we are talking about sinkers, but in reality sinkers are thrown with backspin and do rise (resist dropping actually), albeit much less than a 4-seam fastball, so they do in fact appear to sink. A 4-seam fastball is gripped across the seams resulting in more backspin than a sinker (or 2-seam fastball) which is gripped along the seams; the more backspin, the larger the positive vertical break. For comparison, Joba Chamberlain's fastball has a vertical break of 11.42 inches, compared to the average vertical break of 4.66 for our sinkerballer group.
The chart above can be shown graphically by plotting horizontal break on the x-axis and vertical break on the y-axis with pitch speed represented by dot size. In this graph, the lower right hand corner, the point (0,0), represents a pitch thrown without spin.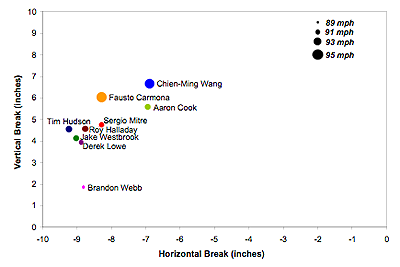 In hopes to build some sort of consensus as to who possesses the best sinker, I used the three PITCHf/x values (speed, horizontal break, vertical break) to create a z-score (also called a "standard score") which is a statistical quantity used to combine multiple values measured on different scales. I then ordered the average z-score of each pitcher from high to low to rank the pitcher with the best combination of speed and break. Think of this as an index of the "stuff" on the pitcher's sinker, or a "sinker-stuff index". This value appears on the chart below alongside each pitcher's groundball to flyball ratio (GB/FB), swing and miss (S&M) percentage, fair ball (FB) hit percentage, and fair ball extra base hit (XBH) percentage. All of these values are for sinkers only, except GB/FB which is the rate for all pitches thrown regardless of type.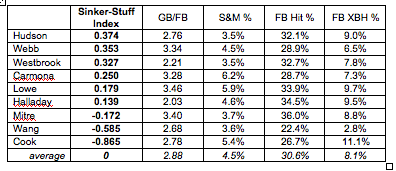 The results of this study are interesting. While throwing one of the harder sinkers in the league (second only to Fausto Carmona), Chien-Ming Wang's sinker actually sinks less than any other member of the test group. This is certainly a surprising observation. In fact, his sinker also has the lowest horizontal break, causing his sinker to rank 8th out of 9 in my sinker-stuff index. This certainly manifests itself in his below average groundball to flyball ratio and sinker swing and miss percentage. Remarkably however, compared to the test group Wang has the lowest percentage of hits off of sinkers, and by far the lowest percentage of extra base hits off of sinkers.
While some may chalk these low hit percentages up to luck, it appears that something deeper may be happening here. Finally though, the stats are pointing towards something that we already believed to be true. What seems agrees with what is, and that is the fact that Chien-Ming Wang rarely allows a hard hit ball off of his sinker. Why then, is his sinker so successful in spite of the fact that it moves so much less than those of his peers? Maybe my methods are all wrong (I hope not). Maybe pitch speed is more significant than pitch break (possibly). Maybe the ease of his delivery, which also includes a pronounced, varied hesitation, has a great effect on hitters' timing (possible). Maybe Wang's defense is better at turning batted balls into outs than the others on this list (unlikely). Maybe the DIPS people are right and hit percentages are no more than statistical variations (possibly, although I believe that DIPS applies more loosely to sinkerballers). Maybe it is a combination of all of these factors or even something that I have not thought of (likely), so please feel free to throw out explanations of your own.
Regardless of the reasons, I am glad that Wang is a Yankee as he gives us a very good chance to win once every five days. While his low ranking in my sinker index does not correlate with his outstanding results, at the end of the day I'll always take the results over the "stuff". Though after much machination, I have not definitively proved where Wang's sinker ranks amongst his brethren, but I hope that this was interesting and informative, and maybe allows you to view the game and the sinker in a different light the next time the Wanger takes the hill.