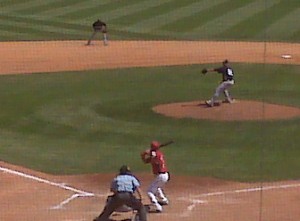 In what figures to be his final live game action of Spring Training, Joba Chamberlain looked like vintage Joba in Sarasota this aftenoon. He allowed two runs on five hits and three walks in five and a third innings, striking out six. Joba threw 86 pitches but tired towards the end of his outing, allowing two walks and two hits with one out in the sixth before being pulled.
"I've got to be more efficient," said Chamberlain (via Bryan Hoch). "I had some good short innings, but there were other times when I got extended with two outs. I've got to shorten pitches and when things get out of whack, I've got to slow things down." Becoming more efficient with your pitches is standard stuff for young starters, nothing out of the ordinary here.
The Great Joba Velocity Scare should be over, as scouts had the young righty in the mid-90's all day according to Tyler Kepner. Oh, and Jorge Posada isn't a B-Jobber anymore, according PeteAbe's 3:38 update. Thank Mo.
Brian Bruney bailed Joba out in the sixth, stranding both inherited base runners thanks to a strikeout and fly out. Edwar Ramirez allowed a hit and an unearned run in an inning of work, while Phil Coke and Dan Giese posted identical 1 IP, 0 H, 0 R, 0 ER, 0 BB, 2 K lines to close out the game. Coke was absolutely phenomenal this spring, putting up a 15-1 K/BB ratio with a 1.42 ERA and 11 hits allowed in 12.2 IP. Hopefully he doesn't pull a Sean Henn, who followed up a strong Spring Training in 2007 with an ERA over seven in the regular season.
The center fielder battlers accounted for pretty much all of the team's offense, as Brett Gardner went 3-for-4 from the leadoff spot while Melky Cabrera went 1-for-2 with three RBI's and a run scored from the six-hole. Mark Teixeira doubled and walked, while Nick Swisher and Jorge Posada combined to go 0-for-6 with two walks and three strikeouts. Angel Berroa went 2-for-5 and was picked off first, and his hitting .379-.390-.621 this spring. The 6-3 win is the team's seventh straight, and sixteenth in their last eighteen games.
The Yanks finish up the Florida portion of their preseason schedule tomorrow afternoon against the Phillies, and then will head home to New York before taking on the Cubbies in a pair of exhibition games at the New Stadium on Friday and Saturday.
Mo matters: Mariano Rivera pitched in a minor league game today, and was so dominant that he recorded five outs in just one inning of work. After serving up a homer to MVP05 legend Rich Thompson, Mo sat down the next three batters with ease, so the team stretched him out a bit and had him face two more hitters. He's just that good.
Photo Credit: Pete Caldera