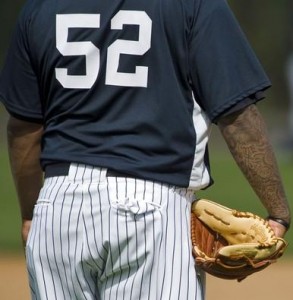 This is the moment we've all been waiting for, ever since we learned that CC Sabathia had agreed to join the Yanks back on Decemember 10th. Tonight, we'll get to see him pitch in a Yankees' uniform. It's a St. Patrick's Day Miracle.
Bryan Hoch says that Sabathia will go one and a third CC innings (four innings for a regular pitcher), and will be followed by Mo making his spring debut in the 5th. Jorge Posada will catch the first five frames. Here's the rest of the boys:
Posada, C
Damon, LF
Teixeira, 1B
Matsui, LF
Nady, RF
Melky, CF
Ransom, 3B
Pena, 2B
Nunez, SS
Scheduled Pitchers: CC Sabathia, Mariano Rivera, Al Aceves, Edwar Ramirez
Some kid named Tabata is playing right and batting fifth for the Buccos. YES will have the action with first pitch set for 7:15. Enjoy the game.
Oh, and here's your last reminder to vote in this week's Fan Confidence Poll if you haven't already. Thanks.
Photo Credit: Reuters Pictures