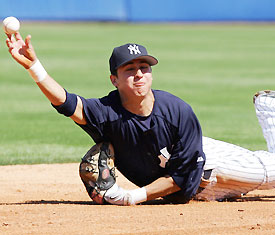 Alex Rodriguez officially hit the disabled list today, four weeks after undergoing surgery to repair a torn labrum in his hip. He was placed on the 15-day DL retroactive to March 27th, so he's eligible to be activated on April 11th. That's only five weeks out from surgery though, ahead of even the most optimistic of projections, however an assignment to the 60-day DL would have shelved him until May 26th, far beyond the worst case scenario of nine weeks of rehab. No matter how Cody Ransom performs in his stead, A-Rod's return to the lineup will be a welcome one.
As Ben mentioned earlier, A-Rod's spot on the roster will be kept warm not by Angel Berroa, but by young Ramiro Pena. This is a pretty noteworthy development to me, because it shows how committed the Yankees' front office is to getting  players that are younger, more athletic, and better defensively on the roster. Berroa is an experienced veteran with over 2,700 big league plate appearances to his credit and had an excellent camp (.371-.381-.597), so it certainly would have been understandable if the Yanks gave him the final bench spot. In fact, Joe and I advocated it in last week's radio show.
Instead the Yanks went with Pena, a career .266-.330-.357 hitters the minors. He'll jump right to the bigs without ever appearing in Triple-A because the Yanks value his top-of-the-line defense at multiple infield positions and speed off the bench. In years past they would have opted for the more seasoned player with some hardware and more of a name, it's just how the rolled. But the Yanks are a team in transition, and they don't need Pena to contribute offensively off the bench (they have Nick Swisher for that), they need him to shore up other weaknesses. It's part of a continued progression towards becoming a more multi-dimensional team that is as good at preventing runs as it is scoring runs.
Pena is just one of the first steps, right along with Brett Gardner being named the starting middle outfielder and the signing of Mark Teixeira. The next step is replacing aging and declining veterans in the final year of their contracts with young blood – like Austin Jackson – in the offseason. Ramiro Pena may or may not be able to hack it as a big leaguer, but just the simple fact that he's going to be on the Opening Day roster speaks volumes about where this team is heading.
Photo Credit: Robert F. Bukaty, AP