The Yankees didn't just end their losing streak last night. They pulverized it, and then gave it a purple nurple for good measure. The 10-run seventh was just what the team needed, and it was more than enough to trounce the Tigers 11-0. Things looked grim for the offense in the early going, but they grinded it out* against Edwin Jackson and did what they do best, getting to the weak Tigers bullpen by the seventh. It was all over from there.
*It sounds better than "ground it out."
While the crooked number in the seventh looks pretty, the story of the night was Phil Hughes. The Yanks needed a good start from their former No. 1 prospect, and he came through with six innings of shutout ball, allowing just two hits and two walks. It was more than the team could have asked for. Hughes looked sharp all night, striking out six along the way. He threw 58 of his 99 pitches for strikes, 59 percent, a bit below the ideal number (66%). That led to a higher pitch per inning total, 16.5, than he'd like. But he'll have at least a few more starts to work out those kinks.
Hughes mixed his pitches well, throwing what looked like three fastballs — a four-seamer, a two-seamer, and his cutter. Gameday logged almost all his fastballs as two-seamers, but also had him 93 to 94 on many of them, especially in the early innings. Before even seeing the Gameday I thought they were four-seamers and the 88-mph ones were either two-seamers or cutters, depending on how they broke. It looks like Hughes is back up to advertised velocity. His curve was on for the most part, and it was deadly when he got ahead in the count. If he can improve on his efficiency over his next few starts, the Yanks just might realize the potential of Philip J. Hughes.
Through six the results looked like the same old Yankees. They failed to score with runners in scoring position in the third, fourth, and six. In the latest they squandered a Hideki Matsui triple — a sign of the apocalypse if I've interpreted my scripture correctly. But while they were futile with RISP, they slowly chipped away at Edwin Jackson, forcing him to throw 117 pitches in six innings and forcing the Tigers to go to the bullpen. The Yanks saw 32 pitches in the fourth, including Robinson Cano's 12-ptich at bat which featured six two-strike fouls. Even in the fifth, when the Yanks went down 1-2-3, they managed to see 14 pitches. It all added up, and it exposed a weak Tigers bullpen.
And then there's the seventh. Oh how sweet was the seventh. After opening the frame with a strike, the Tigers' 2008 No. 1 pick Ryan Perry had trouble finding the plate. It's not a good day when you walk Melky Cabrera on four pitches. With runners on first and second with none out Girardi decided to nix the double play and have Molina sacrifice. That's not normally a good move with Ramiro Pena to follow, but Jorge Posada toughed out his sore hammy and hit a strange sac fly/error combination to plate two runs. He looked pretty bad in the at bat, and the ball should have been caught, but it plated runs and that's what the Yanks needed. Little did they know it was only a prelude to a drubbing.
In fact, let's relive the seventh via the play-by-play: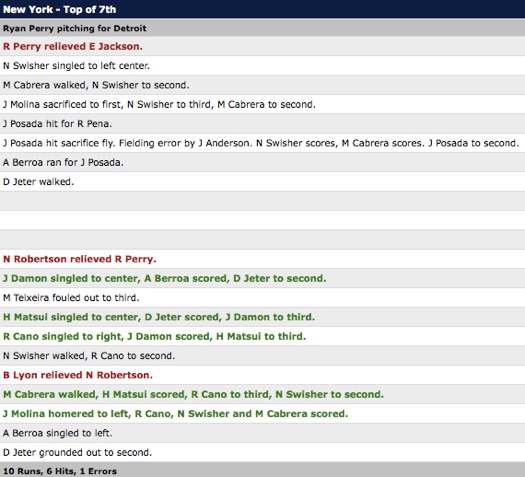 That's two Melky Cabrera walks, two appearances on base for Nick Swisher, and, of course one grand slam by Jose Molina, an absolute bomb to left-center. Like Varitek on Saturday, Molina cheated fastball and it paid off. While the Tek homer still hurts a bit, comparing him to Molina dulls the pain a bit.
With the win in hand we can now look forward to tomorrow night when Joba Chamberlain faces 20-year-old Rick Porcello. His full name: Fredrick Alfred Porcello. That is a fine sounding name. Hopefully he pitches like Ryan Perry.
P.S. Teixeira had better get a hit tomorrow, or he knows what's going to be waiting for him at the Stadium on Thursday.