Ramon Castro. That is the list of backup catchers who have a spot because they can run into one. Maybe Miguel Olivo counts, depending on his role at any given time. With very few exceptions, not only are backup catchers remarkably poor hitters, but they specifically lack pop. Francisco Cervelli might not be a remarkably poor hitter — he does have a .272 BA and .340 OBP in 434 career PA — but he certainly does lack pop. That's why it came as such a surprise when he finished a stellar at-bat with a grand slam.
Just because backup catchers hit home runs infrequently doesn't mean they lack gravitas. In fact, Cervelli's homer conjured images of backup catcher home runs from recent memory. There were only five from 2008 through 2010, but three of them stuck out particularly in memory.
Jose Molina's farewell blast: September 21, 2008 (video)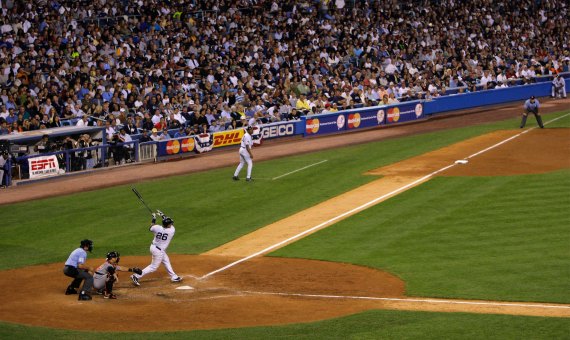 I can picture the scene now. In a decade or so I'll be sitting in my recliner while my kid is sitting in the middle of the floor, looking up at the Yankees game on TV. He'll love catchers, of course, since his old man, and his old man, and his old man before him all played the position. On this day the Yankees backup catcher will hit a home run, and I'll pull out the trivia question: Who hit the last home run at old Yankee Stadium?
We all know the answer now, since it is such a recent memory. On Sunday, September 21, 2008, the Yankees played their final game at the old ballpark in the Bronx. Andy Pettitte took the mound; I'm fairly certain he would have gone even on two days' rest if it meant throwing the last first pitch in the Stadium. He ran into a little trouble, as he did so frequently in the second half of 2008, allowing three runs in the first four innings. Johnny Damon helped him out with a three-run homer in the third, but he needed a little more help later on.
Robinson Cano got on to lead off the fourth, and Molina came to bat with one out. On a 2-0 count Orioles starter Chris Waters laid one out over the plate, and Molina put the bat head on it. Out it went to Monument Park in left-center, which, because of the historical occasion, was still open to fans at the time. Those fans browsing through the plaques were lucky enough to see that final home run coming right at them.
Francisco Cervelli's motivational homer: June 24, 2009 (video)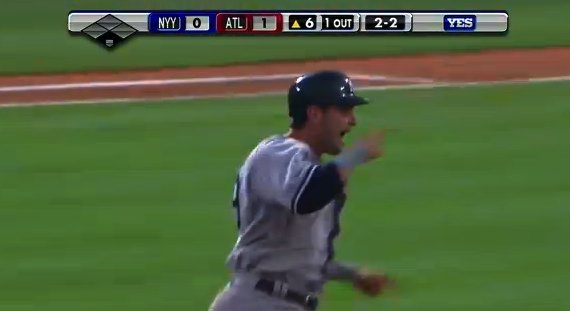 In mid- to late-June the 2009 Yankees had some issues. They got swept by Boston, needed a dropped pop-up to win two of three against the Mets, and then lost two of three to both Washington and Florida. Things only got worse when they arrived in Atlanta, as they failed to score a run in the series opener against the Braves. That's when Brian Cashman stepped in, flying down and talking to the team prior to that Wednesday's game. Apparently he reached Cervelli.
Everything happened so fast. The Yankees trailed 1-0 heading into the sixth, when Brett Gardner drew a leadoff walk. Things started to look optimistic. That is, until Gardner got picked off. That ignited Joe Girardi's ire, and he gave the ump an earful and got tossed. Even at the time it felt like one of those ejections that managers use to fire up their teams. Who knew that it would actually work? On a 2-2 pitch Cervelli popped one out to center, fist pumping as he rounded the bases. The crazy part is that he wasn't even the backup at that point. He was the backup to the backup; Molina was on the DL at the time.
Lost in the narrative is A-Rod's two-run single later in the inning that gave the Yankees the lead. But it matters little. Cervelli was the unexpected hero in that one, breaking a long scoreless streak and injecting some life into the Yankees. That game started a seven-game winning stream, and the Yankees would win 13 of their next 15.
Molina caps a huge inning with a granny: April 28, 2009 (video)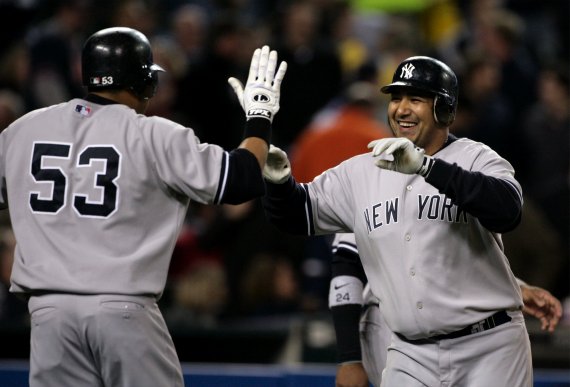 April, 2009, was a forgettable month for the eventual World Series champions. Mark Teixeira didn't hit. Alex Rodriguez was out recovering from hip surgery. Chien-Ming Wang got whacked around in historical fashion. This led to some up-and-down baseball, with the down coming right before a trip to Detroit. The Yankees dropped three straight to the Red Sox, and then lost the opener to Detroit, despite CC Sabathia throwing a complete game. They were then 9-10, already four games out of first.
The first six innings of the game felt like another typical listless day for the offense. They managed just four hits in that span, and didn't score any of them. The only thing that made the game reasonably bearable was Phil Hughes's performance; he, too, was shutting out his opponent through six. But them came the seventh, and it was as though the Yankees had found new life.
It took an error to get things really moving, but from there the Yankees singled and walked the Tigers to death, picking up six runs in the process — the sixth of which coming on a Melky Cabrera bases loaded walk. That brought Molina to the plate, though with the game 6-0 and the bullpen ready to close this one out, no one thought much of the occasion. That is, until Molina popped the first pitch over the fence in left, capping the huge inning and sending the Yanks to an 11-0 victory. That sparked a mini streak, though it would be squashed two series later when the Yanks again ran into the Boston juggernaut.
(Fun fact: even though they didn't score until the seventh inning, the Yankees still had more home runs in that game than they did in the entire Detroit series last week.)