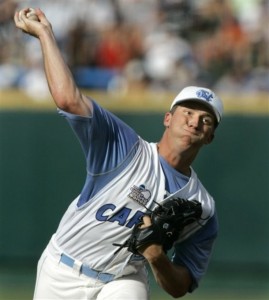 From the looks of it, the Yankees went into Day Two of the 2009 Draft with the very clear intention of adding power to the system. Power, regardless if it was at the plate or on the mound, it didn't matter. Sixth rounder Rob Lyerly's (3B, UNC-Charlotte) .725 slugging percentage led the Atlantic 10 Conference by nearly 50 points, and over the last two years he's racked up a .333 IsoP with more extra base hits (73) than strikeouts (68). Outfielder and 11th round pick Neil Medchill has put up a .281 IsoP in two seasons with Oklahoma State, while 13th rounder DeAngelo Mack brings a .249 IsoP from South Carolina's outfield. All three players project to hit for average or better pop with wood bats, and it's no accident all three players do their work from the left side of the plate (coughNewYankeeStadiumcough).
While the three power bats are a nice addition to a system devoid of any thump outside of top prospect Jesus Montero, the Yankees also added several big arms to their cache of pitching. Their 7th, 8th, and 9th round picks were all spent on guys who have shown the ability to dial up to the mid-90's in the past. Righty Sean Black (7th round, Seton Hall) and southpaw Gavin Brooks (9th round, UCLA) were both top prospects out of high school in the 2006 Draft who ended up in college, while righties Caleb Cotham (4th round, Vanderbilt) and Graham Stoneburner (14th round, Clemson) were draft eligible sophomores likely to go in the early rounds next year.
In addition to the power arms and power bats, Damon Oppenheimer & Co. added plenty of depth to the organization. Fourth rounder Adam Warren is a grizzled ACC and College World Series veteran that pounds the zone and should have no trouble carving up hitters in the low minors. He could develop in a high leverage groundball reliever down the road. Nineteenth rounder Luke Murton (Matt's younger brother) hit behind Matt Wieters and spent four years anchoring the Georgia Tech lineup. Southpaw and 10th round pick Tyler Lyons has been a Friday night starter in the Big 12 for the past two years with Oklahoma State and should climb the ladder quickly.
But that's not all. The Yanks also took some high upside high school players who fell for various reasons. Righty Brett Gerritse (12th round)  brings three quality offers to the table, while fellow righthander Chad Thompson (17th round) has a big projectable frame and a low-90's fastball but is out after having Tommy John surgery. Local kid and shortstop Stephen Bruno (26th round) doesn't bring flashy tools to the table, but he's a top notch makeup guy with the grinder game people seem to love. Kyle McKenzie (30th round) is a small righty with good stuff and strong command. There's no guarantee the Yanks will sign any of these four, but if they do they'll receive tremendous value from a low draft selection.
Today's conclusion of the draft won't be very exciting. Mostly players to fill out low level rosters and maybe one or two fliers on guys who have fallen for whatever reason. The more important thing to watch for is how many of these players the Yankees end up actually signing, because selecting guys is only half the battle.
Photo Credit: Nati Harnik, AP