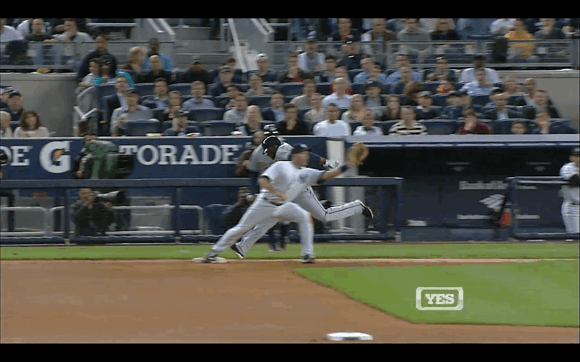 Click the image above. It gets very big, and I promise it'll open in a new window. The play is a bit of a blur, but what do you see?
I see Mark Teixeira with his glove firmly around a strong throw from Alex Rodriguez and his foot planted on first base. I see Cristian Guzman still in the air above first base. I see unequivocal evidence that Guzman was out, and yet, a split second later, the umpire called him safe.
For a blown call, it was both monumental and underwhelming. It was monumental because Nick Johnson, the next hitter for the Nationals, blasted a two-run triple (not helped by a ill-conceived dive by Melky) that plated Cristian Guzman. It was underwhelming because, while the bleachers saw the replay and booed, it generated what looked more like a polite protest rather than a heated discussion from Joe Girardi.
Generally, when the umpires get it wrong, they don't do so in such an obvious fashion. Bang-bang plays, slightly missed tags, balls that are just foul or kick up maybe a milimeter's worth of foul line chalk — those are tough to see. This one, on a routine play at first, isn't, and considering that umpires often listen — for the ball hitting the glove, for the foot hitting the bag — to make this call makes this worse.
Last year, Major League Baseball became the last major sport to institute instant replay review. It drove the purists nuts, but MLB had to embrace what has become a day-to-day technology in every broadcast of its events. When regional sports networks can replay bad home run calls to death, something has to give.
The way they implemented it, though, was entirely arbitrary. Only home run calls — fair, foul, over the fence or not, fan interference — would be subject to review. In a way, MLB modeled review after the NHL's review of disputed goals, but the analogy lays bare the problem with it. Home runs may lead directly to runs, but baseball is a sum of its parts. A bad call at first base can be just as important as a home run. Why should one get special treatment while the other is subjected to bad calls?
Last night's play at first base was unavoidable, and while critics of instant replay bemoan the time it takes to review plays, that is simply a red herring call. I got home, fired up the game archive on MLB.tv and zipped ahead to the 5th inning. Twenty seconds later, I had that screenshot and an unequivocal view of an obvious out that an umpire ruled safe. While Joe noted that the game probably unfolds differently if Guzman is out, we can't dispute its impact on the Yanks' loss, and I'd be happy to sit through a short 20-second review in exchange for the right call.
Right now, I don't have a better solution. MLB can't open instant replay to every ball and strike, to every close play. But when an umpire gets something so wrong and it changes the game, something has to give.