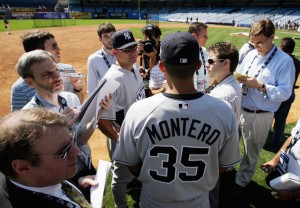 Major League Baseball's best prospects will all be on display today at the annual Futures Game, a showcase of the stars of tomorrow.  Wunderkinds Jesus Montero and Manny Banuelos will be on hand in St. Louis to represent the Yankees. Montero was also in the game last year, so this will be his last go around since players can only participate twice.
The former Yankee great Alfonso Soriano was the MVP of the very first Futures Game in 1999, going 2 for 3 with two jacks and five RBI in Fenway Park. Current Bomber AJ Burnett took the mound in that same game. Robbie Cano, Dioner Navarro, Phil Hughes, Joba Chamberlain, Ramiro Pena, Jose Tabata, and Chien-Ming Wang are just some of the players who have represented the Yankees over the years.
On paper, it always seems like a mismatch in favor of the USA squad, but the World Team has actually won the game three of the last four years. I suppose that's because of the megahyped amateur draft. Teams are limited to two participants, though some will only get one representative. Jason Churchill and Keith Law tell you everything you need to know about this year's crop of players.
Here's your starting lineups:
Team USA
1. Eric Young Jr., 2B, Rockies
2. Desmond Jennings, CF, Rays
3. Brett Wallace, 3B, Cardinals
4. Chris Carter, 1B, A's
5. Pedro Alvarez, DH, Pirates
6. Chris Heisey, LF, Reds
7. Tyler Flowers, C, White Sox
8. Jason Heyward, RF, Braves
9. Danny Espinosa, SS, Pirates
– Chris Tillman, RGP, Orioles
World Team
1. Alcides Escobar, SS, Brewers
2. Tyson Gillies, RF, Mariners
3. Alex Liddi, 3B, Mariners
4. Barbaro Canizares, 1B, Braves
5. Jesus Montero, C, Yankees
6. Nick Weglarz, LF, Indians
7. Brett Lawrie, DH, Brewers
8. Wilmer Flores, 2B, Mets
9. Luis Durango, CF, Padres
– Junichi Tazawa, RHPP, Red Sox
Among non-Yanks, I'm most looking forward to seeing Jennings, Heyward, and Weglarz. Everyone selected for the game will play today, and no pitcher will work more than one inning. Here are the full rosters. The fun starts at 2pm and will air on ESPN2. Enjoy the game, the regular game thread for the Yanks will be along not long before first pitch.
Photo Credit: Jim McIsaac, Getty Images