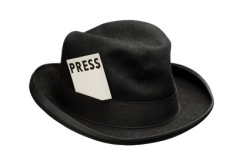 We enjoy the baseball off-season differently than our fathers and grandfathers did. MLB Trade Rumors and Twitter add instant gratification to the team building process. This adds a premium to scoops. A MLBTR link or a widespread retweet means more page views for the publication, therefore more advertising revenue. Reporters look under every table, between every seat cushion for a rumor to feed the masses.
With so many guys covering the Yankees — beat writers, columnists, national reporters — it's easy to imagine that they cover everything. No rumor goes unturned, right? Like, for instance, when the Yankees make an offer to a free agent. This week, ESPN's Jerry Crasnick said that free agent pitcher Justin Duchscherer would soon decide which of three offers to take. Duchscherer has been connected to the Yankees, but we hadn't heard of an official offer from them, NBC's Craig Calcaterra noted.
There has been a lot of chatter about the Yankees being interested lately, but that seems a little late to the game, and no word of an offer has yet seeped out of Yankeeland. Given how many people crawl that beat, I'd be rather surprised if a previously unreported offer had been made by New York.
In a way it would be surprising if an official offer slipped by the pack of repeaters covering the team. Surely one of them has to hear something, right? Yet it appears to be a tough beat in New York. The Yankees have maintained confidentiality these past two winters, as if Brian Cashman ordered his close advisers to take vows of silence. Just ask any of the guys on the Yankees beat. None of the higher ups really say anything.
The way things have run these past two years, I wouldn't at all be surprised if the Yankees made an offer to Duchscherer. As it turns out they probably didn't. But that's because they had another target in mind. On Monday night at 8:41, ESPN's Buster Olney heard that the Yankees were working on a deal for a starting pitcher. Ken Rosenthal confirmed, and we waited the rest of the night waiting for a name. At just after 9:30 this morning, Joel Sherman found out it was Javy Vazquez. An hour later, we had confirmation of a done deal. The Yankees worked quick and kept things so quiet that reporters couldn't get as much as a name until an hour before completion.
What's amazing is how quiet other teams have kept, too. No one from the Braves leaked this to a reporter. We also didn't get word on the Granderson trade until about 14 hours before completion, and even that was to a pair of national writers who seem to get every scoop. I even wonder, in that case, if the Tigers or the Diamondbacks leaked that to put the pressure on the Yanks. I doubt the leak came from the Yankees, who were the last ones to sign off.
The stealth tactic has worked well. I do wonder exactly how it's benefited the Yankees. How many deals fall apart after they're leaked? If that's a common occurrence, the Yankees are doing themselves a huge favor by keeping that type of information on the down low. Even if it doesn't help that much, it's a pretty neat tactic when observing from afar. The Vazquez experience played like a suspense flick. Buster Olney provided the exposition, we waited in suspense while people speculated as to who it could possibly be, then we got the climax, some falling action (made more amusing by some ridiculous reactions), and finally the resolution, an afternoon conference call. I could get used to this mode of operation.