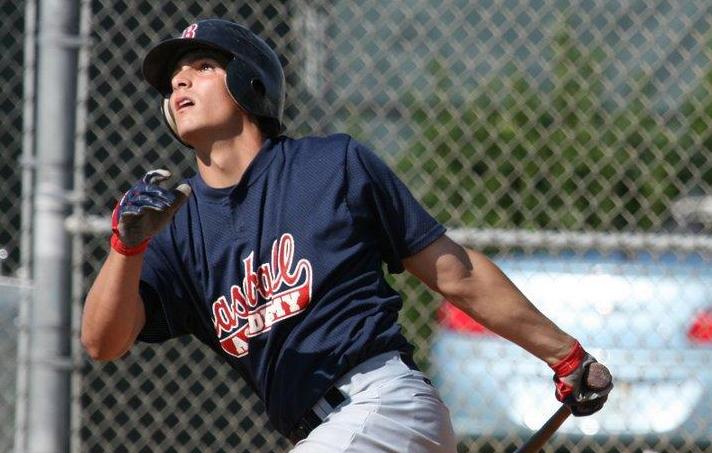 J.R. Murphy | C
Background
Raised in Bradenton, Florida, John Ryan Murphy was a bit of a late bloomer. He missed his junior season of high school with a knee injury that required surgery, and didn't make much of a name for himself until he starred in various showcase events the summer before his senior year. During his senior year at the prestigious IMG Academy, Murphy led the 31-1-0 Panthers in games played (31), batting average (.627), on-base percentage (.686), slugging percentage (1.235),  runs scored (56), hits (64), doubles (17), homers (11), and runs batted in (66) while striking out only four times in 104 at-bats. The Panthers played in four tournaments throughout the season, and Murphy was named MVP of all four.
Baseball America rated Murphy the 12th best prospect in the state and 95th best prospect overall heading into the 2009 Draft. Keith Law rated him the 88th best prospect in the class. Despite having considerable depth behind the plate, the Yankees selected Murphy with their second pick, #76 overall, which they received as compensation for failing to sign second rounder Scott Bittle in 2008. Committed to Miami, his signing wasn't announced until the morning of the August 17th deadline because he received a well above slot $1.25M bonus.
Pro Debut
After signing, the Yankees assigned Murphy to their Rookie Level Gulf Coast League affiliate, allowing him to play right in his backyard in Tampa. He played pretty much every day after signing, spending most of his time at designated hitter rather than behind the plate to help ease him into pro ball. Murphy picked up his first hit (a single) in his second career at-bat, and hit .333-.405-.485 overall.
After the season, Murphy participated in regular old fall instructional league as well as the Yanks' instruction league in the Dominican.
Scouting Report
The first thing everyone notices about Murphy is his swing and hitting ability. He has a simple, compact, and level swing that produces good bat speed and is conducive to line drives. Combined with a disciplined approach, Murphy should have no trouble hitting for average as he climbs the ladder. At 6′-0″ tall and 190 lbs, he stands to add muscle as he fills out, which should allow him to drive a healthy amount of balls out of the park down the road.
Murphy's an above average athlete, though he's not quite as good of a runner as you'd expect, and will only slow down as he matures. Defensively, he didn't start catching until his senior year of high school, so he's very raw behind the dish. He does have a strong and accurate arm, though he needs experience at just about everything the position demands. Murphy's athletic enough that he can play other positions – including third base – but the Yankees are going to try to extract as much value as possible out of him before making a switch.
Here's a blurry clip of Murphy going deep in a late February game.
2010 Outlook
Because he's still relatively new to catching, Murphy is a candidate to start the season in Extending Spring Training before joining Short Season Staten Island once their season starts in June. His bat is ready for a full season league, however the presence of several other high profile catching prospects ahead of him allows to Yanks to take their time with Murphy.
My Take
I'm a big fan of both the pick and Murphy. The kid can flat out hit, which is obviously the most important part of the equation, but I also like that he should have no difficulty becoming an asset in a corner outfield spot should the whole catching thing not work out. Versatility is always a plus. The Yanks have the deepest collection of backstop prospects in baseball, and Murphy just might be best pure hitter of the crop not named Jesus.
Photo Credit: IMG Baseball Academy