It seems like just yesterday, but it was actually way back in early 2007 that Phil Hughes and Joba Chamberlain were nothing more than a pair of exciting, yet unproven pitching prospects sitting in the Yankees' farm system. Fast forward to today, and the unproven part of the equation still holds true to some extent, yet both players have lived what feels like a baseball lifetime since they last appeared on any prospect list.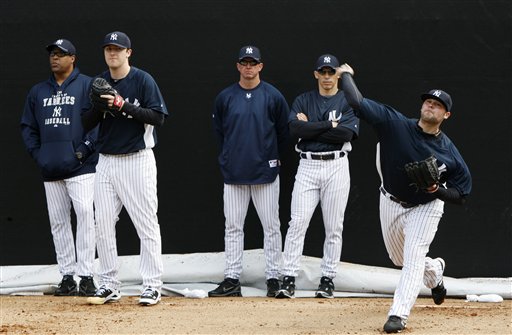 Despite being just 23- and 24-years-old, respectively, Hughes and Joba have each experienced a roller coaster of success and failure in just a little over two years of big league service time. Hughes dealt with both injury and ineffectiveness as a starter before hitting his stride out of the bullpen last year, while Joba enjoyed success out of the bullpen before finding out that life isn't easy as a starter in the AL East. It wasn't always pretty, but the duo combined to provide the team with 243.1 innings of 4.14 ERA quality pitching on it's way to the 2009 World Championship.
But that was then and this is now. The reality of life going into the 2010 season is that there is just one rotation spot for these two players. The one that doesn't get that spot faces an uncertain fate. More than likely he'll end up back in the bullpen working in some unknown capacity, but an assignment to Triple-A is not out of the question. Even though the Yankees are in a perpetual win-now mode, their decision will have an impact beyond 2010 because of where each player is in the development process.
Joba started last season as the number five starter, but he was quickly bumped up to number four status when Chien-Ming Wang's shoulder betrayed him. Working with reduced velocity, he entered the month of August with a shiny 3.58 ERA but a not great 4.33 FIP, though he struggled the rest of the way – not coincidentally, once the Joba Rules took effect – and finished the season with a 4.75 ERA that damn near matched his 4.82 FIP. It was certainly not what the Yankee faithful expected out of Joba, but I think we need to keep in mind just how unique his situation is. Just five other pitchers his age have managed to throw 150 innings in a single season in the AL East during the wildcard era, and just two of those five were able to post a better than league average ERA (Scott Kazmir in 2007, Jesse Litsch in 2008).
The bad news is that four of those five pitchers would make at least one trip to the disabled the very next season, and collectively their ERA would go from 4.40 ERA (4.28 FIP) to 4.74 (4.79 FIP). The lone survivor of the group is Edwin Jackson, who went from a 5.76 ERA (4.90 FIP) in 161 IP as a 23-year-old in 2007 to a 4.42 ERA (4.88 FIP) in 183.1 IP as a 24-year-old in 2008. Even though his ERA dropped nearly a run and a half, his core peripheral stats remained the same, suggesting that he didn't improve much as a pitcher, if at all. If he does end up serving as the fifth starter in 2010, history is not on Joba's side when it comes to a breakout.
Let's see what the projection systems say…

Well, these don't really do us much good. CHONE projects Joba to work strictly in relief next season, while CAIRO and ZiPS see him splitting time between the rotation and bullpen. If we completely remove the CHONE projection, we get a 4.15 ERA (3.99 FIP) and 1.42 WHIP in 156.1 IP as a (mostly) starter. These things are really unpredictable for young players with limited track records, so this don't shed much light on anything.
Really, the most important thing to know about Joba heading into the 2010 season is that he's finally stretched out and the Joba Rules are no more. Between the regular season and playoffs last year, he piled up 163.2 innings, putting him on track for 190-200 next year. If the Yankees send Joba back to the bullpen for the entire season, all that hard work over the last two years will have been for naught.
As for Hughes, he's in an even weirder place than Joba. After making six good starts and one complete stinker last season, he moved to the bullpen and literally became the best setup man in the business. He held opponents to a .172-.228-.228 batting line out of the bullpen, posting a gaudy 1.40 ERA (1.94 FIP). All told, Hughes threw 111.2 innings last season (majors, minors, playoffs), his most since a career high 146 IP in 2006. There's really very little precedent for a pitcher as young as Hughes having that kind of success in the bullpen over that long of a period of time, except for maybe former Halos' closer Francisco Rodriguez, who last started a game in A-ball.
Time to turn to the projections…

Well these don't really do much for us, but we knew that would be the case going in given Hughes' unsettled track record. CHONE is the only system to go out on a limb and project him exclusively as a starter, while the other systems go the part-time starter/part-time reliever route. The Yanks have maintained that they envision him in the rotation long-term, so we're in very muddy water here. If Hughes spent all of 2010 in the rotation, he would likely be looking at cap of 150 innings or so, putting him on track for his first unabridged season in 2011. I think we all know that Hughes can be a successful reliever if he returned to the bullpen in 2010, though maybe not as dominant as he was last year. As a starter, we really have no idea what to expect.
So the Yankees have a pretty big decision to make. They are stuck in the enviable position of having two high-ceiling players on the right side of 25 for one rotation spot. Of course, the Yanks could always call an audible and decide the best team going forward features both Hughes and Joba in the bullpen, but that would be a major upset. Both players are expected to be core pieces of the rotation going forward with the fallback option of becoming quality late-game relievers.  The 2010 season is just the next step in developing both Hughes and Joba into cornerstones pitchers.
Photo Credit: Kathy Willens, AP