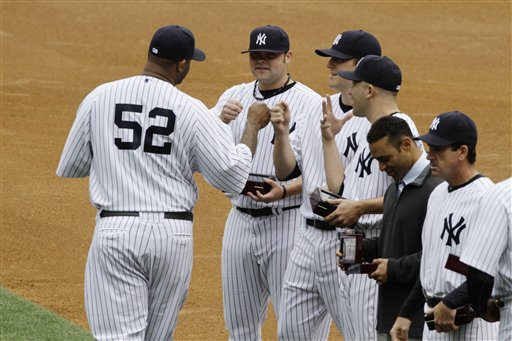 ofAs the Angels head out of town with their halos between their legs, the Rangers come on in fresh off being shut down by Indians' lefty David Huff yesterday. They'll get another lefty tonight, though CC Sabathia and Huff are on opposite ends of the southpaw spectrum. The Yanks' ace flirted with a no-hitter last time out, and has pleasantly avoided his typical April slump in the early going. He makes his first home start of the campaign tonight.
Opposing Sabathia tonight is starter turned middle reliever turned setup man turned closer turned setup man turned starter C.J. Wilson, who is one of the few professional athletes worth following on Twitter. He struck out nine in seven shutout innings against the Jays in his first start, but missed his last outing earlier this week with a stomach bug. Hopefully he's a little off his game tonight. Here's the starting nine…
Jeter, SS
Johnson, DH
Teixeira, 1B
A-Rod, 3B
Cano, 2B
Swisher, RF
Thames, LF
Granderson, CF
Cervelli, C
And on the mound, Carsten Charles Sabathia.
First pitch is scheduled for 7:05pm and can be seen on YES. There's some rain in the forecast, but it looks like there will be enough of a window to get this sucker in. Enjoy the game.
Update (10:14pm): The game has been called, so the Yankees win. Our regular recap will be along later tonight.