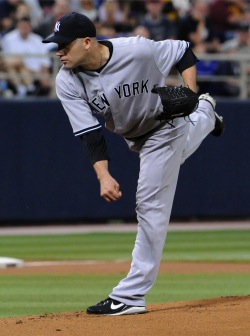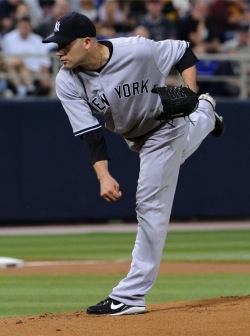 For about a week the Yankees' bullpen appeared a shambles. Nearly every reliever, from the mop-up guys to the setup men to the closer, had a hand in blowing a game. That made many of us wonder if Al Aceves would make his way back anytime soon. Diagnosed with a bulging disc in his back and placed on the disabled list retroactive to May 9. He's eligible to return at any time now, but the Yankees will proceed with caution. There's no reason to rush a player with back problems.
Last week, pining for Aceves's presence in the bullpen, I wondered if his back had been bothering him all season. He had, after all, felt some pain towards the end of spring training, and the Yankees used him sparingly in the season's first month. On Saturday I asked Aceves about his back, and he said that yes, it had bothered him and had affected his stuff. That's a good sign, really, because it helps explain the diminished velocity on his cutter. It might also help explain his walking four batters in just 12 innings after displaying excellent control in 2009.
Otherwise, though, we shouldn't read too much into Aceves's numbers. For instance, his low strikeout rate might have something to do with his back, but he thinks it's more the situations he has faced than his back affecting his strikeout stuff.
"I'm not thinking of striking out guys," he said. Given the situations in which he has entered, though, he hasn't quite needed the strike out. He has entered five games with runners in base, and none of them have come with a runner on third. In only two was there a runner on second, and in one of those situations there were two outs, making a strikeout less necessary. Pitching to contact might have been the best strategy there, especially for a player nursing a balky back.
He seemed optimistic that he'd return in short order, noting that it was his third straight day playing catch. As the Yankees took batting practice, Aceves stood on the left field foul line and had a catch, though I couldn't tell the force with which he was throwing. He also mentioned that he would be headed to the minors for a rehab assignment, and about 15 minutes later Joe Girardi confirmed that Aceves would head to Tampa on Monday. Look for him in tonight's DotF.
Back problems for baseball players can be chronic conditions that affect them throughout their careers, even after an off-season of rest. Aceves experienced back problems last July and they cropped up again this spring, despite three-plus months of rest. The Yankees obviously hope that rest and treatment will help keep Aceves healthy the rest of the year, but that's no guarantee. He seems nothing but optimistic, saying treatment has made his back feel great. That's a positive sign, of course, but with a back problem you just never know.
We should get a better idea this week of when he can rejoin the team. The team will certainly benefit from his presence in the bullpen.