Even though the Yankees have been dealing with an inordinate amount of injuries over the last week or so, they haven't missed a beat because of their part-time players. The most obvious example is Frankie Cervelli, who went 9-for-17 with three walks and just one strikeout in five starts while Jorge Posada nursed a sore calf last week, but Randy Winn has also stepped it up with a .400 OBP and one very big homer after Curtis Granderson hit the disabled list. Even Ramiro Pena has chipped in a little with the stick while catching everything hit within a ten foot radius as a spot starter and mid-game replacement.
One of our few mantras here says that it's tough for the Yankees to build a decent bench because good, versatile players just don't want to sign here as free agents. Why would Reed Johnson or Mark DeRosa or Jerry Hairston Jr. sign here when they could land similar salaries elsewhere yet be guaranteed more playing time? To have a shot at a championship? Please, they have families to support and having a greater opportunity to play this season will affect future earnings. Can't blame them for that, we'd all like an early retirement.
That basically leaves the Yankees with three options for building a bench: trade, sign flawed free agents with a limited market, or promote from within. There's always the Rule 5 Draft, which the Yanks tried this year with Jamie Hoffmann, but very rarely does that route prove fruitful. The Opening Day bench featured two homegrown products in Cervelli and Pena, while Thames and Winn represent those flawed free agents with limited markets. Winn didn't hit a lick last year and was basically cast as a defensive whiz in the corner outfield spots who can run the bases, while the only thing Thames brings to the table is the ability to hit lefties.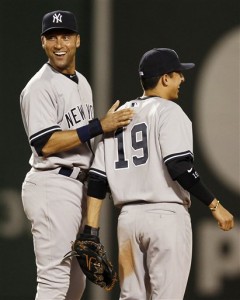 Essentially, in building their bench, the Yankees have taken an approach similar to how they build their bullpen: Have lots of options in the form of cheap and interchangeable pieces. Relief pitchers are the mecca of volatility, but bench players aren't too far behind. Even Hairston, widely regarded as one of the game's best bench players, has seen his wOBA fluctuate from .245 to .387 to .312 to .206 in the last four seasons. If a player manages to get 250 plate appearances off the Yankees' bench, the difference between a .350 OBP and a .300 OBP is thirteen times on base. A little BABIP luck or a few games with a particularly big  strike zone can account for that difference over a 162 game season. It's all about sample size; the less a player players, the less predictable their performance is, so why pay big for that unpredictability?
Granted, Winn isn't exactly buying store brand groceries with his $1.1M salary, but he's still cheap. Thames is making just $900,000, the two kids are basically at the minimum. That's a four man bench for less than $3M, with other minimum wage players like Greg Golson, Kevin Russo, Juan Miranda, and Eduardo Nuñez just a phone call away. All of the recent injuries have given the team a chance to see what they have in-house, and if they don't like what they see, they can go out an make some small moves at the trade deadline to shore things up, just like they did last season. Bench players — especially for a team like the Yankees, who are basically set at all eight positions — are the opposite of critical.
Despite losing their starting centerfielder, starting catcher, starting second basemen, and primary designated hitter for various lengths of time in May, the team ripped off a six game winning streak and has outscored their opponents 60-35 this month. Of course starting pitching has a lot to do with that, but the bench players have stepped right in and done the job. Considering how volatile those part-time players can be, it just makes sense to build a bench on the cheap and have lots of options.