Much attention has been paid to the Yankees' slumping bats of late, but it looks like a return to their home park has helped wake the offense. The next thing on the agenda is to get everyone healthy, and part one of that process started today when Andy Pettitte returned to the mound after missing a start.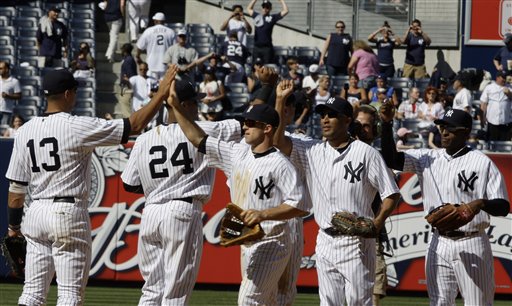 Biggest Hit: Jeter Drives In Thames
The Yanks jumped on Francisco Liriano for a quick run in the first inning, but rarely is that enough to win. The frigid cold Marcus Thames (four for his last 24 coming into this game) reached base to lead off the second in pretty much the only way he gets on base these days: he got hit by a pitch. Looked painful too. Anyway, he trotted down to first only to find himself on second one pitch later courtesy of a Frankie Cervelli sacrifice bunt. Brett Gardner roped a ball into left for a well struck out, the second of inning.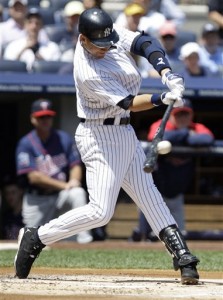 Up stepped Derek Jeter, who like Thames has been down in the dumps for the last week or two (two for his last 25 coming into this game). Knowing that the Yankees' captain has swung at the first pitch more this season than he has in the past (16.1% in 2010 vs. 12.7% in 2009), Liriano attempted to catch him out in front of a changeup, but Jeter didn't bite. After spitting on another change, Jeter reached out and slapped a 93 mph fastball the other way (video). Thames hustled around third and slid in under the tag for the Yanks' second run of the game.
It was the first of two hits on the day for Jeter, who has at least one knock in his last three games and is slowly starting to come out of his funk.
Biggest Out: Delmon Gets Doubled Up
After the Yanks took the early lead the 1st, Minnesota threatened to answer right back in the top of the 2nd. Justin Morneau slapped a single into right before Pettitte walked Michael Cuddyer on four pitches to put two men on with no outs. Luckily for Pettitte and the Yanks, Delmon Young was the next man to come to the plate, and that guy hasn't met a pitch he didn't like. He went way out the zone to hack at a slow breaking curveball, and the ball bounced harmlessly to Jeter, who initiated the 6-4-3 double play.
Morneau reached third on the play, but the Twins went from a situation where they'd be expected to score 1.53 runs to a situation where they'd be expected to score 0.37 runs. The next batter – Brendan Harris – squared a curveball up and smoked it back through the box, but it ended up in Pettitte's glove in one of those "hey look what I found" grabs. The Twins exited the inning with zero runs to show for their efforts.
Dandy Andy's Back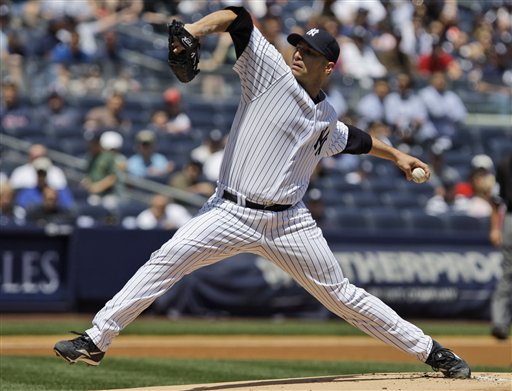 After being skipped his last time through the rotation because of some mild elbow inflammation, Pettitte came out and looked like his usual self. He was throwing five pitches for strikes and held the Twins to just two singles over 6.1 innings, retiring all but three of the final 17 batters he faced. Andy's day ended after 95 pitches, a little earlier than usual, but there was no need to push him coming off an elbow issue.
Pettitte finished the game with a 1.79 ERA, the lowest of his career after his first seven starts of the season. It's the fourth best ERA in the league, yet just second best in the Yanks' rotation.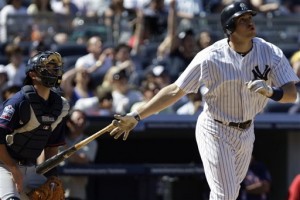 Piling On
I was talking to Joe during the game, and after Damaso Marte retired Jim Thome to end the 7th, we agreed on one thing: score more runs to give Joba Chamberlain and Mariano Rivera a day off. Little did we know the Yankees were listening. They obliged with four runs in the bottom of the inning, coming on a pair of long, long two run homers by Mark Teixeira (video) and Jorge Posada (video).
Tex's shot didn't reach the upper deck in rightfield, but it came damn close. It plopping down into rich people sitting in the suite level. Posada's blast hit the top of the wall that separates the home bullpen from Monument Park, bouncing up high enough for a fan seated above the restaurant to reach out and grab it. It was a nice barehanded play, if I say so myself. The four insurance runs kept the Yanks' primary high leverage relievers on the bench out in the bullpen, which trickles down and improves the team's chances of winning tomorrow.
Happy Things
There were a number of things that made me smile in this game. First, how about that defense? Brett Gardner made a diving grab to record the very first out of the game, then Nick Swisher matched him with a diving play of his own a little later. Robbie Cano snared two line drives from two consecutive batters in the 4th inning (Joe Mauer and Morneau, of all people), turning the second one into a 4-3 double play.
Swisher's left biceps was still giving him trouble, so he batted from the right side exclusively in this game. It wasn't a problem with the lefty Liriano on the mound, but you could tell he was uncomfortable against the righty Jesse Crain in the 7th. The guy has never faced a non-knuckleball big league pitcher throwing from the same side in his life, so who could blame him for being uncomfortable? Dude still managed to work a walk, after falling behind 0-2 no less. That's fantastic.
(In case you're wondering, Wilson Betemit drew a total of five walks after 0-2 counts during his big league career. Swisher's done it seven times since becoming a Yankee.)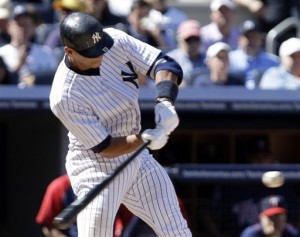 Alex Rodriguez continues to smoke the ball, going 2-for-4 with a double off the very top of the wall in right-center. It sounded gone off the bat, and with another half-second gust of wind, it would have been. The Yanks' third baseman is hitting the quietest .354-.439-.542 over his last 57 plate appearances ever.
It was only one batter and even a broken clock is right twice a day, but Marte did a great job striking out Thome – who represented the tying run – to end the 7th. He got the future Hall of Famer to swing and miss at two fastballs before sweeping in a slider for a backwards K.
Boone Logan recorded the last six outs to end the game, and with Chan Ho Park set to come off the disabled list tomorrow, hopefully it's the last we see of him for a while. Nothing personal Boone, but you gotta go.
Minnesota is now 3-25 in the Bronx during the Ron Gardenhire era. I love it.
Sad Things
David Robertson looked fantastic when he retired Cuddyer to get the second out of the 7th, but he followed that up by walking Young after getting ahead 0-2 and allowing a first pitch single to Harris. He's still working throgh some things, but it's pretty frustrating that he goes from dominant one batter to lost the next.
WPA Graph & Box Score
MLB.com has your traditional box score, FanGraphs all that other stuff.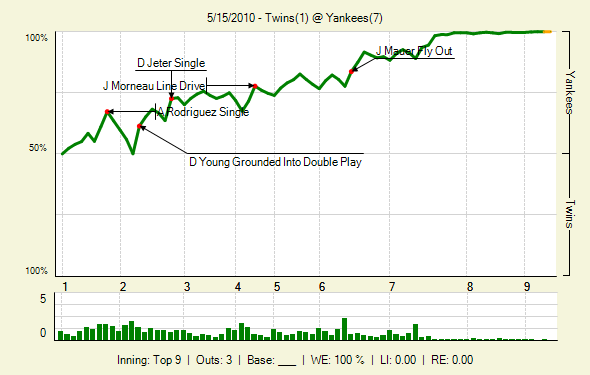 Up Next
The series is already in the bag, but these same two teams have to finish off the three game set tomorrow. Sergio Mitre spot starts against Nick Blackburn in another matinee.