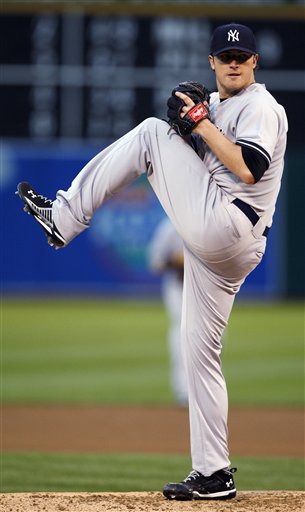 I don't know about you, but the best part of the 2010 season for me has been watching Phil Hughes take the ball every five days. Oh sure, a 24-13 start is great, but watching Phil deliver on all his promise has been far, far more rewarding. We dealt with the ups, the downs, the injuries, the doubters, and now our patience has been rewarded with watching him blossom into a true frontline starter.
We all know how spectacular he's been this season, with a 1.38 ERA (1st in the AL), 2.50 FIP (3rd), and 3.61 xFIP (9th), but Hughes' first real test of the season will come tonight against the Red Sox. It was just ten days ago that he limited that same team to two measly runs over seven innings in the most hostile of environments, but now the element of surprise is gone. Boston's hitters have had a first hand look at Phil, so adjustments come into play.
In his first start against the Red Sox, Hughes threw 61 four-seam fastballs, 29 cutters, nine curveballs, and just one changeup. Let's break it down a little further though…

First of all, disregard the fourth time through the order data. It consists of two pitches to Marco Scutaro to end the 7th inning. However, the pattern is obvious. Each time through the order, Phil threw fewer and fewer four-seamers and incorporated more and more cutters and curveballs. Granted, we're talking about a small amount of curves, so perhaps we should just ignore them. But replacing those relatively straight four-seamers with a moving cutter disrupts the hitter's timing, and that's the name of the pitching game.
So now that the Red Sox will dig in against Hughes for the second time in a little over a week, and you can be sure they'll dig into their memory banks to remember how they were attacked. Fastball heavily early on, more cutters later.
As always, the success doesn't come from one individual pitch, it's the separation between two pitches. Part of the reason why Hughes' cutter has been so effective is because hitters also have to respect his four-seamer, and when both pitches come in at 90+ mph, there's just not much time to adjust. However, most big leaguers can handle a fastball if they've seen it enough times and know it's coming, so the first time through the order tonight will be particularly telling. Perhaps Hughes should switch it up and go with some more cut fastballs early on to "change up the scouting report," so to speak. You might see a few more curveballs and (gasp!) changeups than last time just to mix it up a little more as well.
At this point though, the ball is in Boston's court. Their hitters have to adjust and prove that they can handle Hughes' fastball-cutter combo before the Yanks' young hurler must make any changes to his approach. There's no need to fix what isn't yet broken. Like everyone else though, the second time through the league is going to tell us a lot more about what kind of pitcher Phil Hughes is than his first time through.