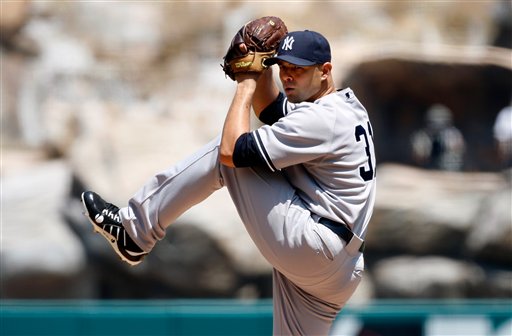 Did you miss him?
It's been more than a week since the Yankees' ineffective fourth starter took the mound, but he'll (hopefully) make his return tonight after two high intensity side sessions. "Usually my bullpens are nice and easy," said Vazquez. "These I pushed it a little bit." Of course, pretty much everything looks and feels good in the bullpen, so we're not going to know if the extra work and extra rest does any good until a real live batter with the intention of beating the Yankees steps in the box.
There are two things I'm going to watching for tonight, and they aren't mutually exclusive. First off all, I want to see how Javy works his fastball. Not necessarily the radar gun readings  (though I wouldn't be opposed to seeing some consistent 91-92's), but how he uses it. He's throwing 49.9% fastballs this year, which is actually how much he threw it in 2009, but the big difference is when he's going to the pitch. When he falls behind 2-0, Vazquez has thrown his heater 61% of the time this year, and in 3-1 counts it's 71%. Last year those totals were 54% and 62%, respectively.
A large part of his success last year came from pitching backwards; when Vazquez threw offspeed pitches in fastball counts and fastballs in offspeed pitch counts. Now he's being a bit more predictable. Most batters will sit on a fastball up 2-0 because the pitcher wants to throw a strike, and so far Vazquez has been giving it to them. More so than he did last year, anyway. Of course the simple solution is to stop falling behind hitters, but that's easier said then done. Sometimes you throw strikes and the umpire just doesn't call it.
The second thing I'm going to pay attention to is how efficient Vazquez is with his pitches. Last year the threw exactly two-thirds of his pitches for strikes, but this year it's down to 61.6%, and thus his pitches per batter faced has climbed to 3.98 from 3.79. It doesn't seem like a huge difference, but it's very real and it does exist. The more pitches you have to throw to a batter the more likely you are to make a mistake, especially with slightly diminished stuff like what Javy has this year.
Using his fastball and throwing more strikes are part of the equation, the other part has to do with Vazquez rebuilding his confidence. I hate to play the part of psychotherapist, but I find it hard to believe that someone could take the pounding Javy's taken so far and feel good about themselves. Phil Hughes has talked about it ad nauseum this year, that the difference between then and now for him is the conviction with which he throws his pitches. Vazquez needs to get a little of that back, but it won't be easy. I don't know what comes first, pitching effectively or confidence, but that's not for me to figure out.