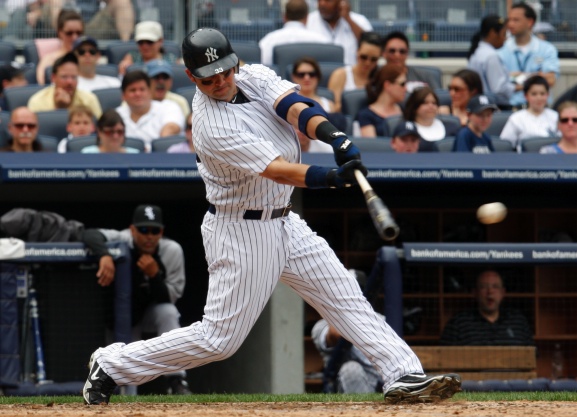 In 2009 Nick Swisher got just what he needed. A 2002 first round pick by the Oakland A's, Swisher became known among even casual fans in 2003 when he featured prominently in Michael Lewis's Moneyball. In 2004 he so thoroughly dominated AAA that he earned a September call-up, and by May 2005, after coming back from a shoulder injury, had established himself in the Oakland A's lineup. His career rolled along until the A's, entering a rebuilding phase, traded him to the White Sox before the 2008 season. That's where Swisher ran into a few obstacles.
For some reason, Swisher just couldn't buy a hit in 2008. His batting average dipped all the way to .219, low even by the .250-ish standard he had set in 2006 and 2007. Some of this, at least, seemed to be bad breaks. His 20.9 percent line drive rate was the highest mark of his career. He still managed to hit home runs, 24 of them, representing nearly a quarter of his 109 total hits. But his walk rate was down and his strikeout rate was up, which probably made his season look a few degrees uglier than the reality. Good players have bad seasons, but White Sox manager Ozzie Guillen had not the patience.
When the Yankees acquired Swisher, they pegged him as their starting first baseman. During his first press conference he expressed relief that he finally had a set position. When the Yankees signed Mark Teixeira the next month, Swisher was a man once again without a position. With Tex at first and Xavier Nady, acquired the previous July, in right field, Swisher appeared headed for a bench role. Not long into spring training Joe Girardi confirmed that, declaring Nady his starter. Swisher would have to earn his chance.
That he did. On Opening Day, with the Yankees down in the late innings, Girardi sent up Swisher to pinch hit. He drove a double down the line at Camden Yards. The next game he pinch hit again, this time drawing a walk. From then on he was a starter. Nady's elbow injury, incurred on April 14th, might provide a clearer delineation of Swisher's starter status, but he was already in the lineup every day. He started every game, in fact, from April 9 through the 14th, through three of those games were to fill in for the injured Teixeira. Still, in that game on the 14th Swisher started in left. It appeared that Girardi was going to find any way to get him in the lineup.
What resulted was a career year. Swisher's average still hovered around that .250 mark, .249 to be exact, but his OBP grew back to his pre-2008 levels, .371. The most noticeable change, however, was in his power. He hit for an ISO above .200 during his first two years in the bigs, but in 2007 and 2008 that fell below the .200 mark, in the low .190s. That's not a poor mark, but a right fielder will typically hit a few more longballs. To that end, Swisher hit 29 home runs in 2009, the most since the 35 he hit in 2006, and rapped 35 doubles, second highest total in his career. The combination led to a .249 ISO, which topped his previous best from 2006.
The power surge made sense. Swisher was a switch hitter who historically displayed more power from the left side. Combine that with the short porch at Yankee Stadium and it's a recipe for a power breakout. Only, that's not quite how it happened. Swisher actually considerably worse at home, a .349 wOBA vs. a .399 road wOBA. His OBP was actually higher, .382 against .361, but his power contained an even starker difference. On the road he belted baseballs at opposing ballparks, hitting 21 of his 29 homers and 21 of his 35 doubles. His ISO away from the short porch was .316. His ISO when a home run was just 314 feet away was just .168.
Swisher didn't seem to take it poorly. He even joked with reporters about the oddness of his home/road splits. "I'm just trying to prove to everybody that hitting home run in Yankee Stadium is not that easily," he said. On a more practical level, Swisher had an idea of why most of his 51 home hits had been singles.
"I think in general it's a mental thing," he said. "It's something I need to get over." He wondered if September might be his breakout month at the Stadium. In many ways it was. He went 12 for 35 with three doubles and three homers during the first homestand, and then went 4 for 16 with a double and two homers against Boston and Kansas City to close down the Stadium for the regular season. More than half his hits went for extra bases, including five home runs, so perhaps he was right.
This year Swisher is producing even more. His walk rate is below 10 percent, easily the lowest of his career, and his strikeout rate is back around his career levels. Yet he's making more contact, which has led to a sharp rise in his batting average, to .317, thanks to an incredibly high 26.2 percent line drive rate. His OBP, .397, ranks high in the AL, and his .246 ISO is right around the level from last year. While the batting average is probably the biggest difference between this year and last, Swisher's numbers at home surely ranks right up there.
He's actually hitting for more power at home, a .261 ISO vs. .235 on the road. His counting numbers away from Yankee Stadium are still better, mainly because 1) the Yankees spent a lot of time on the road earlier in the year, and 2) when they were home Swish missed plenty of time with a sore biceps. But all of his rate stats are either almost even, or in favor of his home park. It would seem that his trend from last September has carried over into 2010.
There is plenty of season remaining, and Swisher has a long way to go before he proves that he really is an improved ballplayer. The signs at this point are encouraging, but not overwhelming. For instance, in 2006 he was hitting .305/.407/.631 through May 31, but ended the year at .254/.372/.493. Through June 20 in 2007 he was hitting .293/.422/.487, but finished at .262/.381/.455. Again, things seem a bit different now, most noticeably in his aggressiveness and his power. That could help him achieve different results in 2001. For now, though, it's nice to just admire what Swisher has done. He has certainly continued to impress in 2010.